Team #479 Gail Feeley and Tantrioso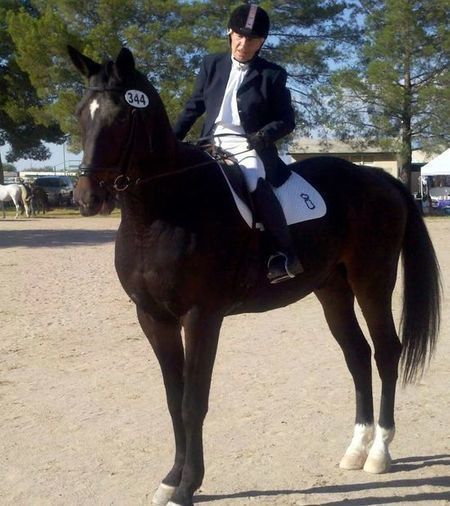 Team #479: Gail Feeley and Tantrioso
Ages: 77 & 23
Combined Age: 100
As a child, I always asked for a horse for Christmas. One year I even said, "If I can't have a horse, don't give me anything." We lived on Long Island, and my parents were not wealthy, so there was no way that they could buy me a horse. My mother's family in North Carolina owned a dairy farm, so in the summer I would go there and ride the workhorses. When I was a Girl Scout, I earned every merit badge that had to do with horses. 
I married and had three children and before moving from New York, I started nursing school. My husband was transferred to New Mexico. Most of our neighbors had horses, so of course our first Christmas there, I decided that the kids needed a horse. I found a nice quiet horse that was well trained and needed a home. On Christmas morning at 3:00 AM, I went to get the horse and rode him home, before anyone was awake.
I finished nursing school and got two more horses. My daughter was competing at hunter/jumper and my husband and I were hunting with Juan Tomas' Hounds. I also started taking lessons with an event trainer in Santa Fe. 
About this time my husband was transferred to Las Cruces. I ended up boarding my horses at Marilyn Isaack's farm, became good friends and we went all over the Southwest to horse trials and to a cross-country camp every year in Flagstaff. I rode with Marilyn long enough to realize that I needed to be in the ribbons after dressage to win. 
About that time, I also realized that you do not buy a dressage horse that will enable you to win, you learn how to ride dressage. I went to a friend who was a dressage rider, trainer, and breeder in El Paso, Texas. I really did not see any of her horses that I liked, so she said, "I am boarding a mare and colt that you might like." The colt, Tantrioso, could not even lunge, but his trot was to die for and even my husband said, "If you want him, I will buy him." The mare was a well-known jumper. I was a little worried that he wouldn't be 16 hands high, but by the time he was 18 months, we were praying that he would stop growing. 
People started telling me that he was too big. They said, "You will never be able to ride him," but by then I loved him and was more determined than ever. He loved show jumping, but he had a flap and more and more I realized that he needed surgery just to breathe. He had surgery, stall rest for two months, but when I started him back, it was obvious that he had developed scar tissue and his breathing was still labored. He had laser surgery and regained 80% of his airway. A good friend and trainer talked me into keeping him as a dressage horse.
Tantrioso has always given me his all. Even after he developed lymphedema in his right rear leg, we kept him going longer than the vet could believe. He performed the most beautiful First Level Freestyle.
What can I say? He is my miracle horse. We were working on Second Level, when we could no longer get the swelling in his leg down. It hurts him too much to canter, so now we just walk-trot, and enjoy the day and the journey. 
Gail and Tantrioso completed Introductory Level Test B on February 15, 2021, to join the Century Club.