Team #464 Georgette Lee and Omen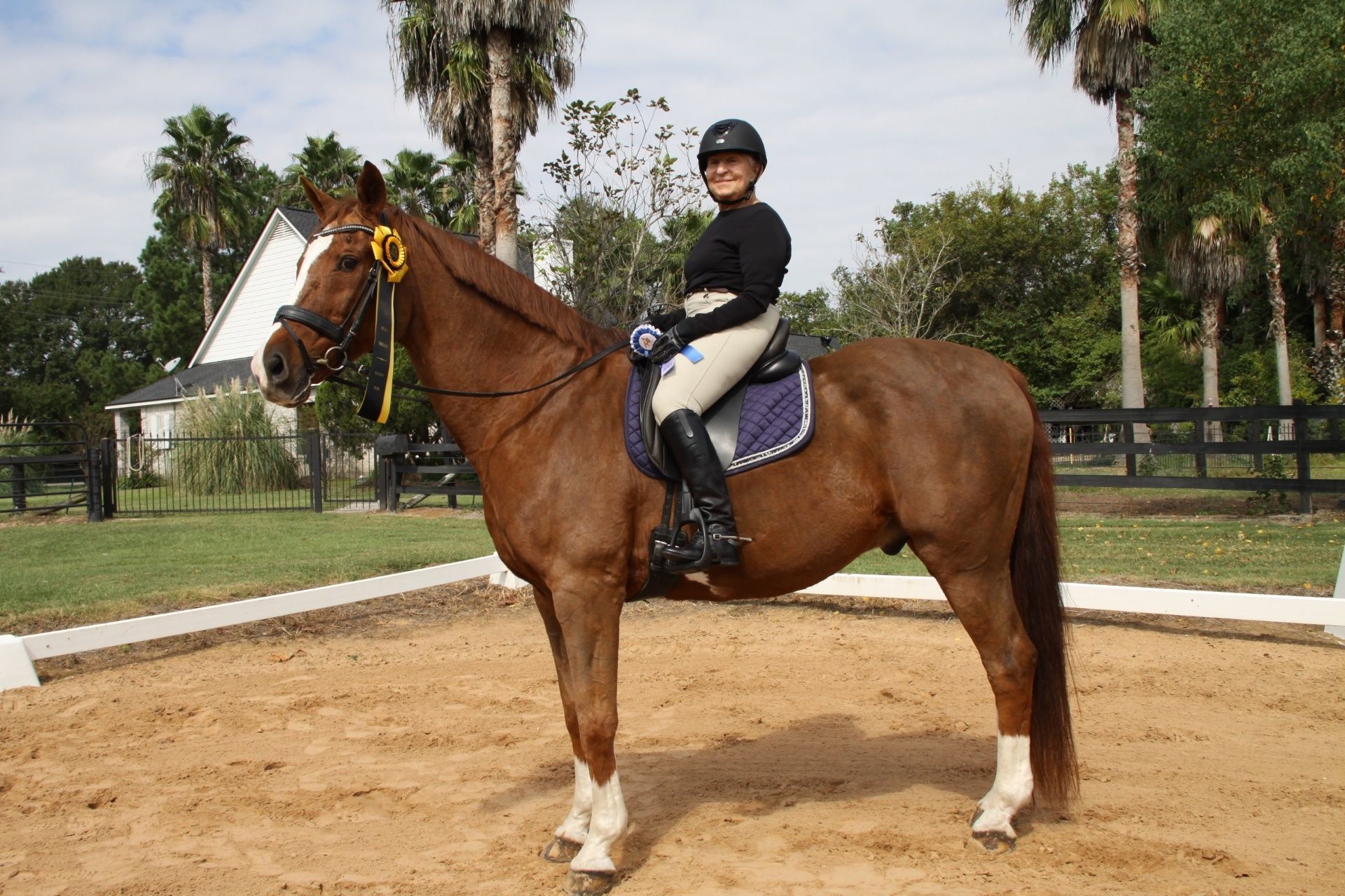 Team #464 Georgette D. Lee & Omen
Ages 76 and 24
Combined age: 100
This is a story of sudden transformation and resurrection made possible by Omen, a Dutch Warmblood foaled in 1996 and currently FEI Schoolmaster at Windy Knoll Farm with Fran Dearing Kehr. I met Omen in August 2020 during an infrequent visit to the barn and at that moment in time the thought that I would never ride again because of multiple joint replacements!
Omen and I rode for the Century Club on October 17, 2020, at Windy Knoll Farm Fall Schooling Show performing Intro test A with "S" Judge Fran Kehr at "C."
I was fascinated by horses from an early age. Even so, my parents dutifully provided ballet, piano, and art lessons throughout my childhood. We moved from my birthplace at Norfolk, Virginia, to Houston, Texas, when I was two years old. My first rides on horses were on mounts from a rent line in Bergen Beach, New York, while spending summers with my cousins. College days had me back in New York at the Fashion Institute of Technology and Teacher's College at Columbia University. I rode rental horses in Prospect Park and Central Park. I returned to Houston after graduation to teach art in secondary schools. Soon after that, I married a wonderful man. He often said he wished he were a horse! 
My Cloud was my first horse. He was brave, kind, safe, and a seasoned eventer. So that is what we did.
In1980 I changed professions to law enforcement. I worked at Harris County Constable Precinct 2 and Precinct 5 in Houston, Texas, retiring in 2016. I qualified for mounted patrol division in Precinct 5 thanks to the support of Captain Dennis Kuithe, Captain Jim Scarvan, and Sgt. J.R. Hatch.
Hanoverian mares Wrapsody and Patroon became mine in 1994. These mares produced some lovely babies. Educating young horses became my job.
Windy Knoll Farm, Magnolia, Texas and Fran  Dearing Kehr, along with many other mentors and friends including the American Hanoverian Society; Judy and Volker Ehlers of Glenwood Farms in Wilton, California; Katy Equine Clinic in Brookshire, Texas; Woods Quarter Horses and Patty Woods in Brookshire, Texas; and Dan Keen Horsemanship in Spicewood, Texas, provided exceptional advice and services to me for many years.
Trey Thompson of Village Fitness in Houston, Texas, deserves credit for years of physical rehabilitation and support. Dr. Chris Nevins, Dr. Robin Goytia, and Dr. Sherman Nagler are always there for me as are Rheumatologists Mona Iversen and Holly Jones.
Special thanks to The Dressage Foundation for providing the setting for the happiest day of my life.

Georgette and Omen rode Introductory Level Test A to complete their Century Club ride on October 17, 2020.