Team #460 Glenn Whiteley and Keegan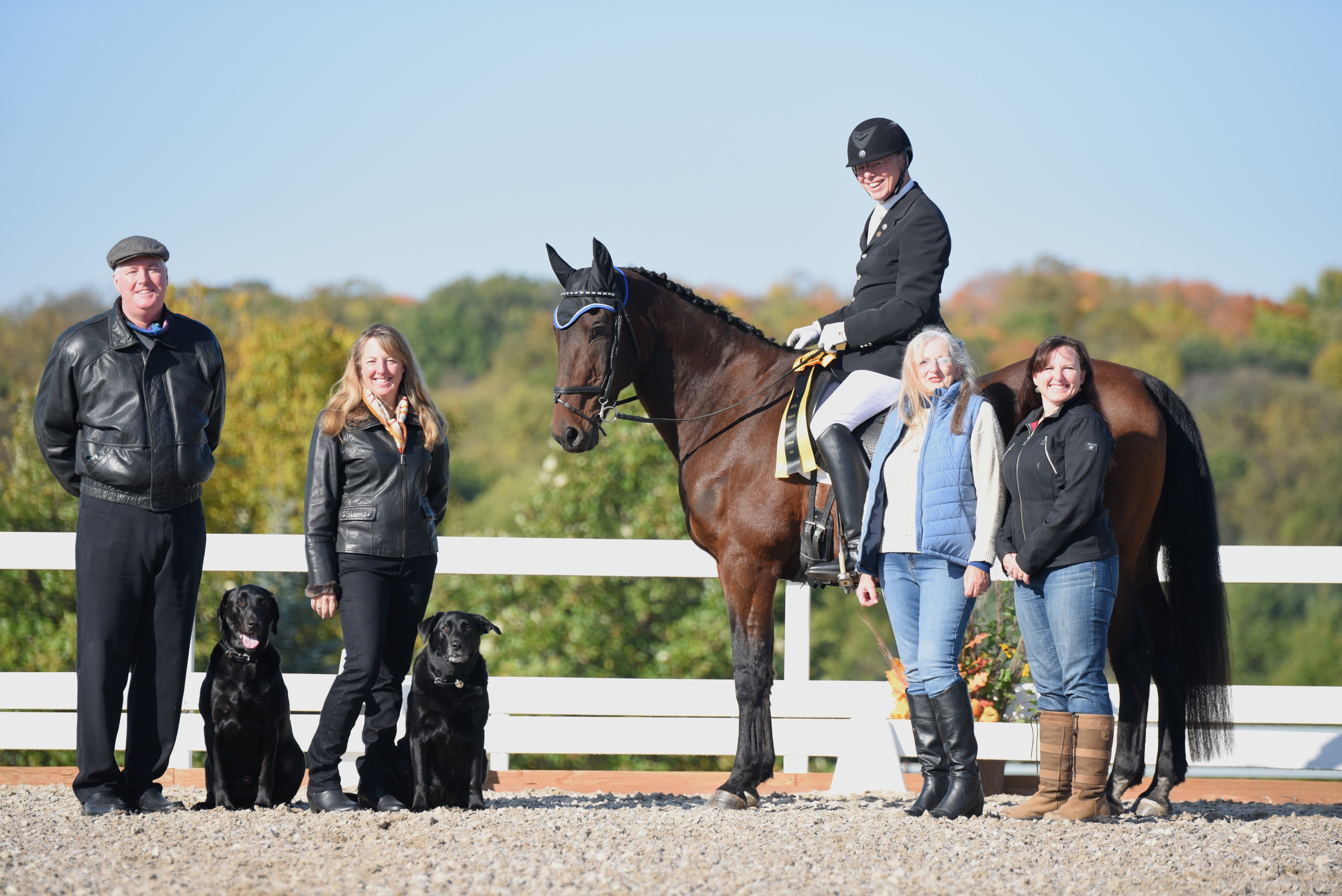 #460: Glenn Whiteley and Keegan
Ages 74 and 26
Combined age:100
I was introduced to horses when I was 13. My first girlfriend owned a horse and the stable where she boarded him had a retired jumper that I could ride. The horse had a bridle, but no saddle, but I did not let that fact deter me! I was determined to ride and so off I went riding bareback on our rides together.
When I was 15, my family moved to a small town in western Pennsylvania where one of my neighbors was a horse farm that raised several foals and trained and showed Morgan horses. As a horse-crazy kid, I started working at the farm, helping to take care of the horses, train the young stock, and showing my favorite mare saddle seat at Morgan shows.
While I was at college at the University of Maine, I spent many hours trail riding on a variety of different horses. I bought my first horse when I graduated from college, a three-year-old Morgan gelding named Special Acres Donson. I taught him to drive and showed him at a few Morgan shows, but Donson's talents were not in the show ring. He was a trail horse at heart, and we did very well on the Eastern Competitive Trail Ride circuit in New England.
In 1973, I was living in central Massachusetts and while out on the trails conditioning for an upcoming competitive trail ride, I met another rider who was coincidentally conditioning for the same ride, Lynn Robinson. Lynn was also a "Morgan person" and was riding one of her family's Morgan mares. We were married the following year and moved, along with our two horses, to New Hampshire. We bought a 200-year-old farm called Bound Tree Farm. The farm had been called that since the 1770s as there was an oak tree on the property that was used by the early surveyors to mark the boundary of three neighboring towns. We have kept that name for our stable in the five farms we have had owned since.
We moved to Minnesota in the early 80s to a farm that the local hunt passed through and were invited to join. Our two children, Josh and Sarah literally grew up on horseback, and they also fox hunted and were members of the local pony club.  Pony Club introduced us to the world of eventing, which was, in turn, our introduction to the world of dressage – that dreaded phrase that you do so you can go out and jump cross country! The Morgan mare I was fox hunting and eventing at the time was a very brave jumper but didn't really have the gaits or the mind for dressage, so it was time to start looking for something more suitable if I wanted to be competitive.
A friend knew I was in the market for a young horse and she told us about Keegan (Pando x Troika Crickett) a four-year-old Rhinelander-Morgan cross. Keegan was a 16.1 hand plain bay gelding with 90 days of training under his belt. When we went to bring him home, we were met by a cadre of people ready to help us load him – a rather ominous beginning, to say the least. He managed to bang and stomp his way through an extremely hot 2-hour drive to our farm and when we arrived home, he was dripping with sweat. Naturally, we tried to hose and then sponge him off, but he wanted nothing to do with a bath of any sort. He wouldn't even let us near him with the sponge! It turned out that he was never going to be the event horse I wanted. He was not a brave horse, and certainly not bold over fences, and he never would be. He refused almost everything, including refusing to go through jump standards without any rails!
His early years with us were filled with many trying times. He was untrusting, pushy, and spooky, not to mention lazy! He was probably at Training Level longer than any other horse! My favorite comment from a judge was for a rather energetic canter depart – "Ride 'em, cowboy!" While his canter departs were often energetic, the rest of his work was often lacking in energy, prompting another judge to comment, "You are working harder than your horse!" His career has been periodically interrupted over the years by a few injuries. He has a titanium plate on his front splint bone from a pasture accident, and years later he had a nondisplaced fracture of his patella. He always managed to bounce back!
When I started taking lessons with Alison Sader Larson, Keegan and I were just starting to move up to Third Level. With her guidance, I not only showed Keegan successfully at Third Level, and earned my bronze medal in 2009, but went on the show him at Fourth Level and Prix St. Georges to earn my silver medal with him in 2011.
When Lynn's horse was injured in 2011, she rode Keegan at a couple of shows at Third Level and earned her bronze medal, and in 2012 she earned her silver medal with him. Sarah also rode Keegan in 2012, earning her bronze medal. In 2013, Sarah earned her silver medal and then moved him up to I-1 to earn half of her gold medal scores.
Now 26, Keegan has been enjoying his retirement. He still manages to spook at the silly things out on the trail and acts more like a five-year-old most days!
I owe a debt of gratitude to Alison for never giving up on us and helping me get the most out of my partnership with Keegan, and to the Schmidt family for allowing me to perform my Century ride at their beautiful Monte Alegre Farm during this difficult year.
Glenn and Keegan rode Training Level Test 1 to complete their Century Club ride on October 4, 2020.
Watch Glenn's ride here: https://www.youtube.com/watch?v=WfDdDSQ-QrA