Team #343: Gloria Beduhn and Domino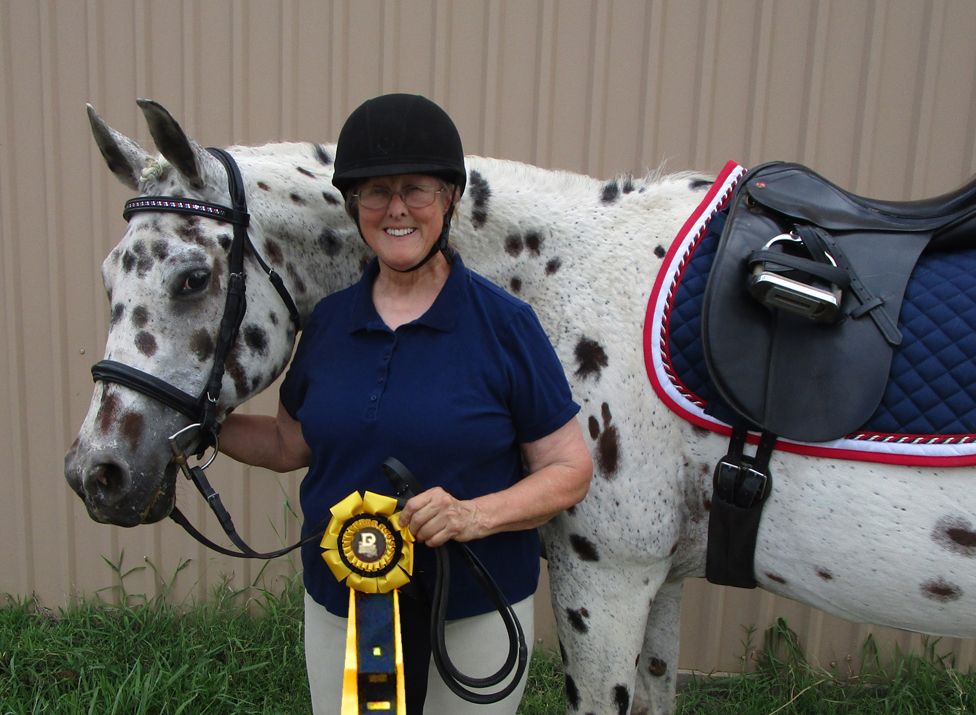 Domino and I met in the late 1990s, when my sister Barbara bought him for her daughter, Becca. At the time, I told Barb that I didn't like leopard Appaloosas and that she paid too much for him. Well, 20 years later, I have to admit I was wrong. He might not be one of those wonderful, I'll-do-anything-for-you horses, but he has his share of good moments. And he certainly gets noticed wherever he goes.
As a young horse, Dom was used as an all-around ranch and family horse in west Texas. When Becca started riding him, his new career included dressage. In 2003 he moved to my place in north Texas and I continued working him. He never got past Second Level, since he has a beautiful counter-canter and absolutely refuses to change leads. Did I mention he has a mind of his own?
We almost didn't make this Century Ride. It was supposed to be in April, but things happened and it got postponed until June. Then I managed to bruise my hip and couldn't ride for several weeks. Just as I could start working him again, Domino scratched his eye and the vet said no riding until it healed. By the time we were both sound, it was only 2 weeks before the scheduled ride. It was getting hotter by the day, so I'd be on him by 7 every morning. He didn't really appreciate the effort I was making. But we managed to hold everything together and produce a decent Training 3 test for our Century Ride.
As far back as I can remember, I've loved horses. At a relative's wedding reception on a dairy farm in Wisconsin, I dragged my father to the barn where they had two working draft horses in a corral. They were bays with white noses. I got Dad to put me up on one, and that was that. I was 3 at the time. Somehow I wrangled a horse of my own for my 15th birthday. Red was a wonderful first horse, and I had him until he died. In the meantime, I had become fascinated with dressage by watching the little snippets shown on TV during the Olympics. So my parents bought me an old Pariani jumping saddle and I taught myself how to stay in it.
I have had horses for going on 60 years now, always taking care of them myself. I've been involved with dressage since 1976, when I joined the newly formed Dallas Dressage Club. I did quite a bit of showing and show managing in those early years and earned a Bronze Medal in 1985 on my wonderful Thoroughbred mare, Trim Nike. I started judging schooling shows in 1978 and finally became an "L" graduate in 2007. Now I can cap my dressage journey with membership in The Dressage Foundation's Century Club. I hope to stay healthy enough to repeat this ride with my old friend Acey in four years.
Many thanks to everyone who helped me on this journey, both horse and human. And kudos to The Dressage Foundation for offering this unique award that proves the sport of dressage is one for all ages!