Team #467 Gloria Crawford and Equinox Ebony Knight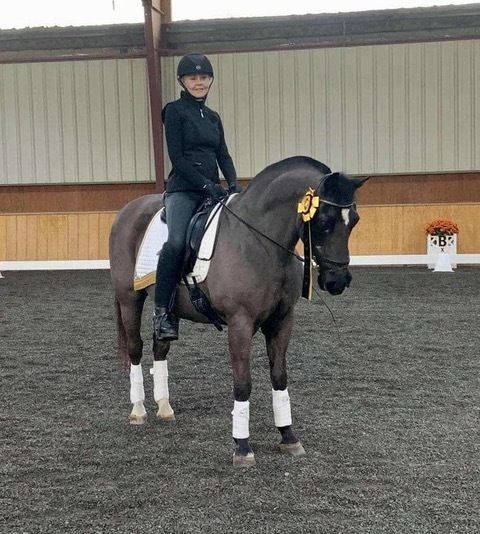 Team #467 Gloria Crawford and Equinox Ebony Knight
Ages: 72 and 29
Combined age: 101
I have loved horses since childhood, but it wasn't until much later in life that my dream of owning one came true. I worked as a legal secretary for many years and when I semi-retired, the opportunity to own a horse presented itself and I jumped at the chance.
Since the Morgan breed had always intrigued me with their beauty and "can do it all attitude," I decided to look around and see what was out there. After searching for a few months, I found Equinox Ebony Knight. It was love at first sight when I purchased Ebony. He was just turning 10 and I was 52. We started dressage a couple years later when I moved Ebony to a new barn where there was a dressage trainer, Sarah Michael. I had always loved watching dressage and now I was actually going to begin learning the sport. Sarah was wonderful and always made our lessons fun. We couldn't have had a better start. Then, Sarah moved away, and I was at a loss. Luckily, Kim Robbins came to my rescue. Kim had worked with Sarah for many years and she was the perfect choice to continue our riding career.          
I've been with Kim for over 12 years. I have shown Ebony occasionally over this time, but it is Kim who has taken him beyond my ability and showing him through Prix St. Georges. I can't say enough about how much I have enjoyed working with Kim. Even though Ebony is now retired from showing, I always look forward to our lessons. There's always something to improve upon and learn. Kim has been a true gift to both me and Ebony!
Everyone says that a horse will tell you when they no longer want to work. Well, I think that's still far off. Ebony has had a couple of injuries over the years and I've had both knees replaced, but we've both come back and are eager to continue onward. Ebony loves having a job and it shows. He still enjoys doing his "tricks" and especially loves doing flying changes and pirouettes. Through all these years I'm sure he thinks he's always been the one in charge, at least with me riding. And do you know what, at least to some extent, he may just be right!
Ebony is that one-in-a-million horse. He is kind, intelligent, and a joy to ride. He is the perfect horse for me. Our journey together over the years has been quite a ride!
It is an honor to be a member of the Century Club and to have such a great partner, the one and only Equinox Ebony Knight!
Gloria and Ebony joined the Century Club by riding their First Level Test 1 on October 24, 2020.