Team #420 Helen Glidden and Happy Chance (ID)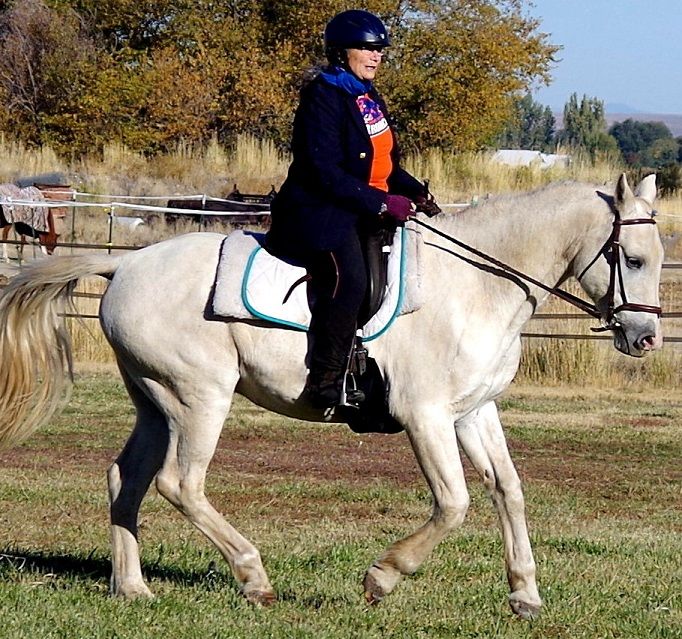 Helen Glidden - Age 71     Happy Chance - Age 29
I was born into a family that loved horses.  My Pop had learned to ride back east, but when he moved his family to Colorado, where I was born in 1947, he bought a ranch and had several horses.  So early on I was able to sit on a horse.
When I was 8, we moved to Boulder, Colorado, where my Pop was a swimming coach at the University of Colorado.  We always had horses and I rode bareback as a kid.  I got my first horse, a grey half-Arab, when I was 14. 
Then when I was about 16 my Pop bought me another grey half-Arab named Dhan Boy.  He is the horse who introduced me to dressage when I was about 18.  I took lessons from a Welsh man named Horace Phillips.  I fell in love with dressage and began showing.  My first test, and the first test we won, was First Level Test 1 – very similar to the 2019 First Level Test 1.  Back in those days there was no Training Level – we started with First Level. From then on, I showed dressage, some jumping and eventing.  Dhan Boy and I did very well considering dressage was new to Colorado.  I also had other horses that I showed that were various breeds including Thoroughbreds, Arabs and others.
I worked on Joder Arabian ranch and showed their horses in dressage and did quite a bit of trail riding in the mountains of Colorado.
When I married in 1982, I moved to Idaho.  I took two horses with me and did some trail riding but didn't have the means to show dressage.  However, I would travel to shows 100 to 300 miles from where I lived to attend as a spectator.  I looked forward to a time I could show again.  The marriage ended in 1989. 
In 1985 I had a little farm of 10 acres and had a friend in Colorado who gave me an Arab mare who was pregnant.  This was Chance's Dam.  His sire was a Swedish Warmblood / Hanoverian cross.  It was a while until I could afford to show with him.  When he was a youngster, I had some difficulties with him and only showed him a couple of times until I was able to take lessons.
Then I met Kathy McClatchy, who was my main instructor for many years, and my show career with Chance began.  I showed him successfully through Third Level.  Along with Kathy's good instruction I had influence from Debbie McDonald, who was Kathy's instructor and, of course, one of our most successful Olympic riders on her lovely Hanoverian mare, Brentina.  I also joined Jane Savoie's online dressage program and learned so much and have great gratitude for her critiques of videos I would send.  By that time, I had bought a nice Hanoverian mare, Daphne, who I still have.  She is now 16.
I showed Chance until about 2011, then put him into semi-retirement and mostly rode him in the mountains of Idaho with Heartland Back Country Horsemen.  I love trail riding and of course, half-Arabs are wonderful trail horses.  Chance took me many miles into the mountains.
I started working full time in 2014 and since then have not had time to show.  But I continued riding, not only Chance and Daphne, but I have a fun Haflinger, Lyra, who I take to the mountain trails.  I bred Daphne to an Arab because Chance has given me such a good example of the longevity, soundness and ability of a half-Arab.  So now I have Juni, a yearling Arab / Hanoverian who Chance plays Uncle to – he loves this job!
I have been looking forward to the time Chance and I could do a Century ride and now it has happened.  He is totally sound, although his back is down a little and he is a bit thinner now.  His mind has changed – he is much more mellow – but when I showed him for our Century ride, he came to life and I could tell he loves the dressage arena.  He did fabulous!  I had to work to keep up with him and some of my scores reflect that I haven't shown in many years.  I need a little work on many things, but Chance excelled in his movement.  I showed at An Event Barn in Emmett, Idaho, owned by Whitney Eggers.  This was a fall schooling show and most riders had fall costumes on, so I showed in my Boise State shirt with an open jacket and put colorful braids in Chance's mane.  Because Whitney puts on some nice little schooling shows with some jumping, I plan to take my other horses, one at a time, to Emmett next year. 
What fun I had riding Chance!  It was harder than I remembered, but his forward, active movement and lovely attitude made the ride a blast.  This is the icing on his show career, a wonderful way for him to go into full retirement and be happy in his little herd!
More about Happy Chance…
I have had Chance since he was born.  A friend gave me his Arab dam pregnant with him.  I started him as a 3-year-old.  He stayed a stallion until he was four and had six babies, all who looked like their dams but had Chance's indomitable rhythm built into their gaits.  One was a successful lower level dressage horse, one did low level eventing and I had his son, Arioso, who did very well at dressage to First/Second Levels, but Chance took the spotlight going to Third Level.
Our partnership had its up and downs, but I learned more about dressage on Chance than any other horse.  Very often we were competing against big, beautiful warmbloods, but Chance managed to come out ahead in well over a third of his dressage competitions, with Championships and Horse of the Year awards and two Top Ten awards at the Arab Sporthorse Nationals.  He also was a fantastic trail horse; we rode miles in the mountains of Idaho with Back Country Horsemen. And, Chance was a super school horse for dressage and western riders, those learning extreme trail challenge maneuvers and especially to introduce young girls to the love of riding.
We have hung in there together for his whole 29 years, so although I've had many horses, this is a lifetime achievement for us.  It turns out we did have the perseverance and stick-to-it-ness to last-- 26 years of work.  I always wanted to show the Century ride, but I had my doubts this year that we would be able to make it to a show, and I'm so glad we did!  I owed this to Chance for all the miles he gave me in the dressage arena as well as on the trail, and not to mention, all the baths he had to endure because of his sparkling light grey coat!  I received the Century Club plaque with tears in my eyes as I opened the package.  Thank you; I am grateful to The Dressage Foundation for this opportunity.