Team #433: Helen Hogan and Fadz Makers Mark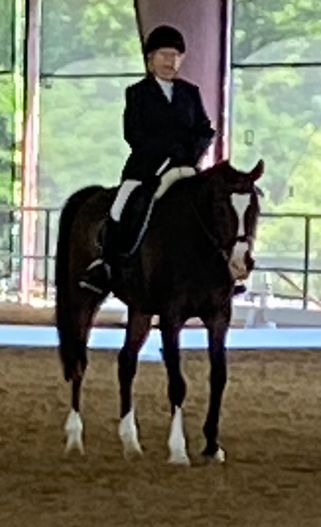 Team #433: Helen Hogan and Fadz Makers Mark
Ages 78 and 22
Combined age: 100
After life as a horse crazy kid, Helen got her first horse at 23, a reject from Uncle Steve Calder's racing stable, lop-eared, camel-hipped, base narrow Cid's Kid. The only game in town was play day events. Poor Cid, equine equivalent of a freight train, had trouble competing with the Quarter Horse Ferraris when they moved to Texas in '65.
Helen decided they needed to learn to jump. Cid eventually became a reasonable lesson horse.
Her first jumper champion was a Chestnut gelding her stepson named Flight Pattern, an Appaloosa crossed with Thoroughbred, bought by herd-bargaining Helen for under $200. At his first rated show after Helen's return from a grad school summer, he won the Hunter championship over a famous man's new show horse he bragged of buying for $40,000. Flight helped her become an instructor with a modest but loyal following.
Her next wonder horse was Azet, a very attractive AngloArab who carried Helen not only fox hunting and point-to-point racing, but into her first dressage test. She even trained him to pull a cart and competed in Roulette Creek CDE in 1988.
In '89, scribing for Region IX dressage championships she realized Azet could do all the movements. So, after multiple regional wins in hunter and jumper, in 1990 she qualified him for the Region IX championship in dressage IV, and planned to build upon their solo win. But in January '91, Azet died of colic.
In a parallel horse life, Helen received in '79 a gift from her mother, a three-year-old bay Arabian stallion, Fadareyn. Helen trained him herself and showed him to Legion of Honor. He earned championships in all Arabian divisions not requiring cows or obstacles. In '92, she and Fadareyn ventured to Forth Worth Dressage Club show. Though at that time, "Arabians can't do dressage," the team won Amateur First, Amateur Second, and Freestyle, and made many friends.
Before his retirement, Helen took Fadareyn to reining lessons and won State Fair Championship. She also learned to stand Fadareyn at stud. She leased a mare to breed to him for a '98 colt to keep. As the little guy slid from the birth canal, she named him Fadz Makers Mark.
Marky earned dressage awards, Western prizes, and Region IX carriage driving championships. Five years ago, Helen leased Marky to Louie Kruze. She borrowed him back for the Century Club ride at the Fairfield Dressage Show. As she approached the barn, she said to Louie, "I wonder if he will remember me." At that point, a strong whinny pierced the air from Marky.
Helen and Fadz Makers Mark rode Introductory Level Test C and Introductory Level Test A to complete their Century Club ride on May 30th and 31st.