Team #500 Helene Dellechiaie and Finnian's Chase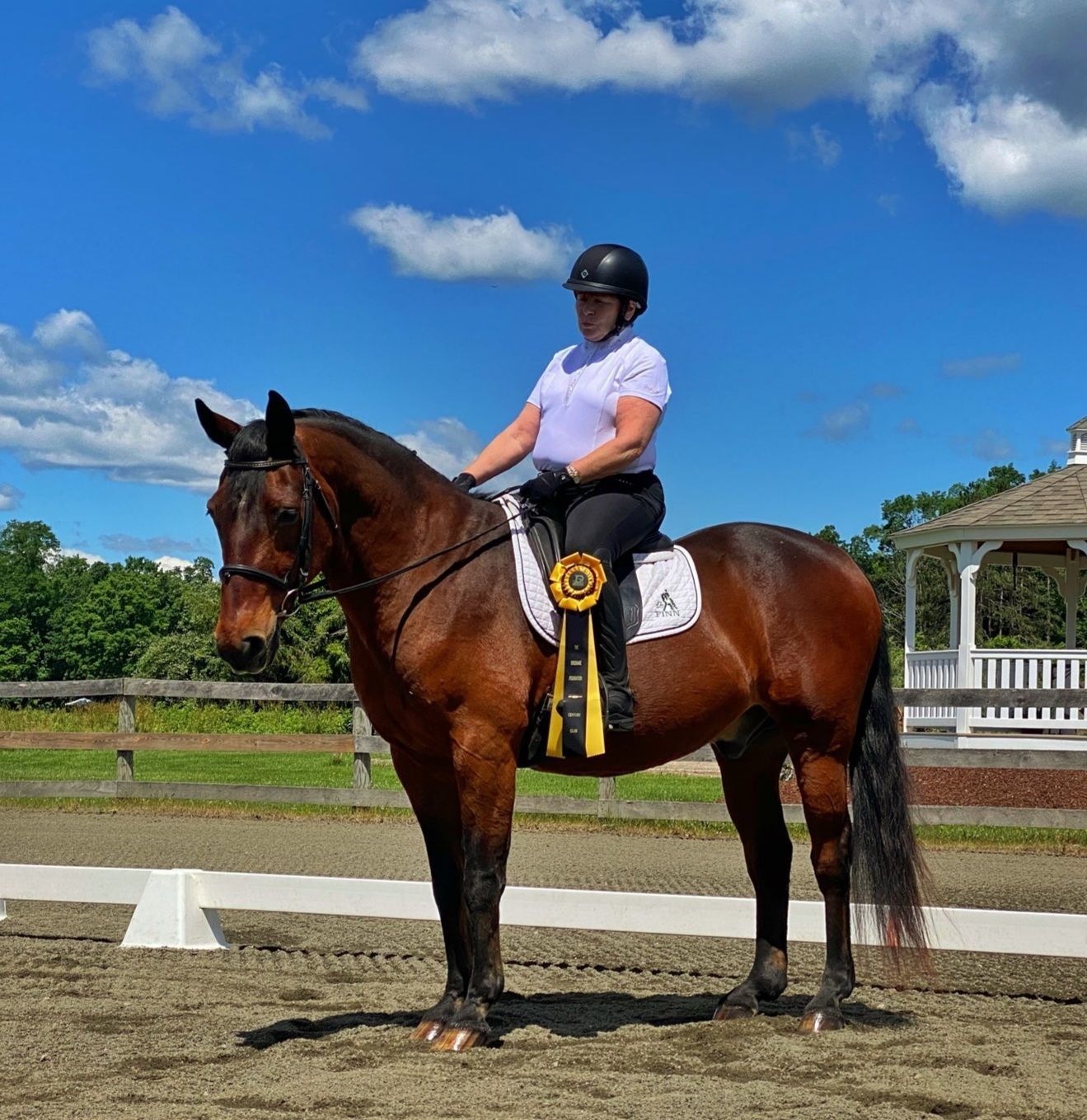 Team #500: Helene Dellechiaie and Finnian's Chase
Ages: 71 & 29
Combined Age: 100
As a child growing up in the Bronx, NY, my dad would take me to the Bronx Zoo every Sunday for pony rides. With Annie Oakley, Fury, Flicka, and Roy Rogers on television, all I ever wanted was a horse of my own. I entered every contest to win Trigger babies and Lassie puppies.  At age 35, I fulfilled my fantasy and purchased my first Quarter Horse.
Finn and I began our journey 26 years ago. After returning from a Galway to Clifden riding vacation across Ireland, I knew a Connemara had to be part of my life. I had the good fortune of contacting Ginny Winkler to help with the search.  Finn was a three, almost-four-year-old, bay gelding who was looking for his human.  We made it through the hellion years and at 10 decided to give dressage a try. We danced our way through an American Connemara Pony Society (ACPS) Bronze, Silver, and in 2008, Gold medals.  In 2012, we won The Cajun Billy Bert Vintage (Age 20 or Older) High Score Dressage Award.
According to the Chinese calendar, 2014 was the Year of the Horse, and for Finn and me it turned out to be "Horse of the Year." In Lexington, KY, Finn received three National Horse of the Year (HOTY) awards from U.S. Equestrian, 3rd place in English Pleasure Hunter Seat, 3rd place in Half-Connemara Hunter, and 4th place in Half-Connemara Dressage.  In addition, we received the ACPS Award of Excellence Dressage, New Jersey Horse Show Association (NJHSA) High Score Reserve Champion Pleasure Horse Award, New Jersey Professional Horseman's Association (NJPHA) 3rd place Pleasure Horse Award, as well as my receiving the United States Dressage Federation's Master Challenge Award. At the 78th Annual Sussex County Horse Show where new breed classes included Connemaras, we achieved the Championship after a clean sweep of the Connemara Pleasure Classes.
Finn was diagnosed with "kissing spine" in 2015 and for the past six years, my dance partner and I have spent time smelling the flowers, enjoying trail rides, and happily working lateral movements in the dressage ring.  I would like to thank my husband Phil for his unrelenting support of my passion and my trainers Kara Stark McGrew and Suzanne Marshall for their patience in teaching Finn and me how to dance. We would especially like to thank The Dressage Foundation and congratulate them on their 25th year of inspiring seniors toward achieving one more goal and honored to be the 500th team to do so.
Helene and Finn completed Intro Level Test A, with a score of 73.125 percent, on June 26, 2021, at the Greendell Dressage Schooling Show to join the Century Club.