Team #505 Hilary Clayton and MSU Magic J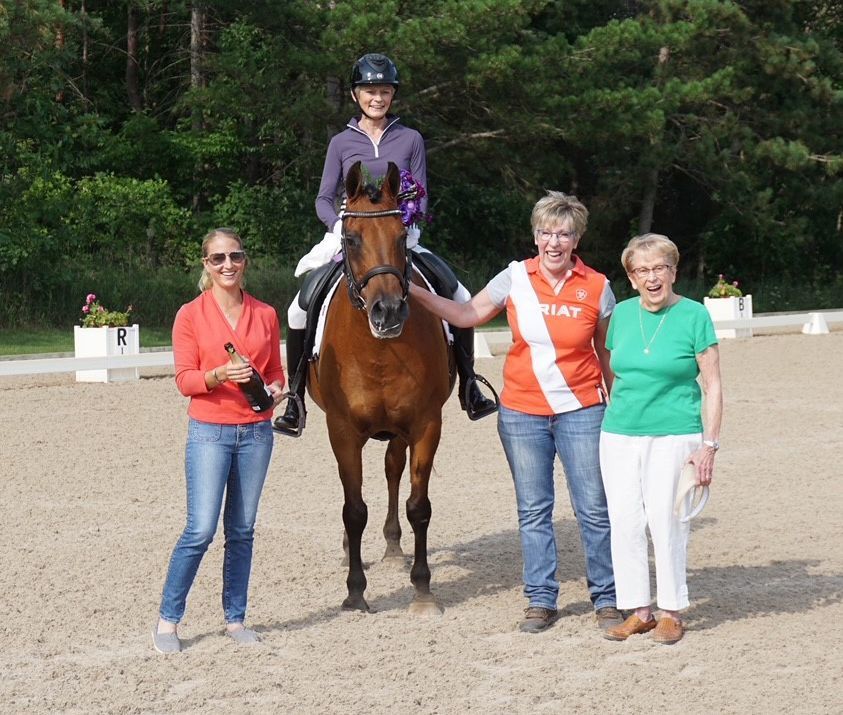 Team #505: Hilary Clayton and MSU Magic J
Ages: 71 & 30
Combined Age: 101
It was the best of days!
Fantastic facility               
Beautiful weather           
Top judge                            
Great party organizer    
Lots of friends                  
Champagne                   
Fabulous food                 
And best of all I rode my long-time partner and heart-horse MSU Magic J
I did my Century Ride at Canterworks Dressage, a beautiful facility in Mason, Michigan, owned and operated by Katie Foster. In the days leading up to the ride, barn manager Laura Schneider, her assistants Michelle and Melissa, and the entire Foster family pitched in to help get everything ready. If anyone knows how to throw a party it's Katie's mom, Lynn Foster. She decorated the barn with Magic memorabilia and set up an outdoor party area on the lawn where we could mix and mingle after the ride.
Before going any further, I have to introduce my very special partner. In 1991, a little bay Arabian was born at Michigan State University's horse farm. Farm manager Paula Hitzler named him MSU Magic J after the university's star basketball player and, with a name like that, he was surely destined for greatness. When I first met him, Magic was part of the school horse string – his job was to teach students to ride and introduce them to dressage and hunter shows.
The first time I rode him, it was like we'd known each other forever. I bought Magic in 2000 and we competed together for 10 years, the last three years at Grand Prix level. Together we earned my bronze, silver, and gold USDF medals and he retired at the top of his game. I gave him back to the equestrian program at MSU where he quickly settled back into the role of everyone's favorite school horse. During the time I owned him, Magic was not only a dressage star, he was also a willing participant in dozens of research studies and was the model for the photos and videos in my book/DVD Activate Your Horse's Core.
As the years went by and we both got older (funny how that happens), I started to count down how long it would be before Magic, and I could do a Century Club ride together. Finally, it was 2021 and we were 101 years old! The appointed day dawned clear and sunny. The ride itself was a trip down memory lane and, as I looked between those pointy little ears, the years melted away. Sitting at 'C' was my good friend of over 40 years, Maryal Barnett. I rode Training Level, Test 1, which is a nice flowing test, and it was as accurate a test as I've ever ridden – the telepathy between us was as strong as ever.
Afterward, we sipped champagne and tucked into a seemingly endless smorgasbord including a cake with sparkler candles for 101 years. Some of the guests were already members of "The Club" - Sue Hughes came to see my ride because I went to watch hers! Many of the friends who gathered hadn't seen each other for over a year due to the pandemic so we had a lot of catching up to do and for a few hours, the problems of the world seemed far away.
My advice to fellow golden oldies: if you have an opportunity to do a Century Club ride – DO IT and ENJOY EVERY MINUTE!
I clearly remember riding Magic down the centerline for our very first test together or our first test at Arabian Nationals, and for our first Grand Prix.
But the most memorable of all was going down the centerline one last time for our Century Club ride.
Hilary and Magic completed Training Level, Test 1, on July 22, 2021, to join the Century Club.