Team #491 Jacqueline Asher and Jerico SVA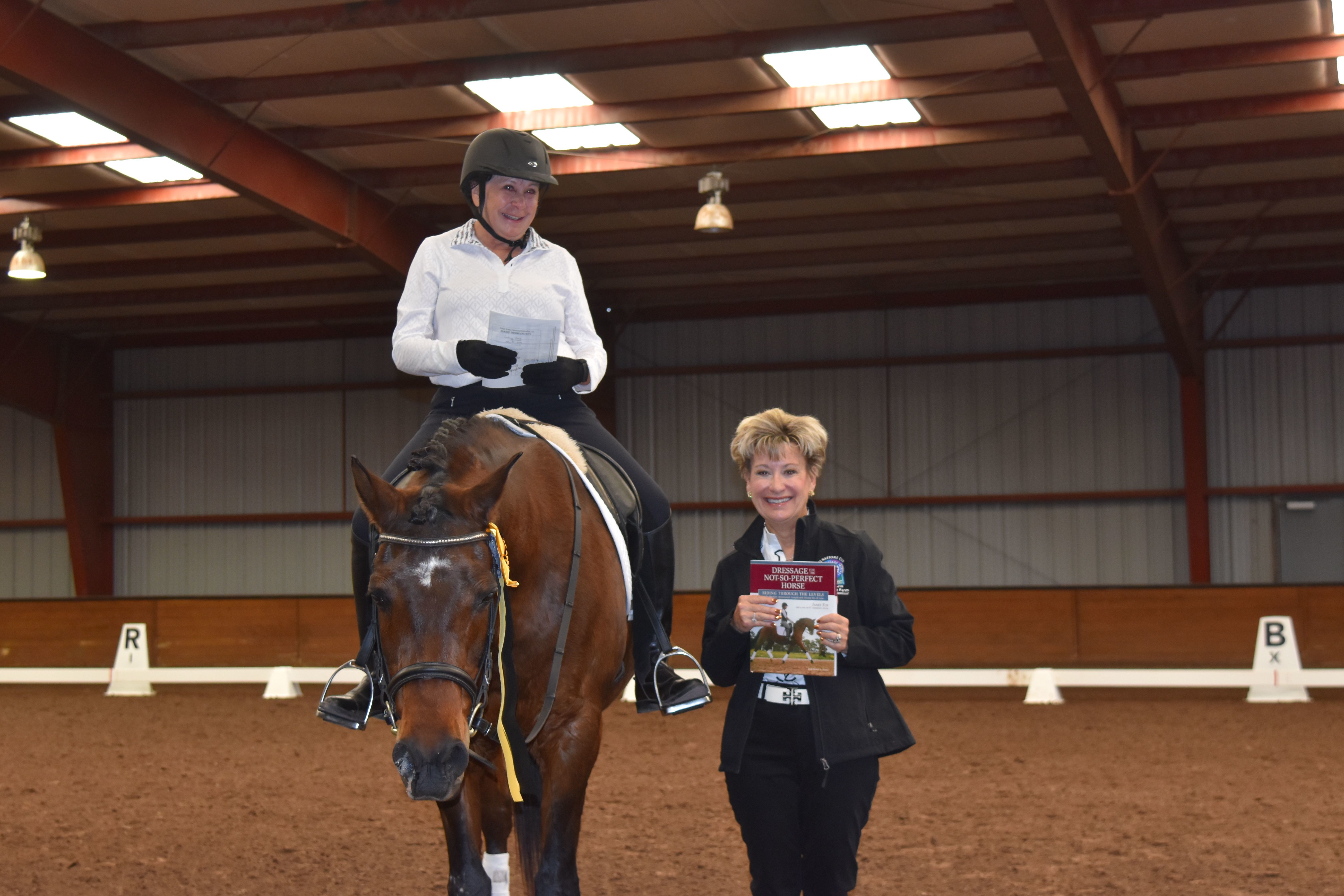 Team #491: Jacqueline Asher and Jerico SVA
Ages: 77 & 26
Combined Age: 103
My journey started when I was five and my mother would take me to the Gene Autry Riding Stables in Albuquerque, NM. The stable was at the end of town on Zuni and San Mateo which now is the center of the town.
When I had my daughter, we would rent horses and take Sunday rides in the mountains together. I purchased my own horse at the age of forty and her name was Sara.  Then the real journey began. All the following years have been filled with the joy of learning (both the good and the hard ways!) with my daughter Elizabeth who joined me in my lifetime adventure in the equestrian world.
We explored the adventures throughout the years with jumping, cross country, mountain riding, and dressage. I was fortunate to find my "heart horse," Mayra, who taught me many lessons and traveled many miles over our 21-year span of time together. 
I thought my riding adventures and education were over with the loss of that special horse. My heart was broken, but my daughter still had her horse, and we needed to make a move to our last and current boarding facility so I could have the ability to rent or lease to continue riding with her.  We both enjoy the journey that dressage offers to us at our own pace and levels, yet it is something we can do together. It always completes our sense of "family" when we are at the barn together. 
I met Jerico SVA (Jerry), a gentleman of a purebred Arabian, who I decided to lease from owner Kayla Romero, never knowing that it was possible to fall in love with yet another gentle giant.  Man was I wrong! Jerry was over 25 when we met two years ago and retired from a long-accomplished show career as a hunter pleasure mount.  The two of us found companionship in starting a new chapter together and the rest is history!  
Jerry is such an amazing horse! His education was way beyond mine and it was rough at first, but it did not take long before we were bonded. With guidance, education, and patience from my trainer, Mariah Wilson at Platinum Performance Horses, we now have an amazing relationship. I still ride four days a week, which keeps my mind and body healthy and strong.  I am quite convinced Jerry would agree if he could!
I am now competing with Jerry in dressage and loving it and getting high scores.  We attended our first show recently and brought home two scores over 65% plus a blue and red ribbon.  I truly never believed I would be capable of riding at the level to show, not to mention do it well.  I have the support of my dedicated daughter and entire entourage who love to see me grow and learn.  That is the beauty of the discipline and why it demonstrates such an elegant sense of longevity.
I would recommend everyone, who loves to ride to continue no matter what age. When I am on Jerry, I experience the calmness of meditation, peace, and happiness.
Jacque and Jerry completed Training Level, Test 3 with a score of 65.172 percent on May 30, 2021, to join the Century Club.