Team #483 James Davis and Bennigan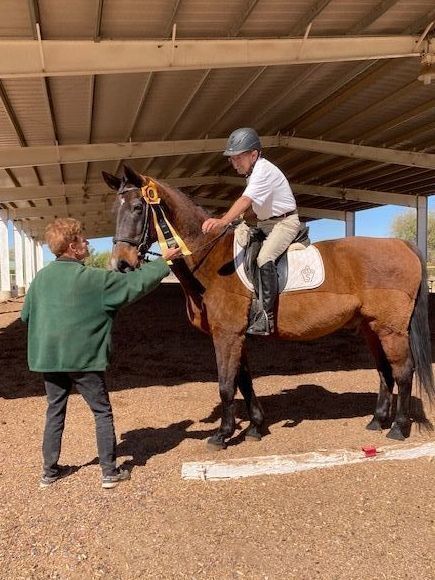 Team #483: James Davis and Bennigan
Ages: 74 & 27
Combined Age: 101
I was born in Pasadena, California, on December 28, 1946, and grew up in what is often referred to as "the Golden Age of television." There was no shortage of western TV shows in the late 40s, 50s, and 60s, and as a result, I was influenced by the Lone Ranger, Cisco Kid, Gene Autry, and others all of whom taught me values such as honesty, integrity, and hard work.  However, perhaps most of all, they encouraged a determination to succeed. That message must have resonated with me because I have been chasing dreams and aspirations all my life. I must say that my childhood heroes, and they were many, had a profound impact on my entire life.
My uncle Bob and godfather owned a body shop on Colorado Boulevard in Pasadena. Every year he provided front row seating for that entire family to see and enjoy the Rose Parade. In 1950 or 1951, I got an entire Hop Along Cassidy outfit for Christmas and wore it to the Rose Parade. Monty Montana, the trick roper, spotted me and threw his lasso around me. I promised myself there and then that I would have my own horse and learn to ride. At the time I had no idea that it would take more than half a century to fulfill that promise.
In 2005, my wife and I decided to move to Arizona because our son and firstborn grandson were there. We sold our home in California and moved to Gilbert, Arizona. Less than a mile from our new home was a small equestrian training facility. In 2010, I decided that if I was ever going to learn to ride it was now or never. I had never given up on that dream so I started taking lessons. I purchased my first horse, a 15-year-old Pinto/Quarter Horse named Andy in 2013. Sadly, just two years later, he developed eye cancer. The eye was removed but cancer had moved to his brain causing him to fall in his stall and break his front right leg. Sadly he had to be put down. My current horse is a Morgan named Oliver which I purchased in 2016. Two years later in 2018, the owner of the facility decided to move. Unfortunately, she was moving further away than I was willing to travel. That decision led me to the CARA (Central Arizona Riding Academy) and trainer Dorie VLatten-Schmitz. I decided that I had come too far to simply quit and believed moving to such a facility could only make me a better rider. Having dreamed of riding western for 50-odd years, it took well over a year to accept the notion of riding in an English saddle. I will have to admit that decision has helped make me a better rider.
I first learned about Century Club from Peter Kalman who had done multiple Century Club rides. With encouragement from Peter, Dorie, and Mary Anne Porter, as well as the loan of Dorie's horse, Bennigan, I have finally fulfilled a dream and promise I made some 70 years ago. It was a long trail but it has been more than worth the effort and the wait.
In closing, I would like to thank The Dressage Foundation for creating the Century Club. It is a real tribute to both the horses and the riders.
James and Bennigan completed Training Level-Test 1 on March 27, 2021, to join the Century Club.