Team #466 Jane Wilmes and Slyply Travis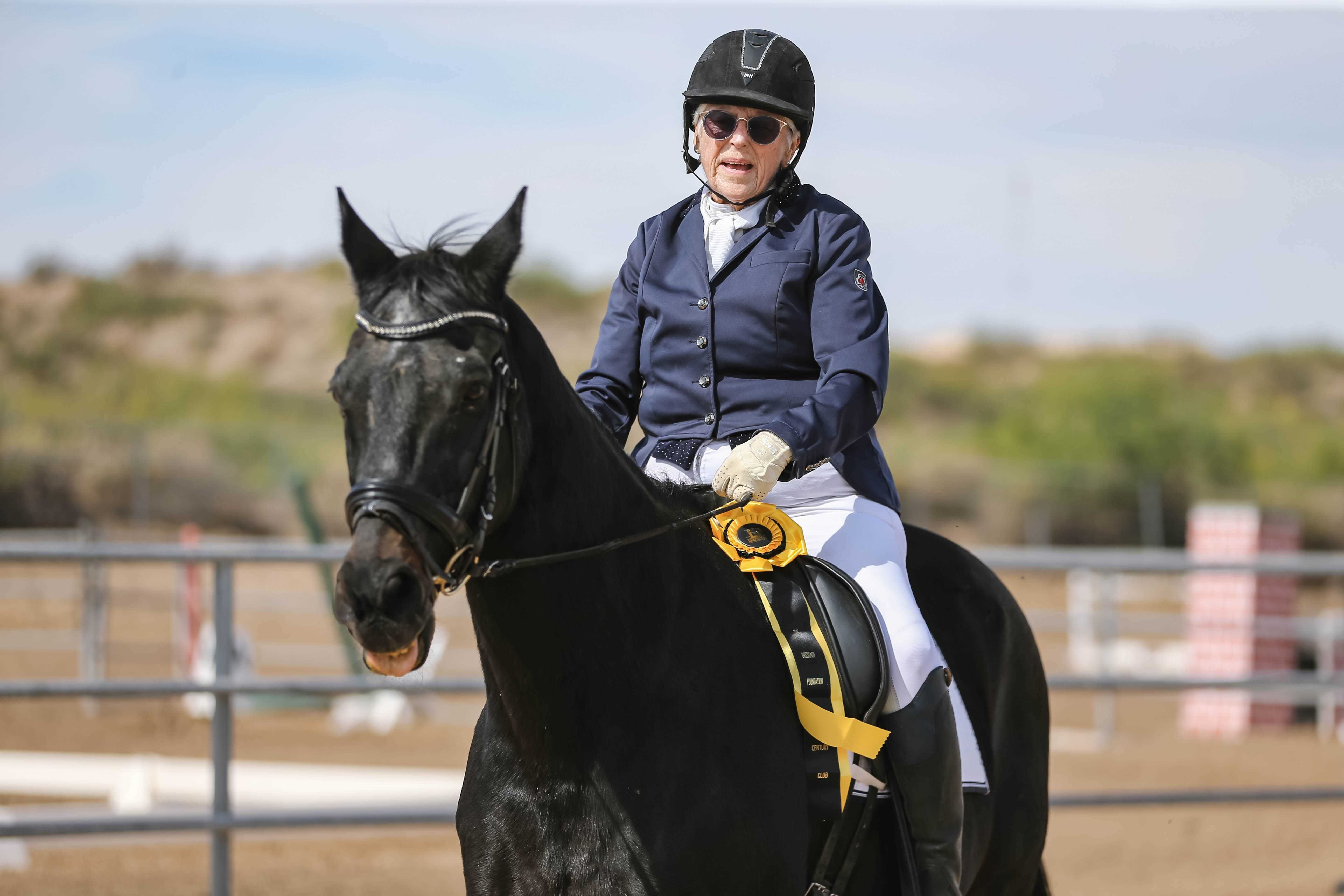 Team #466: Jane Wilmes and Slyply Travis
Ages: 74 and 26
Combined age: 100
I began riding as a child by attending a girls' horse camp in the Sacramento Mountains in southern New Mexico. I did the usual western events of barrel racing, pole bending, and goat tying along with trail riding. After I grew up and married, my new husband (who was also a rider) bought me a horse and I continued with the western riding. Then life interfered and we sold our horses when we moved from Tularosa, New Mexico to Washington, DC.
I was without a horse for the next 20 years even after returning to New Mexico. My husband decided one day that we needed to get back into horses to go deer hunting.  One of our new horses was a dressage horse given to me by my sister.  Beau turned out to be a great hunting and packhorse along with being a wonderful dressage teacher.  As my dressage riding progressed, I began looking for a new horse. My husband found Travis at Sunland Park Racetrack while I was competing in Paso del Norte Dressage Society's Amigos de Dressage Show. Travis was a racehorse that did not like to run. His owner told my husband that the horse was going to the killers if he did not sell.  My husband bought him as a four-year-old race broke gelding and the rest is history.
Travis and I competed from Introductory Level through Second Level. We were learning the changes necessary for Third Level when I decided he had earned his retirement. I did bring him out of his well-earned retirement when it appeared he was staying healthy enough for us to complete our Century Ride. I learned about the Century Ride from an article written about Max Gahwyler after he completed his ride in the 1990s.
Jane and Travis rode Training Level, Test 3 to complete their Century Club ride on October 24, 2020.