Team #387 -- Jane Worrall and Solo Flight (CO)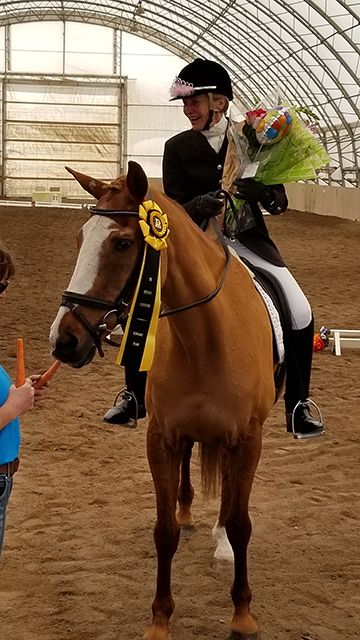 My first ride was a Western saddle my Dad purchased for me as a kid.  I rode that saddle on a saddle stand for a couple of years dreaming of putting it on a horse. When the first horse entered the picture I never looked back.  There was a horse in my life from then on.  I even rode at a stable in Germany while we were stationed there.   
Solo came into my life 20 years ago.  My friend Sue Gentle from Cheyenne called and said, "There is a horse here I think you would like."  The owner was leaving the country, so I made an offer and picked him up a week later.  (This was not the first horse I purchased sight unseen with a recommendation from Sue.)  I immediately took Solo foxhunting and as 1st whipper–in had the best ride of my life.  Now I knew why people love hunting Thoroughbreds. He was fabulous—floating across the ground at a wonderful gallop.   
Of course, I could not wait to event him. He was just as much fun as an eventer and later on, I decided to do dressage with him.   Janet Foy had helped me with an upside-down Appendix Quarter Horse so she was happy to take on Solo, who was a breath of fresh air. He even looked like a dressage horse!!   
We managed to win the Colorado Springs Dressage Association Horse of the Year award in 2005. Solo and I did a fair amount of trail riding, as well[Symbol]he was always up for any adventure I had in mind.   
In later years, I had a young mare needing to get started and Solo was having issues with his back, so he was semi-retired.  Recently he was diagnosed with Cushings, but he seemed to really enjoy my dragging him out of the pasture to "get in shape" for our Century Ride.  He has always been a joy to ride and happy to go to work.   
I cannot express how fabulous it has been to have the support of family and friends to accomplish this milestone. Thank you so much to Nicole Ackerman at Inside Track Training for all the work she did getting her facility ready for this and to Janet Foy for taking the time out of her very busy schedule to judge.  I am very honored.