Team #397 -- Janet Richardson-Pearson and Qandel (MD)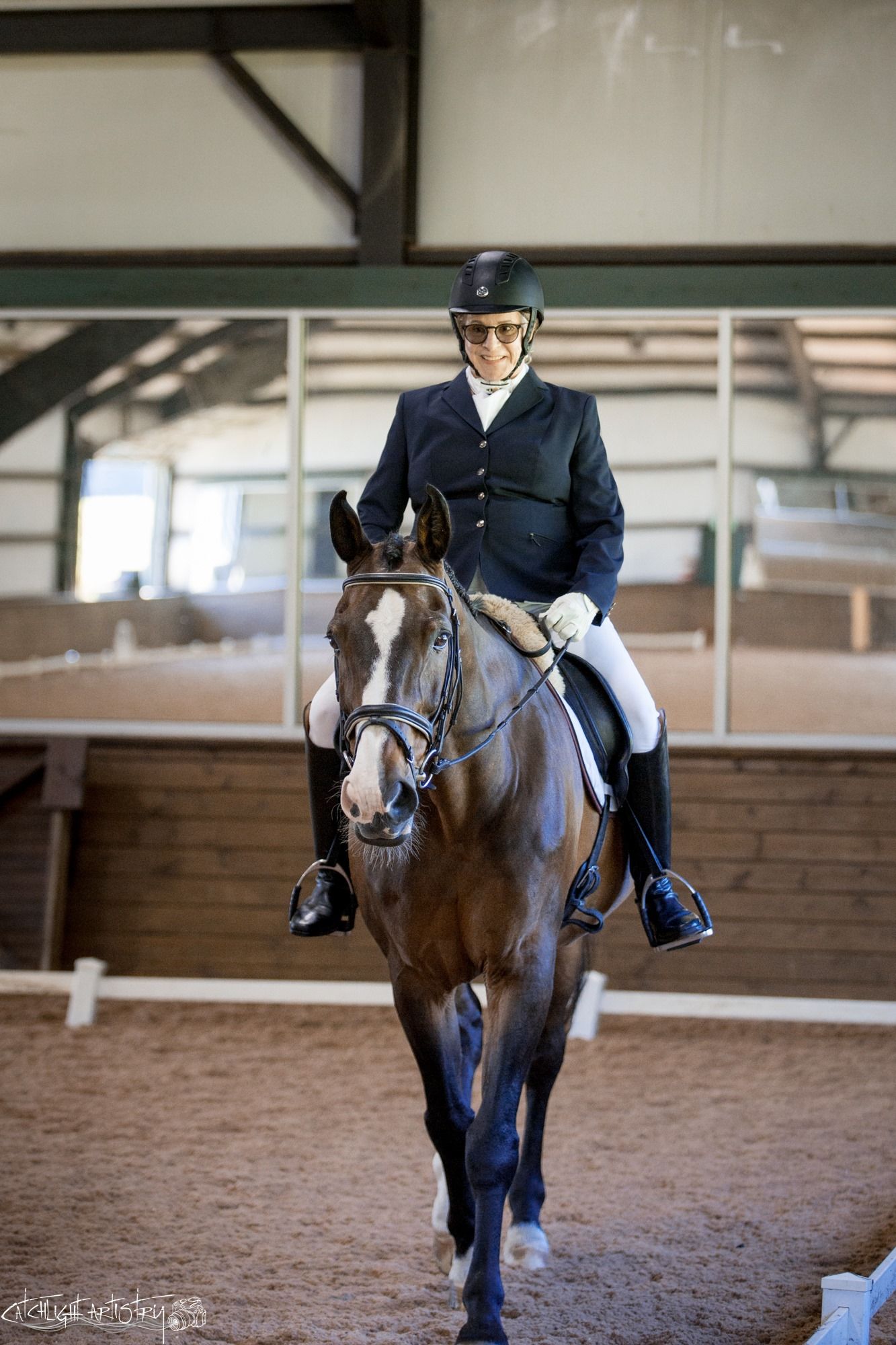 Photo Credit: Amanda Braun
While most of the equestrians in the Century Club spoke about being horse crazy at an early age, my big wish was to have a pet elephant!  Even though we were living in Pennsylvania at the time, with  snowy, cold winters, I tried hard to convince my parents that either our garage or an old chicken coop on the property would be a perfect place to keep one.  Needless to say, I did not get that wish!
I actually never even sat on a horse until I was 35, when my daughter and I took lessons together. Then I was a Pony Club mom.   I had a lesson here and there, and when Linda Zang opened up Idlewilde in the 70s,  I took lessons once a week.  Busy finishing up my undergraduate degree and raising 4 children, then starting my professional career didn't leave much time for horses.   It really wasn't until much later that I finally had a horse of my own.
 My first horse was a 5-year-old buckskin Quarter Horse mare named Skip-A-Angela, that I called Chloe. I didn't realize it at the time,  as she was such a great beginner horse, that she had only been backed a few months before I bought her.  We had a small barn built on our property and I finally got to have horses at our home.   I vividly remember stopping by the barn on the way to work, in my high heels and dressy work clothes, to break the ice in the water trough in the pasture.   
Then as I retired from my professional career, I was finally able to go to the great horse mecca of Wellington, Florida, in the winter, where I trained (and still do) with Ilse Schwarz.   What a thrill!  Just seeing the great dressage stars of the day nonchalantly in the grocery store or giving lessons was, and still is, such an exciting experience.  
I also created my dream dressage facility, Chesapeake Dressage Institute, in 2003 where we have hosted multiple clinics with such stars as Steffen Peters, George Williams, Jan Brons, Linda Zang, Lisa Wilcox, Uwe Steiner, and Bill Warren.  I train with Lisa Gruen, who has been with me since 2008.
Many years and horses later, I acquired Qandel, a Belgium Warmblood, and is the consummate school master.  He and I have been together now for 5 years and he still has lots to teach me.   We were planning our Century Ride two other times, but he developed eye ulcers and had to have eye surgery first one year on one eye and the following year, surgery on the other one.  Both surgeries required long recuperation periods.  Even though I was also recuperating from a back issue, we were  able to do an Intro Level Test with a score of 68.7%.
In two more years, another one of my horses will be old enough for a Century Ride, and we hope to go down center line together for that.  In the meantime, I am still taking lessons and riding two horses and hope to continue moving up and competing until I need sidewalkers and duct tape to stay on!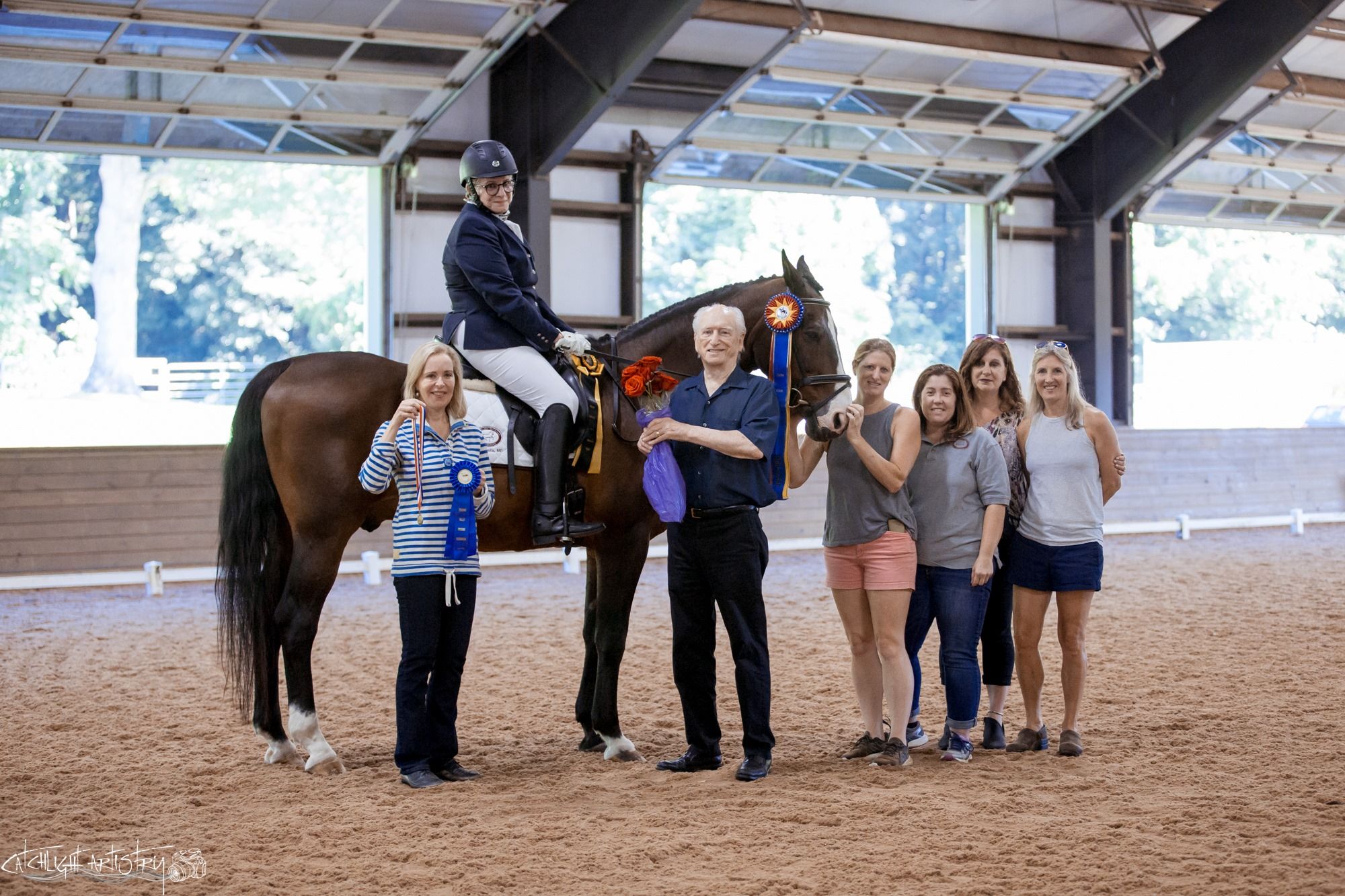 Photo Credit: Amanda Braun
Janet's "village" -- Husband Bill Pearson, friend Donna Cameron, Barn Manager Angie Burnett, Event Coordinator Melissa Angerson, Business Manager Shari DeMino, Trainer Lisa Gruen