Team #446 Janice Walling and Dancing Dude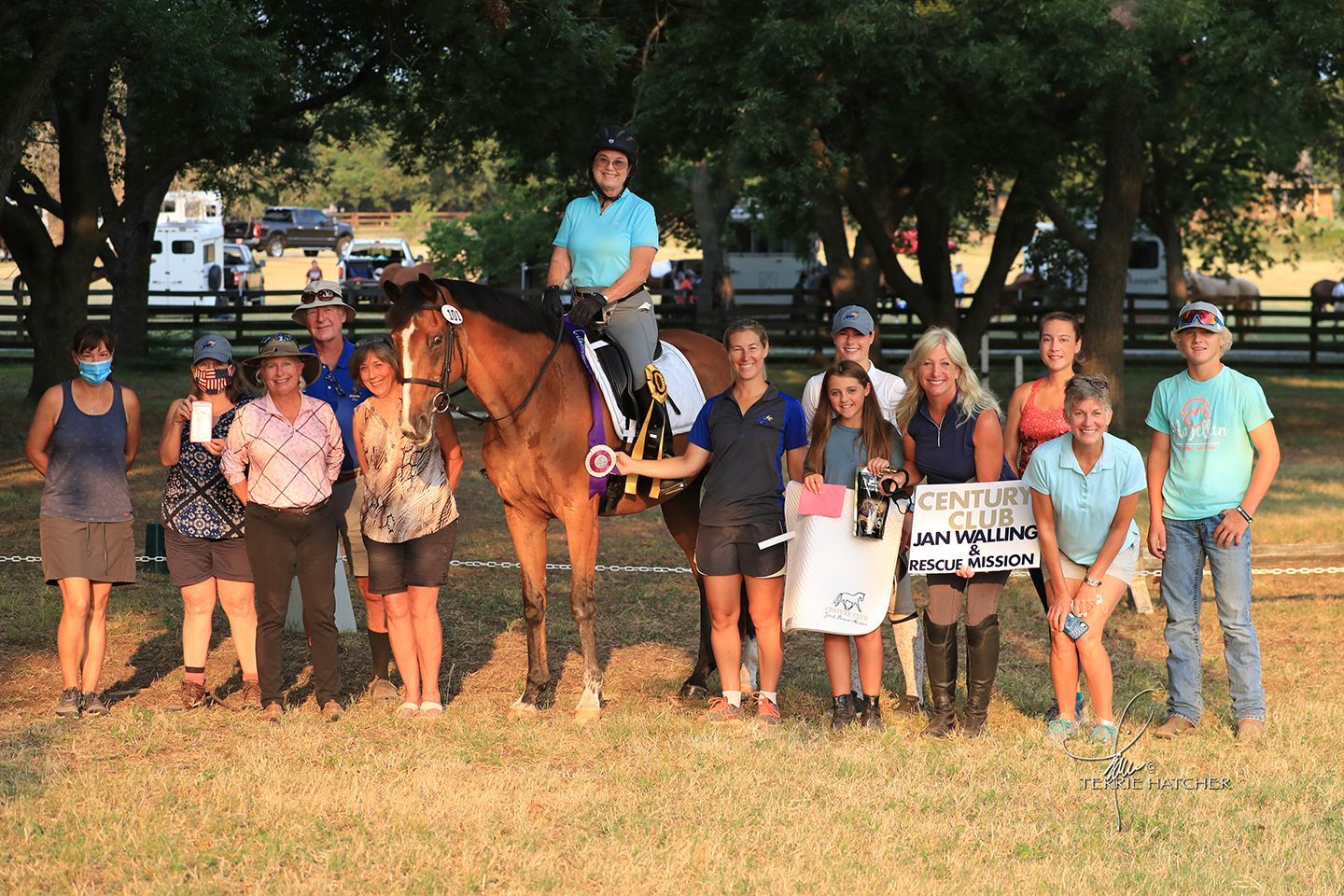 Team# 446 Janice Walling and Dancing Dude (aka Rescue Mission)
Ages 76 and 25
Combined age: 101
I was born in England and started riding at age nine using every penny of my weekly pocket money. When 15, my friend Pauline Owen gave me her New Forest pony named Taunton. He remained with me until he died when we were both 20.
I met my husband Peter who was a medical student when I was 17, and I later became a student nurse at Guy's Hospital School of Nursing in London. Peter and I married four years later and had three sons. We lived in South Africa for 14 months and a year later in 1976, we emigrated to Dallas, Texas, where Peter was recruited to Baylor Hospital as an anesthesiologist.  Christmas 1976 we bought a 14.2 palomino mare for our sons and for me to ride at Willow Bend Hunt and Polo Club.
Dallas was growing at an alarming rate and we decided to buy our present farm just north of Dallas-Fort Worth airport in 1983. As we drove up the drive, a covey of Quail ran in front of our car. We decided to call the farm Quail Run Farm. I immediately recognized the potential for a wonderful Eventing course. In 1987, with the late Walter Straus as TD and Judge, we did our first Schooling Horse Trials. Between '88 and 2002 we ran USCTA and USEA recognized Horse Trials. We now run four schooling events each year.
In 2000 my friend and T.D., Ana Schravesande, called me on the Tuesday prior to our Fall HT to ask if I knew of anyone looking for an OTTB. I called everyone that I knew who was capable of "recycling" such a horse, to no avail. Ana called me on Thursday and asked, "Why don't you take him, Jan?" I replied that I already had three horses. "OH dear," she said, "He is such a nice horse and will end up going to the sale barn on Saturday.  This is a rescue mission," she implored. "Ok  Ana, I will find him a home if you will trailer him in when you come on Friday."  I literally bought him sight unseen, "by the pound" for $700! I called him Rescue Mission and he has remained with me for 20 years. He is a quirky, over-sensitive grandson of Northern Dancer, registered "Dancing Dude."
I remember when Major Jeremy Beale became member # 64 of the Century Club, thinking what an honor it would be to join him one day. I had ridden in several of his clinics in the 80s.
Just before Christmas 2019, I was hacking Mission on a free rein in our large front field when he suddenly went from walk to flat out gallop, leaving me in the rear seat. I fell on my right side unable to reach my cell phone. Mission ran for help and an ambulance was called and I was taken to the trauma center. I had fractured both wrist bones, tore three of the four tendons from my right shoulder, and had severe hematomas from knee to shoulder. For four months I could not get out of bed without the assistance of my dear Peter and I could not drive.

After 8 months of physical therapy three times weekly, I was determined to ride and achieve my ambition to join the Century Club. At first, I rode my 14.2 Quarter Horse mare, and two weeks before the BIG day, I was finally strong enough to ride my sensitive Mission. I decided that at 25 he would probably appreciate a small dose of Previcox. Wow, his canter became fabulous. Days later he showed signs of gastric ulcers and was a cranky old man. He was given UlcerGuard and days off and at that point, I decided to play safe and ride Intro B. We received a 69.9 from judge Barbara Lewis at our annual "Beat the Heat" August Schooling Derby, which also happened to be my 76th birthday and the best one in my life.

I thank Peter, Ana, and my super support team for their support, and the Century Club for the honor of allowing us to become a member.
Janice and Rescue Mission rode Introductory Level Test B to complete their Century Club ride on August 16, 2020.