Team #407 -- Jean Murphy-Ashton and Gunner (ME)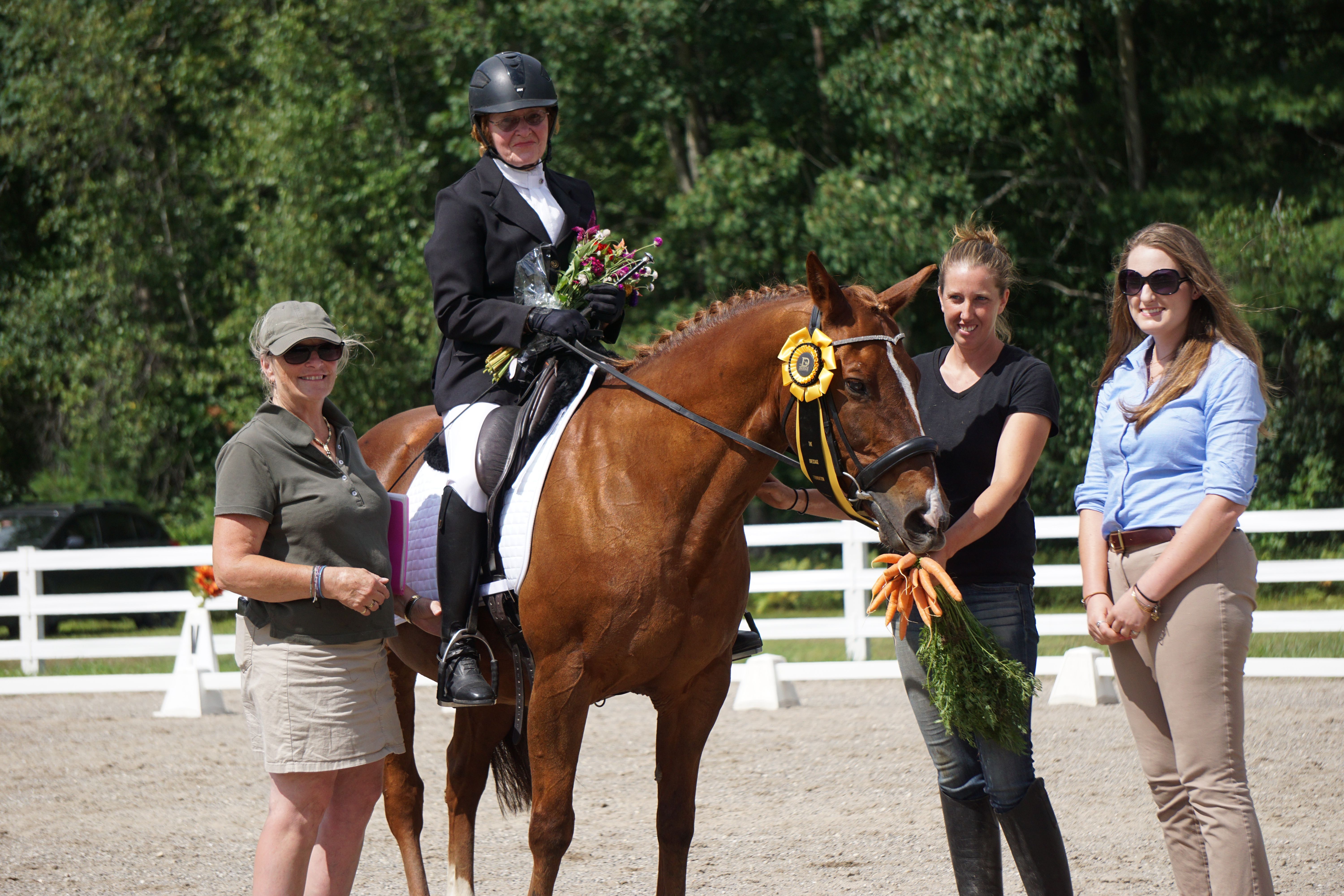 Jean 76     Gunner 24
All throughout my life I have loved horses. We even had a horse lovers club with some of my best friends growing up. Unfortunately, we lived in Brookline, Massachusetts, with a backyard the size of a garage. I would go for pony rides whenever possible. When my family would go apple picking, they would let me ride at a nearby farm. My father died very young so my mother struggled to bring up two children on her own. She knew how much riding meant to me. Even if she could not understand it, she brought me to the farms and would wait for me to ride for an hour. When I got my first job, I spent it all on riding.

I did not get a horse of my own until I graduated from nursing school in 1978. I brought home a saddle and told my husband that I wanted a horse for graduation. I bought Thumper, a 16-hand chestnut Morgan who was five years old. It was love at first sight. He was very thin at the time.  Bushy, who was the owner of the stable in Milton where I boarded him, told me once he gets fat, he will be a handful. I would rather be in the saddle than on the ground when he started spinning around me. That is where I met up with Dot Iorio, who joined Century Club in 2018. We took our girls and about eight others up to Green Mountain Horse Association. We would drop the girls off at GMHA and then go do our own riding and jumping.  

Whatever the discipline I wanted to do, Thumper was up for it, including hundred mile rides (we did the Vermont 100 mile ride six years in a row). We never got a ribbon, but we had all those beautiful miles together. We also got into eventing doing just novice level and took dressage lessons with Bill Woods. That was when I started to get interested in dressage. I still loved the jumping and we would do some fox hunting in New Braintree. It was like being in a movie to watch the field going over the jumps, it was very exhilarating.

Unfortunately, I was in the same position as my mother. My first husband had died and I was raising five children on my own. My youngest was 18 and my oldest was 26, they all had to grow up quickly. Without my horse Thumper and my family, things would have been far worse for me. Then when my Thumper had to be put down, it was almost like reliving my previous losses. It took me a long time to find my next horse.

I went from Morgans to Friesians and found Geartsje, a two-year-old imported from Holland. She was so expressive especially at her trot. She has a great temperament and has also produced two incredible babies. One was Youke, who was trained by Jenny Wells and Jackie Smith. Jackie turned Youke from a backyard horse to train in Grand Prix. I am doing Second Level with Geartsje now but still struggling with my sitting trot, as she has a powerful trot. I knew I wanted to do the Century Ride as soon as I heard about it, but finding a sound a 24-year-old was another matter. I know my children don't always understand my passion for riding, especially after two hip replacements. I told my daughter as long as I can get my leg over (which sometimes has been difficult), I will ride. I thought it was never going to happen.

One horse after another could not do it then came along Sue Pendleton and Brandi Raymond to the rescue with Gunner. He is a 24-year-old half Arabian/half Quarter Horse who is blind in his right eye from birth. Brandi has owned him since she was 9 and he was 3. She evented at beginner novice and rode him First Level. I took about four lessons with him and felt an immediate connection with him. He was such a good boy. When it came to do the ride, he had been warming up for a while and the bugs were relentless that day, but he went right in and did everything I ask him to do. We were having so much fun with the canter, I forgot we had to change across the middle to trot. We still got a 65.8%. Way to go Gunner, you are the best! Thank you to the Century Club for giving me this wonderful opportunity. Also a big thank you to SMDA and all my horse friends who have supported me and my trainer, Jane Tremlett, who has help me become a better rider. Most of all to my family -- I love you all for putting up with that crazy horse loving mom.