Team #406 -- Jeffrey Ritter and TVR Dunny Chip (AK)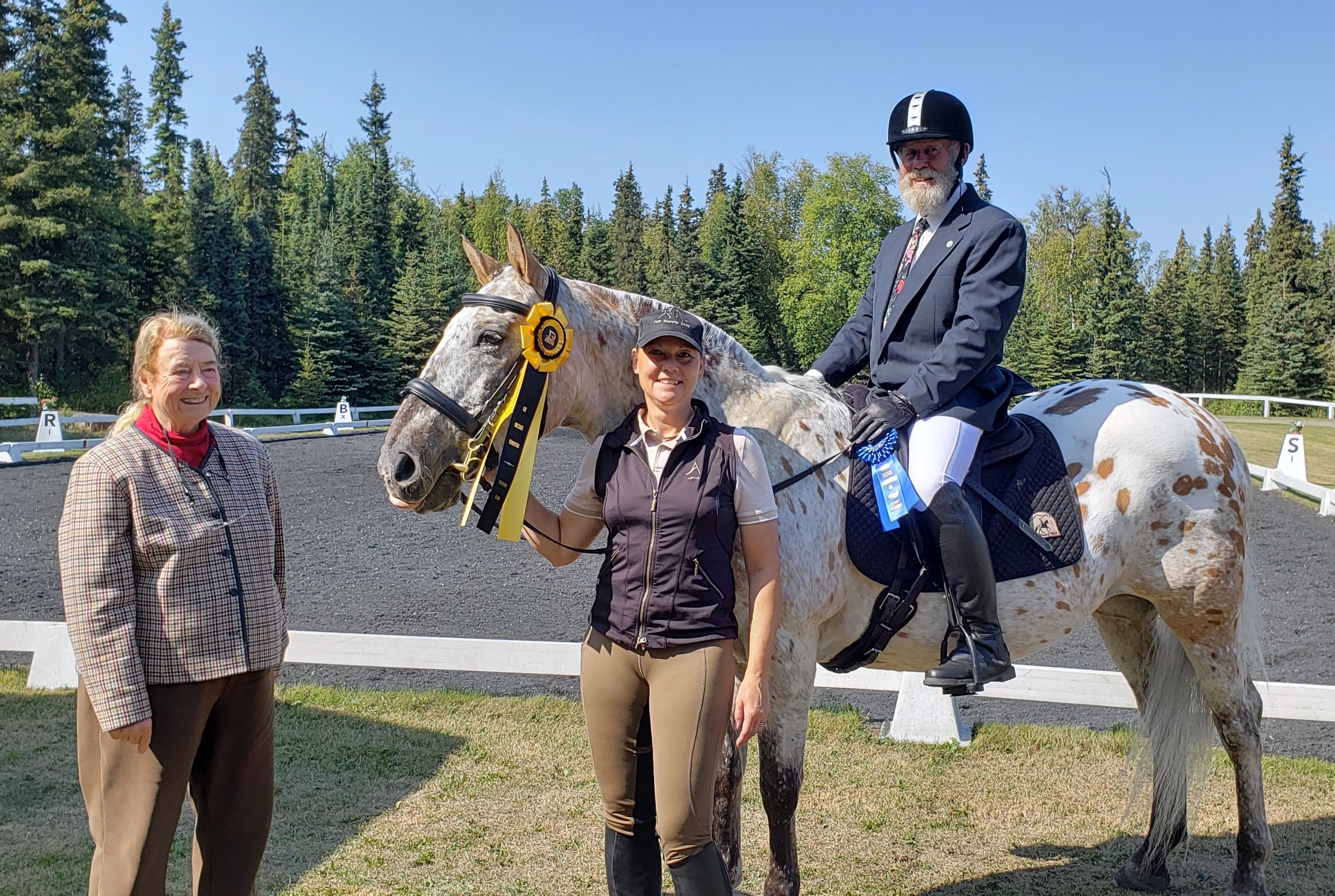 Countdown to Achievement - 3,2,1…100

On August 11, 2019, Jeffrey Ritter and TVR Dunny Chip teamed up for The Dressage Foundation's Century Club ride at the Alaska Dressage Association (ADA) show held in Anchorage, Alaska. The pair would be the third Century Club ride to ever take place in Alaska, the second Century Club ride for TVR Dunny Chip, and the first ever adventure into the dressage show ring for "Horse Show Dad" Jeffrey Ritter. To round out the occasion, they were judged by "S" Judge Angela Littlefield, a fellow Century Club member (Team #319 on her horse Fladimir).

A little about our "Horse Show Dad" –
Jeff's riding experience started when he was a young boy. He owned a pinto pony named Lady whom he rode around the open rolling hills of rural Redding, Connecticut. Riding horses gave him the freedom to roam and from then on, he was hooked. He continued riding off and on throughout his life, from the beaches of Block Island, Rhode Island, to the rugged trails of Colorado, and finally on to the adventurous bear and moose populated woods of Alaska.

Mr. Ritter has been involved in all aspects of the dressage world for over 40 years. In '79 Jeff helped his high school friend Laurie Davis Sigfridson put her dressage barn in order at Greystone Farm in Stonington, Connecticut, where his first daughter, Jocelyn, trained and showed her little white Arabian. After moving to Alaska his second daughter, Aimee, began riding lessons at Diamond H Ranch where she trained both in show jumping and dressage disciplines. Jeff and his wife, Susan, supported Aimee's riding career becoming completely involved in the horse world both within Alaska and on trips across the lower 48 to clinics and horse shows. With their support, Aimee has trained with Jessica Wisdom, Jeremy Steinburg, Bernie Traurig, Wilson Dennehy, Fran Dotoli, Jennifer Alfano, Mindy Bower, and Melanie Taylor Smith, to name a few. Among Aimee's many successes, she earned her dressage silver medal at age 17 on her FEI Morgan pony, Winchester. Super "Horse Show Dad" Jeff picked hooves, carried the show coat, dragged and watered the arenas, set up jumps, attended USPC rallies, drove thousands of miles pulling the trailer, worked on committees and was VP on the ADA board, but riding in the dressage ring had never occurred to him, until one fateful day...

Getting Jeff and Dunny together –
In 2018, as William Burke and TVR Dunny Chip were preparing for their Century Club ride (Team#340), Jeff, who has always been a super Dunny supporter, was at Dunny's trailer. After a brief discussion about how old Dunny was, Jeff happened to mention to Linda Kelley (Dunny's caretaker/owner) that he and Dunny would qualify for a Century Club ride in 2019.  Linda tucked that piece of information under her helmet for future use. At the beginning of the very short Alaska dressage show season of 2019, Linda acted on her knowledge and made the call to Jeff, offering Dunny as a partner for a Century Club ride. It was decided that the August show would be ideal for the opportunity with friends and family being able to attend. With the help of Linda Kelley and Linda McQueary (longtime owner of Diamond H Ranch), along with a very easy going and patient Dunny, Jeff transitioned his riding skills from Western to English. He started by learning how to control each side of the horse (no more neck reining!), lots more inside leg and outside rein, and a few reminders to open his chest by showing us his "Superman S."

In the end, 100 years of super horse and rider had a memorable ride under Judge Littlefield. Linda is extremely proud of Dunny for helping Jeff successfully become a dressage competitor in addition to being the best "Horse Show Dad" ever!