Team #454 Jenny Silber Butah and Devina M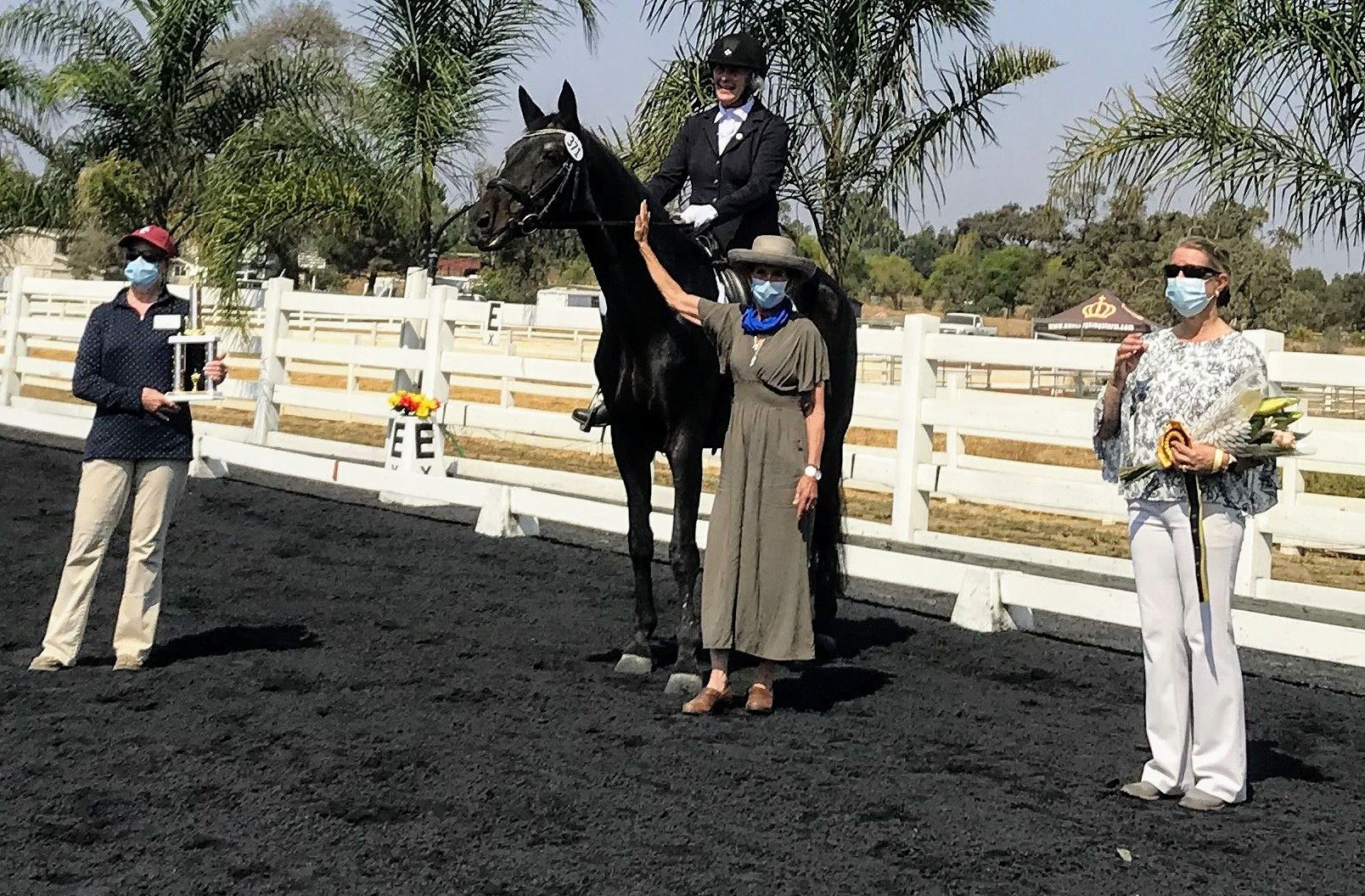 Team #454 Jenny Silber Butah and Devina M
Ages 74 ½ and 25 ½
Combined age: 100
Devina and I have been partners since May 2010. I discovered her at DG Bar when a group of us took our horses down to this famous breeding farm to have lessons with Willy Arts. My then 24-year-old Hessian gelding, Dakine, came out of the trailer with a dislocated stifle and was forced to sit out.
Willy offered me Davina, a 15-year-old Hanoverian, purchased in Aachen, Germany, at a fancy auction ten years earlier. She had since been injured, had had 2 unsuccessful pregnancies, and was currently being ridden by the wife of the owner of DG Bar. I loved her willing, quiet, and ever-patient temperament from the first walk step. Indeed, she was for sale and I purchased her a few weeks later and retired sweet Dakine.
Devina and I have been showing since 2010, with a break for the past few years. Now we're pursuing fourth level dressage, having also shown quadrille, pas de deux, and even freestyle. At 25 1/2, she is healthy, very fit, and sound. I ride her five mornings a week (2 of those days are lessons, with my trainer, 'S' judge Joan Williams). I will be turning 75 in a couple of weeks.
I started riding at 9. I had polio at 5 and my parents encouraged me to swim and ride to be strong and counterbalance the loss of muscle in my right leg. I took lessons at the Red Barn at Stanford University, then at a hunter/jumper barn in nearby Los Altos Hills. I rode bareback on the horses that lived on our road when their owners weren't looking. During college, I took a break, then bought my first horse in my early 20s and rode all over Napa, CA.
Another break followed: I got married, moved to Africa for 5 years; had a son and a daughter; and went to graduate school to become a psychotherapist. Finally, as I was approaching 50, an opportunity showed up for me to ride again. Twenty-five years and four horses later, I continue to train regularly. It's good for the body and soul.
Jenny and Devina rode Fourth Level Test 1 to complete their Century Club ride on September 20th, 2020.