Team #469 Jill Spiers and Catcha Smooth Jet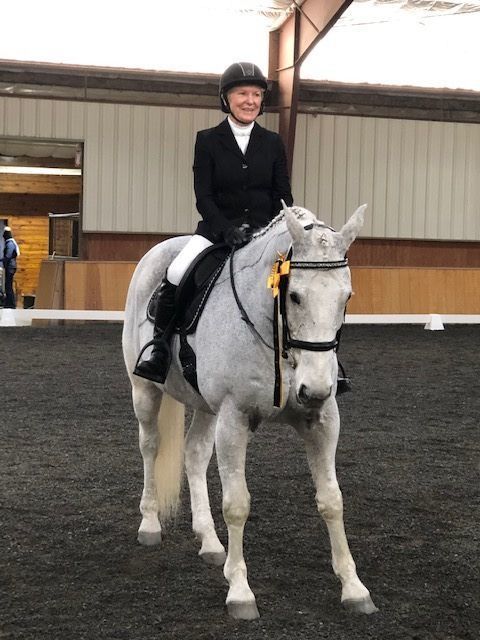 Team # 469 Jill Spiers and Catcha Smooth Jet
Ages: 78 and 22
Combined age: 100
The love of horses has always been a part of my life. Growing up with my parents, sister, and brothers on a farm north of Whangarei, New Zealand, gave many opportunities to ride at an early age. Riding around the farm rounding up the sheep, cows, and cattle produced a lot of practice that then led to local gymkhanas and jumping events. Unfortunately, work got in the way as I started my nursing career and had to leave the farm for life at the hospital and nurse in training.
I still managed some riding on my infrequent days off and my sister's sheep station.  My immigration to Vancouver, Canada, to further my studies and marrying my husband, Dave, left a little time for horses. After moving to the US, our daughter Karin took up horse riding and jumping at the Rochester riding stables where she rode with my current trainer Kimberly Robbins.
After Karin went to college, I bought my first horse Missy and later Brandenburg AKA Brandon, an Oldenburg Thoroughbred gelding. We had a few years competing with Brandon in dressage until he came up with navicular problems and moved to being a trail horse. My current horse is a 14.2-hand pony, Roxy. She's a 16-year-old gray Connemara Cross. I bought her after she was rescued from a kill pen. We moved to the wonderful Meadowland Farms with Kimberly Robbins, Equestrian Enrichment, as my trainer in October 2019. It has been a great move and I am thoroughly enjoying the people in the facility. We did our first recognized show this August at First Level and have made great strides in our skills and will be showing much more this coming year.
My Century Club Ride was with Catcha Smooth Jet, a.k.a. Bomber. He is a 22-year-old Appaloosa owned by Sarah Diaz who has graciously shared Bomber with Equestrian Enrichment for the last four years. I thank Sarah for the opportunity to ride Bomber in the Century ride celebration.
I am honored to be a member of the Century Club and hope that I can repeat the honor on my pony Roxy in three years.           
Jill and Bomber rode Introductory Level Test B to complete their Century Club ride on October 24, 2020.