Team #495 Joan Baron and Sailing Boy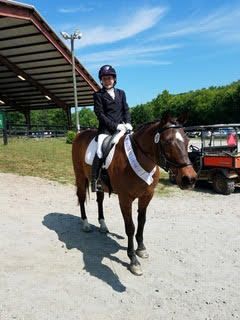 Team #495: Joan Baron and Sailing Boy
Ages: 75.5 & 24.5
Combined Age: 100
Joan Baron was born wailing for riding boots.  An actual horse became possible following four years of college plus one year of teaching English to middle schoolers. Prior to horse ownership, Joan had had only two horse adventures: at Camp Green Cove watching her best friend being dragged by the stirrup up a mountain trail; and riding double across an elevated active train trestle.
For ten years, Joan created and then supervised a lesson program that grew to 300 lessons a month. By then there were five other teachers. These Gone to Ground Farm students competed on school horses in lower-level eventing, sporting the purple and navy farm colors.  It was not unusual to take 14 school horses to an event. It was crossing paths with Jim Graham, a USET member and participant in the World Equestrian Games in 1994, that moved Joan from fox hunting to eventing. Although eventing was a never-ending thrill, dressage became an addiction.
With the addiction came a Swedish guy who was trying to learn dressage to impress his still-in-Sweden girlfriend. He encouraged me to go to Sweden. "The horses are wonderful, and the prices are reasonable.  My girlfriend will take you around," he said. For $323 round-trip, Joan went. While overnighting in a grand old hotel, a message arrived that Erik Johansson had a horse in which she might be interested. 
Yes, it was Sailing Boy, better known as Larsypooh.  This was Joan's dressage horse. His walk was a 10!  Being a Primor offspring, Larsypooh was sane and willing to work.  His education continued throughout the years although Joan was swamped by having to run the farm and had little time for showing.  Larsypooh moves actively forward, using his back and bending without effort; he is such a pleasure to ride.
At retirement, he was doing Third Level work. Joan said, "My heart swells when I'm on him and I am honored to have had him in my life."
Joan and Lars completed Introductory Level – Test B on June 6, 2021, to join the Century Club.