Team # 396 -- Joan Montanari and Hanna Badnana (MD)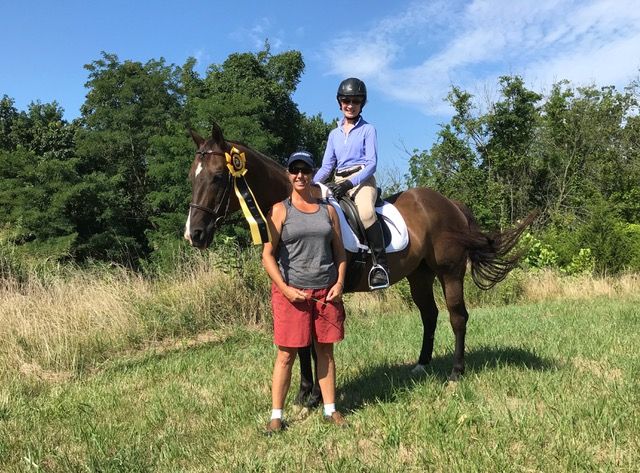 We did our Century Rides on July 13, 2019.  This was our first time riding dressage tests and our first time in a dressage arena.  We rode Training Levels 1 and 2 and scored in the mid 60s on both rides.  Thanks to Sarah Duclos for calling our tests and to the people at Maryland Dressage for their gracious welcome remarks.
My horse story is that I grew up in Missouri, was a horse crazy child (as in reading all the Black Stallion and Black Beauty books), but never actually rode until moving to Maryland in my mid-20s.  I was fortunate to meet a woman who owned horses and wanted someone to ride with when her kids were in school.  She literally taught me from the ground up—how to tack, how to get on, and how to stay on.  Since I was a nurse and worked rotating shifts, I could ride with her on school days.  We spent many lovely hours in the Maryland countryside.
Later as life intervened, I quit riding.  But then my daughter wanted to take lessons for her 10th birthday.   Well, mom took lessons also!  The instructor moved, my daughter lost interest, and I feared that would be the end of horses for a while.  But then, my friend Ellie asked me to be a trail riding companion.  Ellie and I rode together for several years in many of the parks in our area.  We had some wonderful weekend rides.  During those years, I had cancer treatment; and I'm sure it was riding Kelsey that got me through both the mental and physical issues of cancer.  (Horses don't care if you have hair or not!)
Well, when I turned 60, it seemed high time for me to have my own horse, and I gave myself Hanna for my birthday.  My friend Joe was a fox hunter, and he found Hanna for me.  We fox hunted a few times; Hanna was a great second field horse.  Since then we have mostly been trail riders with occasional lessons along the way.   
A few years ago, both of us seemed to be getting kind of stiff and creaky and I started to think about retirement from riding for us.  But then we met our instructor, Sarah Duclos. She introduced us to dressage and since we feel so much better these days, we're definitely not ready to retire.  Many people practice sudoku as they age to keep their minds sharp.  Our goal during aging is to have really round circles! 
So many thanks to Sarah for the motivation and instruction for our Century Ride, to Kelly for introducing me to Sarah, and to my friends at Patapsco Horse Center for their support.