Team #453 Joanne Smith and Mr. Peppers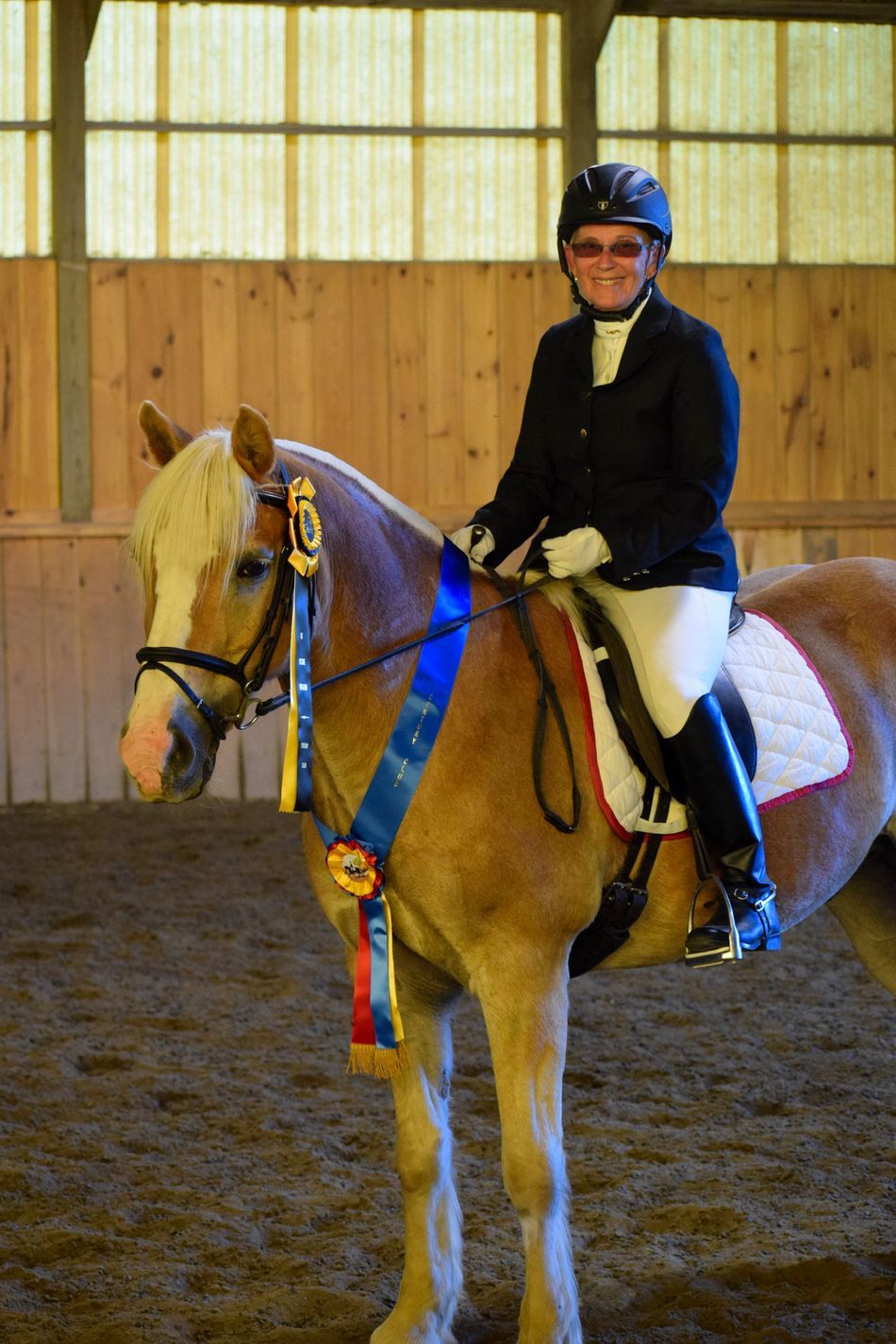 Team #453 Joanne Smith & Mr. Peppers
Ages: 73 ½ and 26 ½
Combined Age: 100
I first read about the Century Club more than 15 years ago, when there were fewer than 100 members. I immediately knew I wanted to join that select group and added that goal to my Bucket List, even though 2020, when my horse and I would be eligible, seemed so very far away. But I kept it in mind, which wasn't too difficult since it's remained the ONLY item on my Bucket List!
I started riding lessons at 9 years old, waiting until that age because that's when my older sister had started riding. A few years later, we were both lucky enough to meet Rino Tacconi, a neighbor of my sister's friend, who loved and owned horses but didn't ride. My sister started riding his Thoroughbred, and when Rino bought a pony for his daughter, I had a horse to ride, too! This incredible access to Rino's horses continued for many years as I went through high school, college, and after marriage. I was able to ride whatever pony or horse he had available, and I am forever grateful for his generosity!
After Rino passed away, riding took a back seat to raising my daughter. But when she began taking riding lessons, I knew just watching wasn't enough. I had to get back up on a horse. Several years of riding school horses followed, until, at age 48, I bought my first horse, a Morgan named Chocksett Tristan.  I took dressage lessons and enjoyed trail riding, both near and far until Tristan had to be put down in 2002.
A year later, a friend introduced me to Mr. Peppers, a Haflinger who had a previous life as a driving horse. After a bit of a rough start with multiple episodes of bolting, he settled down, and we continued with dressage lessons and trail rides. Mr. Peppers became a favorite of everyone who met him, but our advancement in dressage was sluggish and stalled at Training Level as we each confronted our own limitations.
Fortunately, in 2017, all that changed, when Sara Contois became our trainer. She saw our potential and worked us both hard, but with kindness and humor, as we learned about and practiced the building blocks of dressage that had escaped us along the way.
While I waited those many years for my 2020 bid to join the Century Club, I made mental notes of all the folks I wanted to invite, where we would do the ride, and how we would celebrate afterward. However, just before that time, the COVID-19 pandemic arrived, and my extravagant plans had to be toned down considerably. We completed our Century Club ride with just a few friends to cheer us on, but we all felt the excitement of the day, and after the ride, Mr. Peppers eagerly enjoyed a sip or two of champagne with the rest of us!
Joanne and Mr. Peppers rode First Level Test 2 to complete their Century Club ride on September 13, 2020.