Team #461 Judith Bailey and Lauda Believer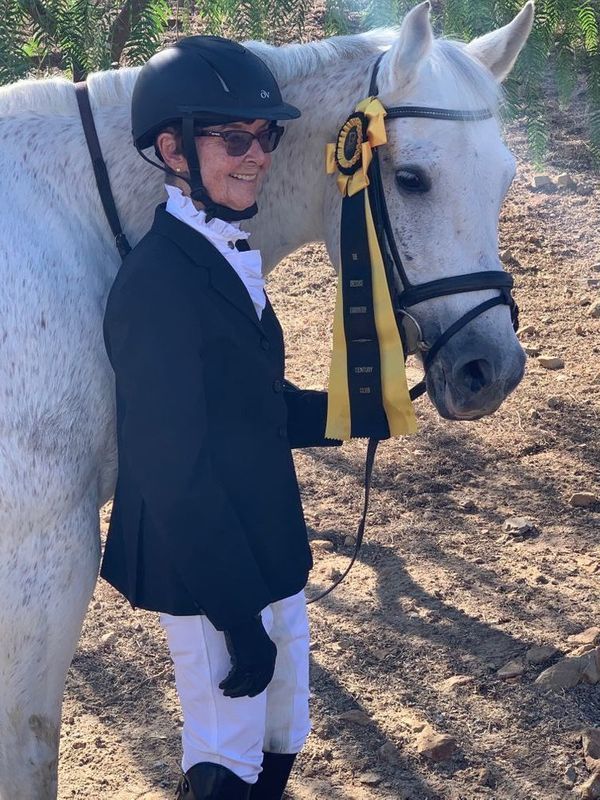 Team #461 – Judith Bailey and Lauda Believer
Ages: 78 and 22
Combined age: 100
March 31, 1998, is a very important date in my life.  On that day, a spunky Quarter Horse colt was born in Del Mar, California.  It wasn't until December 20 of that same year I was to meet him.  I had always dreamed of having a young horse that I could "grow up" with.  It wasn't until I was in my late 50s that that dream finally came true.   
A friend introduced me to a breeding, boarding, and training facility in Del Mar.  So on that beautiful December day, I went looking for my dream horse.  The owner of the ranch wanted me, being such a novice horse person, to purchase a horse that was ready to ride so I could take lessons.  But I was determined to look at the youngsters. 
On our first meeting, Lauda Believer, then known as Ike and later to become JD (Judy's Dream), came running up to me and placed his soft muzzle in my hand.  Instantly I knew he was my dream partner.  From day one, he challenged me to be my best.  I had to work hard to become an acceptable partner.
I will never forget the first day I was allowed to ride him.  I had a horrendous migraine, but there was NO way I was going to miss my first ride.  So I threw up before I got on, rode him around the round pen with tears of joy running down my cheeks, and threw up after I got off. It was worth every minute!!
There was one day that broke my heart.  Having to work long hours, I saw him only on the weekends, so I didn't know many people at the ranch.  One day I heard a bunch of ladies talking, not realizing I was within hearing distance, saying they thought JD was too much for me and that I would be better off with a different horse.  I shed a few quiet tears on the way home.  He did have a big engine.  His father was a racing Quarter Horse and very high spirited.  Luckily he also inherited his mom's good mind. It's true, he was a handful for me, but there was no way I would give him up.  I was determined to become the best partner I could for the love of my life!!       
Because of my long work hours, I had only the weekends with him and he was showing in Western, English, and Trail on Sundays.  So I didn't get a lot of time with him.  When they sold the ranch, I moved to a facility in Poway and where we were introduced to dressage.  It was a whole new wonderful world for him and me. 
So we come to today, October 18, 2020, our Century Club ride, a beautiful climax to a fabulous journey.  The judge commented on what a "harmonious" pair we are—true partners.  And forward we continue partners forever.
My deepest thanks to the Century Club for providing this inspirational opportunity and to my ever-patient trainer, Evelyn.
Judy and Lauda Believer rode Training Level Test 2 to complete their Century Club ride on October 18, 2020.