Team #401 -- Judith Nancy Byers Legate and Wendarlin (Canada)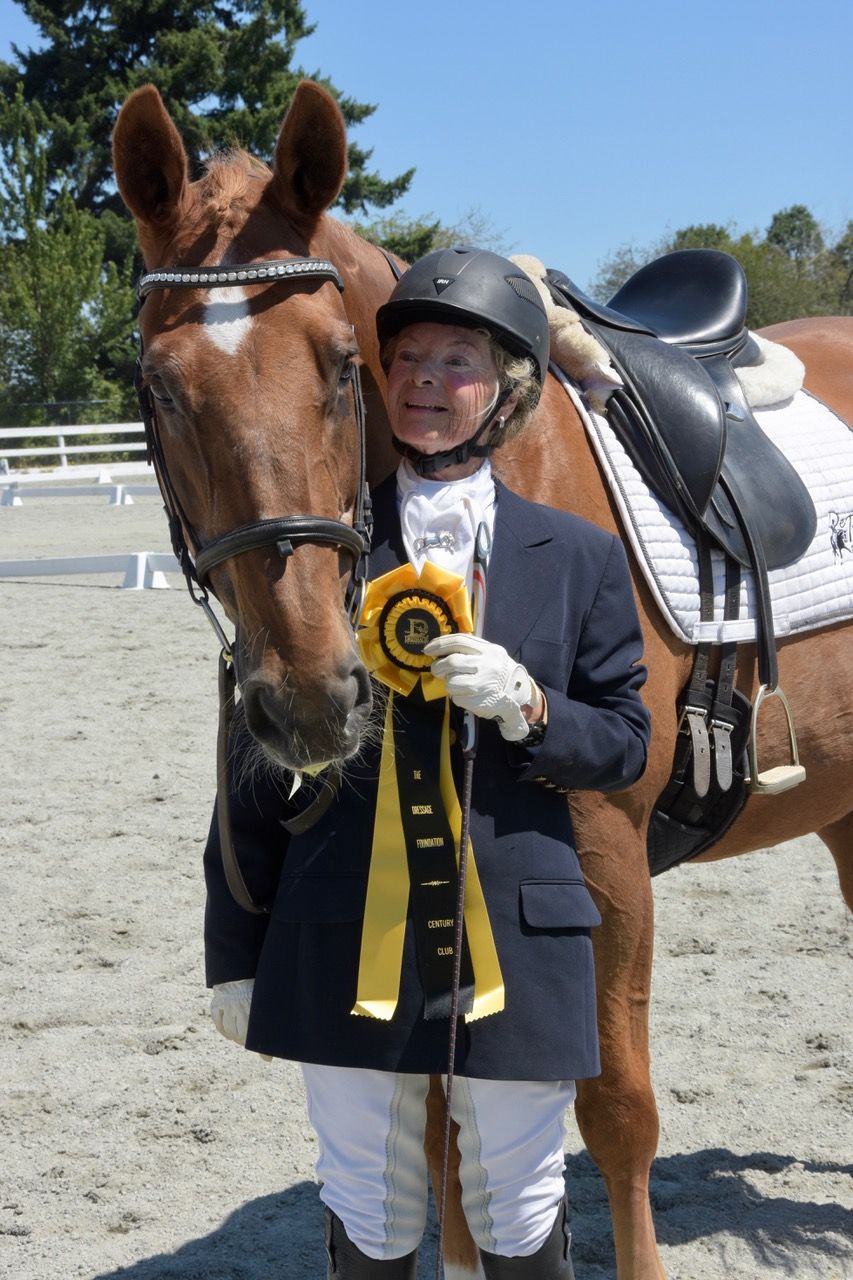 I have always loved horses. Fortunately I grew up in Saskatoon, Saskatchewan, Canada, where there were energetic, enthusiastic and informed Pony Club instructors. Starting at the age of nine we were taught riding skills and how to care for our horses. Experts from across Canada, the US and Europe were brought in to give us clinics. They also tested us to make sure that we met the strict standards established for Pony Club Levels D,C,B and A. Dorinda Hall Holland tested me for my A Level Certificate.
As Pony Club students, we were expected to volunteer to teach two classes a week. As we progressed through the levels we wrote tests on theory, stable management, horse physiology and vet care. We rode tests to establish benchmarks in Riding Competence in dressage and jumping. Then we attended Pony Club Rallies across Canada to compete with others within our level.
Our Pony Club District Commissioner, Wynona Mulcaster, persuaded Clifford Sifton, the owner of the Saskatoon Star Phoenix, to build an indoor arena to ride in because during winter the temperature could drop to -40F. Sometimes we bought ex-race horses to train for jumping and dressage. 
I met my current inspiring dressage coach, Lisette de Rooy, in 1997 when we moved to Sidney, British Columbia. She had spent time as a working student in Holland, her country of birth. She rode with Coby Van Baalen who represented Holland at the Olympics and at other prestigious competitions. We continue to work together.
My mare, Wendarlin, was born 05/03/1995 and is 24 years old.  She was bred by Ethel Magnus at Phonetic Spring Farm in Ganges, British Columbia, on Saltspring Island. I bought her when she was nine years old. She has been a gifted and willing partner ever since. I take lessons twice a week, trail ride for enjoyment and work on flexibility and fitness. Dr. Tino Martinez has always been our vet.
I hope to continue to ride for a long time. I am grateful to all of the riders at de Rooy Dressage who are so supportive and encouraging. We share the love of dressage with everyone at Bonita, Victoria-Saanich Cadora and at Lower Island Equestrian Club.

Judith Nancy Byers Legate (76) and Wendarlin (24) of Sidney, B.C., Canada were inducted into the Century Club on July 20,2019, at the Capital City Classic Dressage Show in Saanichton. Nan and Wendy performed First Level Test 1.