Team #373: Judy Fendley and Rollingwoods Easy as L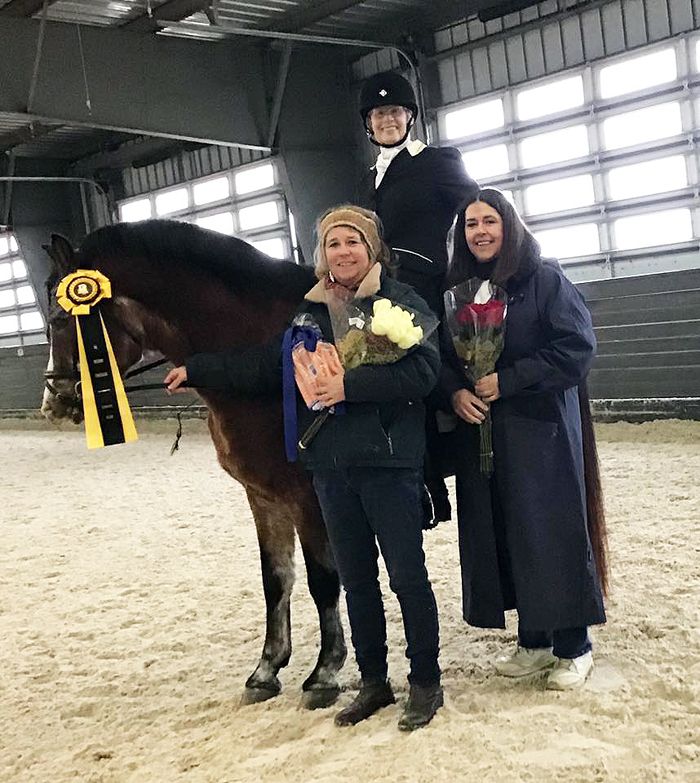 By Nancy Brannon, Mid-South Horse Review

The last schooling show of the season at Mid-South Dressage Academy was a Christmas theme show on Sunday, December 9, 2018. For Judy Fendley, it was a very memorable show. Elizabeth Clifton wrote, "Judy Fendley had a Century Ride at the Christmas schooling show.  She is 77 and her horse is 23.  She received a special ribbon."

The Wilburns at Rollingwoods Farm were ecstatic about the ride. "They did it! Judy Fendley and Rollingwoods Easy As L, aka Elliott, joined The Dressage Foundation's Century Club. This is awarded to a dressage team with the combined age of 100. Elliott is 23 years old, so you do the math on Judy's age. They received a very impressive score of 73.478%. Looks like they still 'have it!' Rollingwoods is very proud of these two, as they have been for many years."

Accolades came from all over, congratulating Judy on her momentous ride.

Easy as L, Elliott, is a 14-hand, 1995 Section B Welsh stallion. Judy started riding Elliott 10 years ago, when he was 13 years old. Judy started him in dressage, moving up the levels from Intro to Training to First Level. Then Lex (Rollingwoods Easy Choice) came along, and Judy started him in dressage. Elliott is Lex's sire, and he has produced numerous quality ponies, some champions at the Pony Finals.

Judy said of the ride, "It was just so humbling and pretty awesome! Elliott came out of retirement for the ride. We started to leg him up a bit in October. Elliott got 9s on his halts and 8s and 7.5s on his other movements. This was pretty impressive for a horse coming out of retirement! He was a shining star!" The other memorable part of the ride, Judy said, was that she remembered the entire test! She was proud of herself for that.

Judy was "all excited" about the ride. "It was a great retirement party for two. He's been a keeper for sure!"

Judy has been riding horses for nearly all her life, and she is a staple in the mid-south horse community. Judy has ridden hunters, jumpers, and "lots of equitation classes," she said. She ran Hilltop Riding Stables in Horn Lake, Mississippi, for 15 years. And she's been riding Rollingwoods ponies for over 20 years.