#408 Karen Jenkins and Cols Lil Homer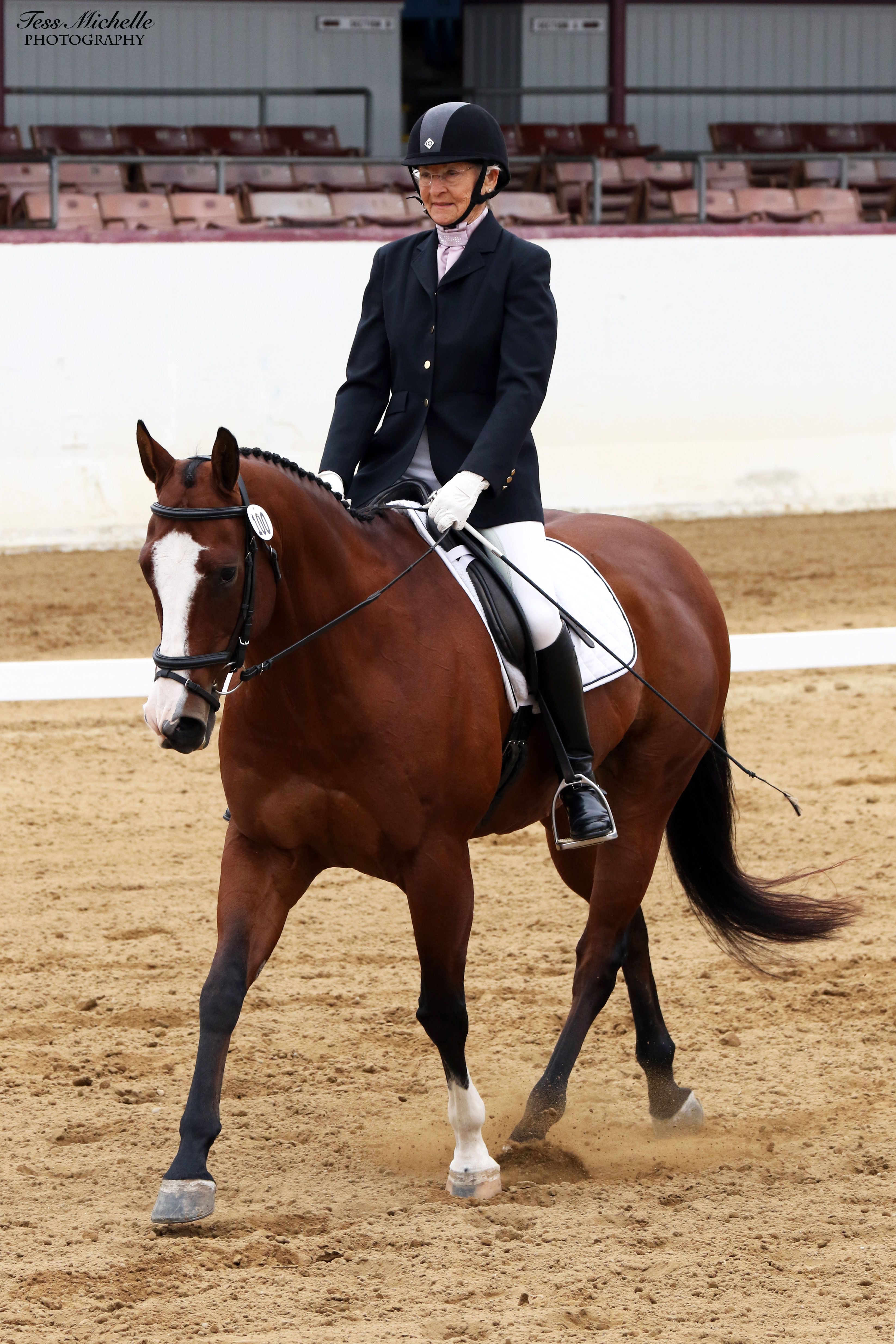 Karen, a member of California Dressage Society's Santa Barbara County Chapter, owns a 20-year-old Quarter Horse named Cols Lil Homer with whom she has had many adventures.
Karen began her riding career on a cattle ranch near Ojai, California, around 1943. Her father managed this ranch, so Karen had early opportunities to ride. She spent her early riding years on an old western ranch horse. Western riding was the way of Karen's riding world until after she reached the age of 40 when her children went off to college.
At that time a friend of Karen's and Karen's husband, Si, suggested that they expand their riding world. He convinced them both to put hunt seat saddles on their horses and to go and enjoy the activities of the Santa Ynez Valley Hunt. "Riding to the hounds became FUN," remembers Karen. Of course, along with the new activity came new and different horses. At that point jump instruction became a part of Karen's riding life as well.
From the lessons, Karen's riding life expanded further to include eventing shows with cross country jumping and dressage included too. Finally, the days came to retire the fox hunting horses to pasture and there they grazed happily past the age of 30.
Soon a new 7-year-old Quarter Horse named Homer came into Karen's life. Homer was not good at ring work, refused to canter under saddle for his new owner, and would turn away from you when approached with a halter. Homer had had some rough handling earlier in his life and was going to need special and extra handling. Karen turned him around so completely that he not only trusts her now but has also accepted everyone who works around him.
Then came the issue of the ring work. Dressage became Homer's new career. Now, several years later they have competed up to 2nd Level. Homer and Karen have become regular students of dressage trainer Suzanne Galsterer. "Karen is so much fun to work with," laughs Galsterer, "and even at the age of 80 she can drop her stirrups and outride all of my other students. She can do an entire lesson without her stirrups. She has the stamina of a 20-year-old. She is truly inspirational!"
Homer shows no sign of letting down. Just a few weeks ago he was ridden by Karen's son, Josiah, in Santa Barbara's annual Fiesta Parade. What a guy! For their Century Ride Karen and Cols Lil Homer rode 1st Level Test 1 at Santa Barbara County CDS Chapter's level 2 recognized summer show at Earl Warren Showground in Santa Barbara. It was an exciting day for Karen, as well as her friends and her family who showed up to witness this wonderful event.
Photos by Tess Michelle Photography