Team #494 Kathleen Calhoun and Days of Future Past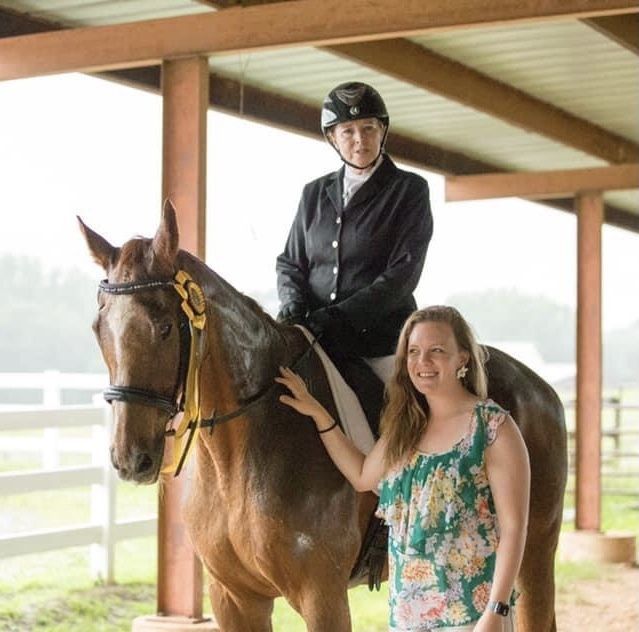 Team #494: Kathleen Calhoun and Days of Future Past
Ages: 71.5 & 28.5
Combined Age: 100
I was born and raised in England where my love of horses started very early in life. I rode every chance I got at a local riding stable and when I could, rode friend's horses.
My family moved to Northern Ireland in the sixties and that is when I got my first horse. I spent many happy hours riding on the beach near my home in Castlerock.
After I came to live in America, I continued to ride and even got my husband riding. We became members of The  New Britton Hunt in southern Indiana. We enjoyed many exciting years with them galloping through the woods, flying over 4-foot jumps, and chasing the hounds for hours! We never killed a fox, thank goodness, but the chases were amazing!
My love of dressage came later in life and led me to meeting Days of Future Past (Chance). He was 17 and had started his career as a racehorse. He then went on to be a successful show hunter and later a dressage horse.
Shortly after I got him, he went blind in his left eye and developed skin cancer, which we still battle today. Through it all, he soldiered on, and we did many clinics together, showed in local schooling shows, and won a year-end award for a Pas de Deux. Chance is mostly retired now and is enjoying lazy days in his pasture. He is the kindest and sweetest of horses.
It was an honor to have done my Century Club ride on Chance (even with the rain pouring down) and I'm thankful to The Dressage Foundation for offering this awesome program.
Kathleen and Chance rode Introductory Level, Test B, on June 5, 2021, earning a score of 64.375 percent to complete their Century Club ride.