Team #334: Katrina Oosting and Poldi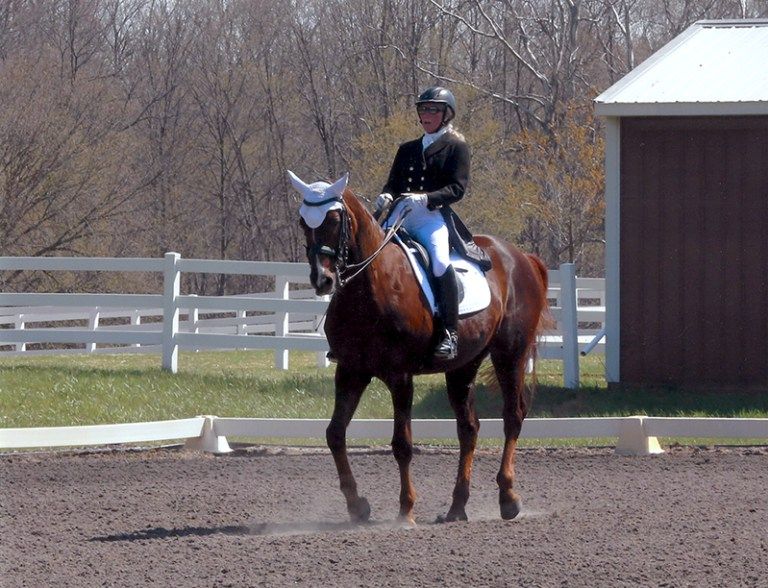 I started riding dressage after showing in the hunter jumper circuit. I switched to dressage with Jacques Von Royan in Lainsberg, MI. After that, I worked with German rider Bodo Hangen for several years and then took two horses to Tornoto, Canada to work with Christilot Boylen for a year. Since then, I have shown numerous FEI Tests as well as young horses at recognized shows. We have earned several championships from Second Level through Prix St. George and Intermediate 1, even earning my bronze and silver medals.
I have had Nicholas Fyffe, Alex Gerding, Christilot Boylen, Trish Helmer and Laurie Moore at my farm and for the past seventeen years have hosted clinics with Patrick Burssens from Wellington, FL. Patrick has been coming to Riverwood to teach and coach for me, my students and clinic guests, and he is the one who found my Poldi.
I bought Poldi as a six-year-old stallion in May of 2004 from Juan Matute. I had him gelded in Spain before he was imported to Michigan. He has been with me on my Riverwood Farm since that time.
In June of 2007, I showed him in Prix St. George at the Dressage at Waterloo Show. He came in second in a huge field with a score of 70.500%. I showed him one more time the next year at Intermediate 2, in which we got third place. I was then 72 years old, and decided to retired from showing, but still ride, train and teach.
For my Century Ride, 21-year-old Poldi and I rode Intermediate 2 on May 5th at my Riverwood Farm Dressage.
Currently, I ride two FEI horses per day at least four days each week, and I still teach and run my own dressage facility with several boarders. I teach partnership as the most important quality. The swing in the horse's tail and the softness in the eye as they perform with their partner tell me the student is learning and the horse is happy, instead of feeling attacked by a predator.
Mark Halprin said it best when he wrote, "A horse moves as if he always hears music" As a rider and teacher, while asking full athletic performance from the horse and rider, I try to teach that we don't cause discord or disrupt the dance (and music he hears) between horse and rider.
It was an honor to still ride my horse at the high level and have his body cooperate and dance with mine. Thank you for having the Century Club.