Team #409: Lily Catherine Ford and Tardy's Elegant Lady
Team #416: Lily Catherine Ford and Alexandrite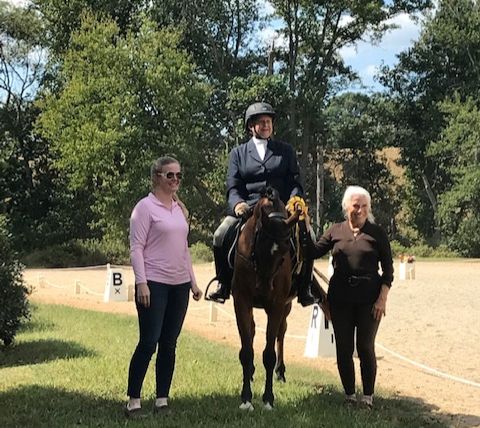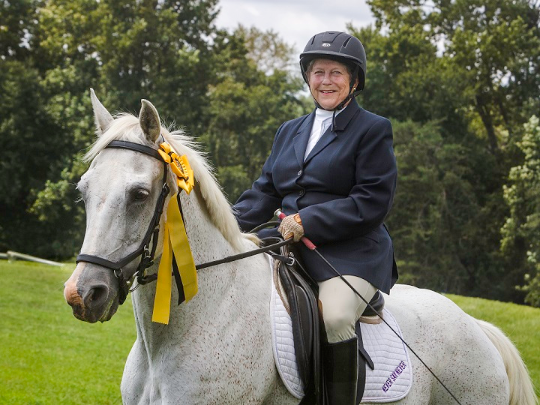 Lily Catherine Ford  75
Tardy's Elegant Lady  27
Alexadrite  25
Love of horses has always been a part of my life.  Unfortunately my parents did not shared that love, so I never was able to indulge my passion as much as I wanted.  Then when a fall from a horse left me partially paralyzed, horses were no longer a part of my life while I had operations and recuperated as much as I was going to.  As soon as I could, though, I started riding again.  I took lessons at the Manege de Geneve in Geneva, Switzerland, where the instructor spoke fluently in three languages to his students.  Later while living in Hawaii, I was lucky enough to ride on the island of Maui, where pheasants flew up when disturbed as we rode through eucalyptus forests and I was high enough in elevation to see the shades of blue of the ocean as it deepened.  I started riding again in earnest while living the United Arab Emirates where I lived for over a decade. We would ride in the desert and see falconers training their birds in a scene that looked as old as time.

During my time away from riding, it seemed as if riding instruction changed dramatically. Those changes were reflected in the lessons given to me by Alison Mundy from South Africa, who was running the riding school where I rode. Second in command was Micky Purcell from Holland, but now living in Chapel Hill, North Carolina, and owner of the Folly Farm there.  The changes really appealed to me, and I have ridden ever since.

Perhaps you have noticed that I never rode in my home state of Georgia. After my parents had taken such good care of me after my accident, I just couldn't let them know that I was riding again.  Both parents passed away while I was abroad and eventually I returned home.  Once here I got two horses, one an Arabian and one a registered Quarter Horse, and began lessons again.  I took lessons from Alison Faso Thompson for many years.  I benefited from the lessons given in the Kudzu Clinics of the Georgia Dressage and Combined Training Association over the years and most recently took lessons from Liz Molloy.  Additionally I was fortunate to take lessons from Kelly Eaton at Shakerag Hounds.  Riding friends like Barbara Hopps and members of the Shakerag Hounds also encouraged me to keep on riding as I got older.                                                          
While at Oxer Farm in Clermont, Georgia, I saw Robin Peterson ride her Century Club test and decided that would be my goal for the two horses.  First I rode Tardy's Elegant Lady, aka Stormy, who is 27, but I had to wait until my 75th birthday in early September to ride Alexandrite, aka Alex, who is 25, in a Century test in late September.  I would like to thank everyone who encouraged me to pursue this goal and to thank Dr. Max Gahwyler, who had this exciting idea.  Currently I hill top with the Shakerag Hounds Hunt Club.  I encourage riders to keep on riding for as long as they can.  Thank you, The Dressage Foundation for giving us the opportunity to show that we are still out there riding and loving our horses.