Team #511 Linda Lempe and Island Rumba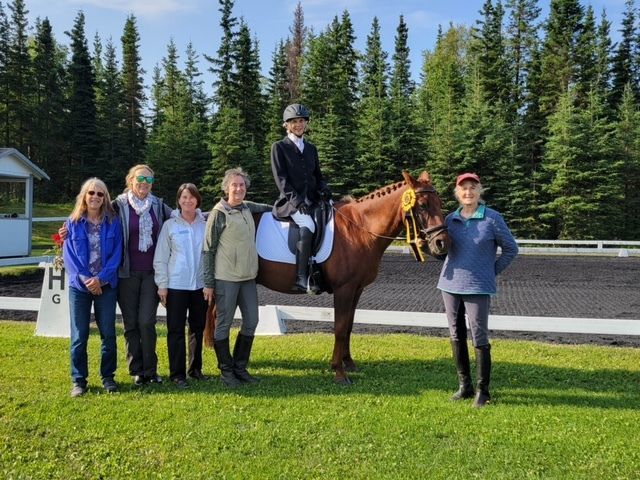 Team #511: Linda Lempe and Island Rumba
Ages: 77 & 23
Combined Age: 100
Horse Crazy Lady Meets Rumba the Wonder Horse
My husband, Jim, our two gigantic Saint Bernards, and I moved to Homer, Alaska, after I retired from my school librarian position at Maricopa Unified School District in Arizona. We were pursuing dreams of freedom and tall, snow-capped mountains. Jim built our home on the bluff overlooking the town, and I learned to spin to avoid being buried alive in dog fur! My spinning led to other fiber art interests, and I joined a group called Fiber Friends that explored different areas of fiber arts (Jim referred to us as the "Fiber Fiends"). We had other interests as well, including refurbishing vintage cars and spending time in Whittier working for the Alaska Marine Highway.
One day a horse walked by our home, and I realized how much I missed having horses in my life. I joked that as a child my riding instructors were Roy Rogers and the Lone Ranger. I loved horses as a child and am still crazy about them now. Therefore, I was delighted to find that Alaska had an active equestrian community that engages in all kinds of wonderful equine events, such as rodeos, horse shows, clinics, trail riding expeditions, game days, overnight packing trips, and equine therapy organizations. Alaska is also home to branches of the United States Dressage Federation (Alaska Dressage Association) and the United States Pony Club.
I met Cass Crandall when she organized a Horsemaster program through Kachemak Pony Club, Homer's local USPC group. USPC Horsemasters allows us "oldsters" to participate in all the wonderful horsey activities USPC offers that were once limited to "youngsters." Although I've ridden off and on throughout my life, I feel like I really did not learn how to ride until I joined the Kachemak Pony Club Horsemasters group. Through KPC I was able to take part in clinics, lessons, rallies, quadrille, pas de deux, and other horse activities. The sport of dressage especially piqued my interest – and I now have a C1 Dressage certificate. (Yippee!)
Island Rumba, "Rumba," and I met at Cass's barn, and we began a long and wonderfully enjoyable partnership. At twenty-three years of age, Rumba is a very patient teacher, which is lucky as I am a slow learner! Rumba has been involved in Kachemak Pony Club Activities since he was five. He took his original owner through her C2 certification, another KPC member through her C3 certification, his owner, Cass, through her C3 Dressage Certificate, and this year my C1 Dressage Certification. In Cass's words, "Rumba is a saint who's been there, and done that – although in his younger years he was known to give a powerful buck once in a while and would sometimes pull a young unsuspecting rider over his head diving for grass." Through it all, Cass, his owner, has been a good friend, mentor, and instructor. She has been very generous in sharing her horses (I've also ridden Jesse, Spirit, and Star.)
I am very fortunate to have had the privilege of working with Rumba, Cass, the other Kachemak Horsemasters, ADA, USDF, USEF, and The Dressage Foundation Century Club!
Linda and Rumba completed Training Level, Test 3, with a score of 71 percent, on August 15, 2021, to join the Century Club. Linda and Rumba's score also secured them High Score Reserve Champion of their show.