Team #518 Linda Lester and Eeyore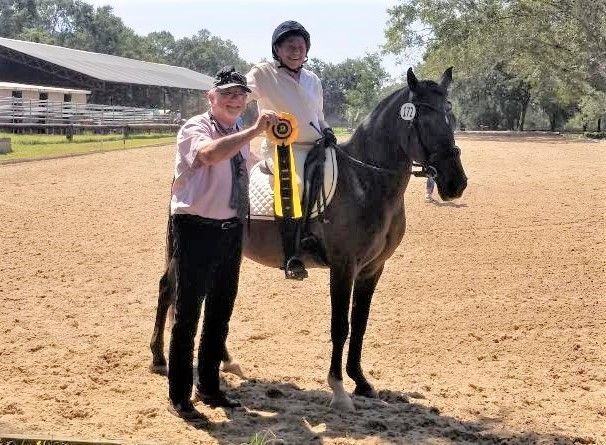 Team #518: Linda Lester and Eeyore
Ages: 79 & 22
Combined Age: 101
You don't stop riding because you get old – You get old because you stop riding!
This is my second Century Club ride. My first was ten years ago aboard a 34-year-old Arabian mare when I was 69. We were Team #86. I am so impressed by the growth of the Century Club in the past ten years! Obviously, the club is a hit with us older riders. For this ride, I am aboard my 22-year-old, 14 hand gelding, Eeyore. I recently turned 79.
Eeyore is a very special pony. He was a rescue when he was four years old from a field somewhere in Alabama. He was totally neglected to the point where his baby halter grew into his face. He still has groves on his nose and poll. The story goes that the owner owed the hay man some money, so he gelded the pony himself and give him to the hay man. Well, the hay man didn't want him, so he brought him down to a barn in my area, northwest Florida, that had a lot of kids and ponies. I had some friends boarding at that barn, and they said when he came off the trailer, he was the sorriest-looking thing. Skinny, worms, and infected from the surgery.
They were told he is a Connemara, although we have no papers. It took quite a while to nurse him back to health and to put basic training on him. Then kids rode him, but they didn't care for him because he didn't go where they wanted him to go. He then sat around for several years, doing nothing.
They put him up for sale just when I had to retire my chestnut Arabian mare. She was sweet and lovely, but a bit of a looney tune. You could never really relax on her. My friend called and told me to come to look at this pony. I rode him once and bought him on the spot. He was so calm and undramatic. They had named him Little Bit, but I thought that was too plain a name for such a cute pony. My friends told me that he didn't come with a name so I could name him anything I wanted. The more I got to know him the name Eeyore pooped into my head. He is a perfect Eeyore. He doesn't buck, rear, bolt, or spook. It takes too much energy! He has such a laid-back "Oh my, if I have to," attitude. In addition to carting this old lady on quiet walk trail rides, Eeyore is teaching three young girls how to ride and show. One judge called him "an Intro Level Schoolmaster."
Eeyore and I plan to continue growing old together.
Linda and Eeyore completed Introductory Walk-Trot, Test B, on September 11, 2021, to join the Century Club.