#400 -- Linda Smedberg and Fascinatin' Rhythm (WI)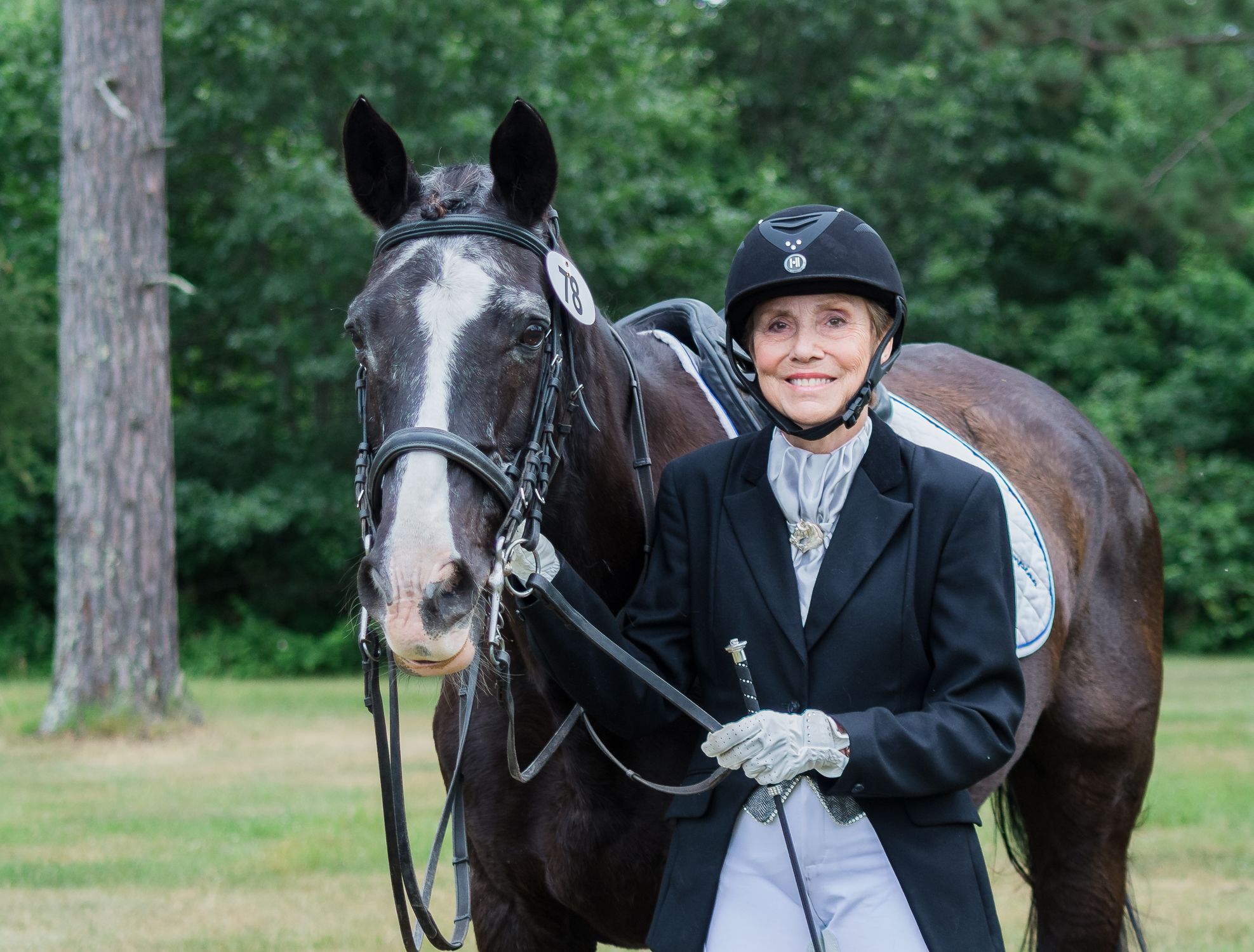 Fabal, aka Fasinatin' Rhythm, was two months shy of her third birthday when I brought her home.  Not having any training whatsoever, it was a real leap of faith.  But a leap of faith that has paid off in spades.  She was my first dressage horse.  Besides many ribbons, trophies and championships she has won, including Midwest Champion, she's been my best friend and partner for 26 years!

She didn't know how to lunge, walk over a ground pole, or cross the creek at the barn that was her new home.  You could construct a box around her with four poles and she wouldn't leave.  The herd would cross the creek in the morning when the horses were turned out and she would stay all day on the small patch of pasture between the barn and the creek.  I finally, after a few days, took a bag of carrots and a lunge line out with me to lure her across the creek.  It took a bit of coaxing, but she finally was able to cross the creek and join the other horses.

We started showing with in-hand classes and finished with Prix St. Georges.  I earned my Bronze medal on her and have earned half of the scores for my Silver medal on Fabal.  She's still capable of doing flying changes and tempis at age 29.  I still ride her three to four days a week along with my eight-year-old Hanoverian mare.

I started out as a child riding by the seat of my pants, mostly my best friend's pony.  After she moved away, I was not able to ride again until after I was married.  The wife of a co-worker of my husband, also a horse nut, found a place in town where we could take jumping lessons and she convinced me to come with her.  (It didn't take much convincing.)  Lessons led to horses of our own and showing hunter/jumpers.  For years, I was told the best way to get to my fence was with flat work, but no one had a really good answer to "what is flat work?"  Trainers changed at the barn I was at and the new trainer was a dressage trainer.  I finally understood how to get to the fence.  But I also became hooked on dressage, the stuff I used to think was so boring...

I had a great time doing our Century Ride!  It was a dream come true.  And my thanks to all who made it such a memorable day!
Photos by Kathy Nordstrom, Smugmug