Team #509 Linda Tomlinson and Dewey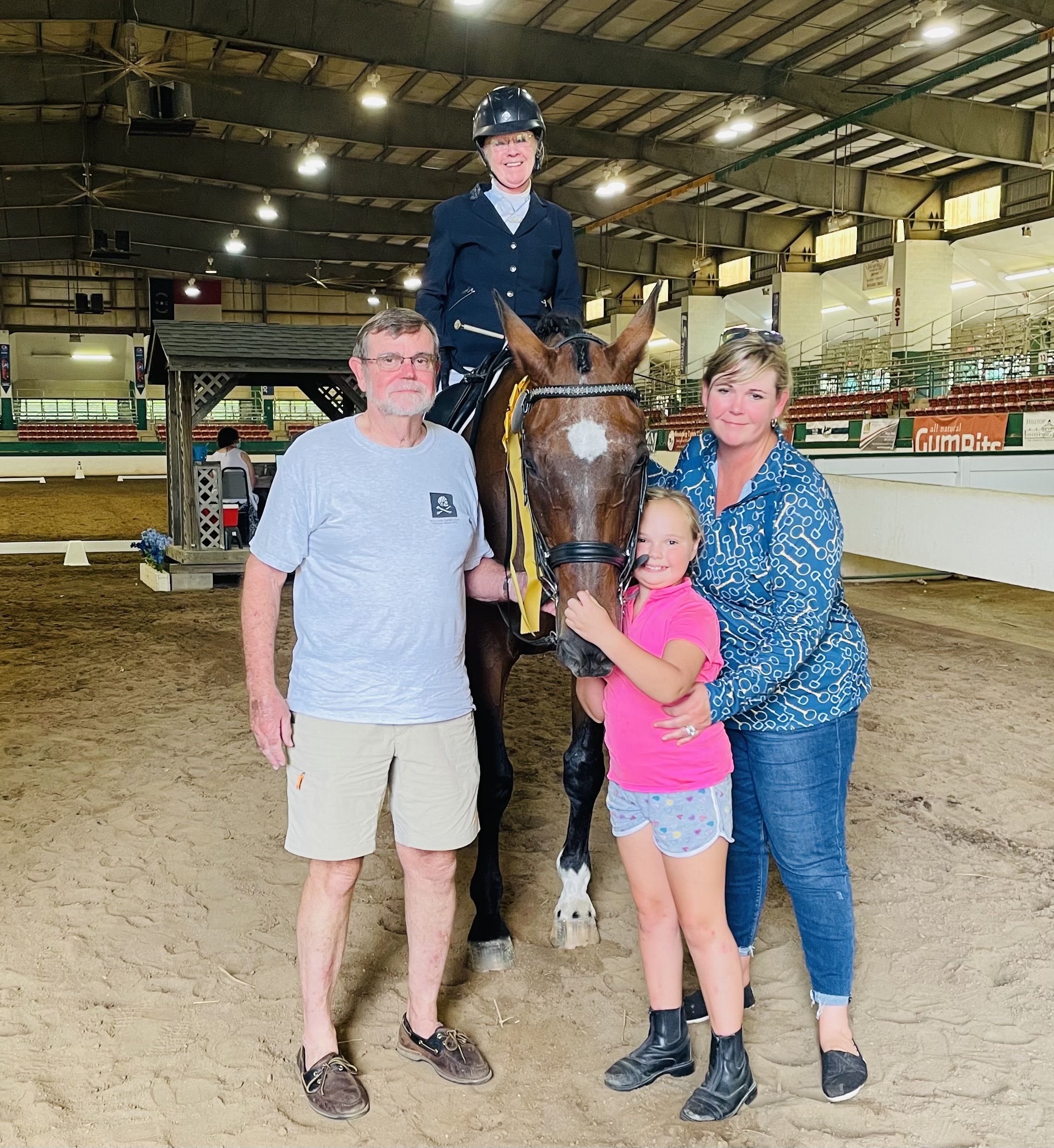 Team #509: Linda Tomlinson and Dewey
Ages: 71 & 29
Combined Age: 100
As a little girl growing up in the suburbs of Washington, D.C., I was glued to my rocking horse. I named him "Trigger." I collected every horse statue I could find and begged daily for riding lessons, but alas, we were a boating family, spending every weekend on the Chesapeake Bay. On my dad's side, there was a dedicated long line of sea captains as well. Long story short, horses were not a natural fit for my family.
I went off to N.C. State in Raleigh, North Carolina, where I met and married my husband, Travis, an avid sailor. Travis was impressed with my extensive boating knowledge. He thought he was getting a great deal! Little did he know the journey which lay ahead.
I never lost my love for horses. When our daughter, Alison, started riding at age seven, I had a perfect excuse to ride as well. We purchased and shared a horse for a while, but my love was dressage and her love was jumping. We both cycled through several horses, having loads of fun together and grooming for each other at shows.
Eventually, I bought a three-year-old Dutch Warmblood, Vegas. Good friends had bred him and I knew him well. I had the opportunity to ride his mother "Idgie" and his sire "Freestyle." Both were in training with Jim Koford. I had worked with Jim for years and trusted his judgement.
Vegas and I competed at Training and First Level until he was injured in the pasture. He was out of commission for months on stall rest, and I was devastated.
Thankfully, a good friend, Mary, gave me the opportunity to ride her Prix St. Georges horse, Duelligan,"Dewey," a 17-year-old Hanoverian/Thoroughbred, on the days she worked for Jim. Mary eventually decided to sell Dewey and at Jim's insistence, I bought him.
Dewey was and still is a patient teacher. The first time I showed him, I was recovering from a dislocated shoulder. Dewey took care of me, and we earned a 65% at Third Level. Over the years, Dewey and I have shown Third, Fourth, Prix St. Georges, and performed freestyles together.
Dewey's kindness and toughness know no bounds. I have been told several times that he would not be sound again. Each time, after months of being rested and turned out, he would always come back! I have been blessed to have Dewey as a friend and a teacher. He remains the barn favorite. We can put anyone on him, and Dewey carefully looks after them.
Thanks to Dewey, we have earned the Master's Challenge Award for Third, Fourth, and FEI levels. It is such a great honor to partner with Dewey to earn our membership into the Century Club.
My deepest and sincere appreciation to Karen Beccera for her great coaching and support that allowed Dewey and me to achieve the coveted goal of Century Club membership.
Linda and Dewey completed Third Level, Test 1, on July 31, 2021, to join the Century Club.