Team #346: Lyn Rosen and Alexander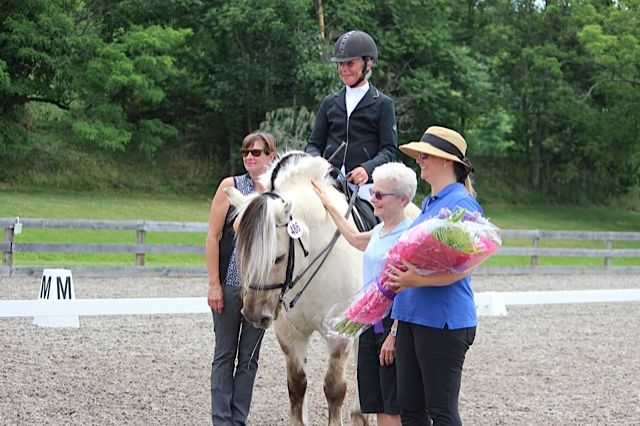 My sister, Fern Feldman, and I started riding at The Southlands Foundation in the early 1950's. We were quite tiny and my sister rode an extremely little pony named Creamy. I, being a little taller, rode Tubby. Tubby and I were a team for a long time. Lessons at that time were $2.00 an hour. We did this once a week for a few years, and this is where we were smitten with our love of horses. We both prayed for a horse but it wasn't until the late 1980's that we each bought a horse.
Again I was at Southlands. I stayed here for eight years and rode my beautiful, chestnut Morgan, Catskill. Then, in Millbrook, with Olav Drehn, my sister gave me her Prix St George Connemara, Corey. He was magical and took me through each level; at 28, we were doing PSG! My Fjord, Alexander, was in my life at this time. He was four and neither stoppable nor steerable. He grazed a lot for many years. 
In 2012, when Alex turned 18, I returned to Southlands. Allison King and Wendy Brooke worked tirelessly with us. My theory is that if you can wait, from twenty to thirty are the best years a horse can give you! I am so happy to have joined The Dressage Foundation's Century Club! Our Third Level test calls for flying changes, and we got one. That's our biggest accomplishment, ever!