Team #402 -- Lynn Robertson and Mazen Supreme Friday (NE)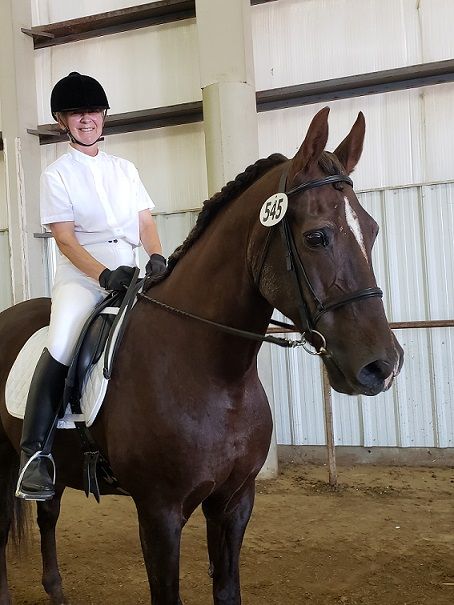 Early morning on Good Friday, April 13, 1990, a star was born in our barn.  He was named "Friday" which was often the cause for confusion in conversations.  He was the second son foaled by my wonderful Morgan mare, Challie's Fancy Cobra.

My first years until age 6 were spent with my nomadic family living in various places in Nebraska, Wyoming, Oregon and Washington. Our family finally took roots on a ranch near Long Pine in north central Nebraska. This is when I had my own pony, KoKo (I was an avid Rex Allen comic book fan).  Riding was all western style for me, although I had some vague dream I would jockey a horse in the Kentucky Derby one day in the future.

Instead I married at an early age, gave birth to a wonderful son, Jeff, went back to school earning B.S. and M.A. degrees and eventually graduating from law college at the University of Nebraska. I met my second husband there and this is when I finally bought my first Morgan horse, "Fancy."  I started showing at Morgan breed shows, then branched into some hunter/jumper events. I rode in dressage competitions later in life and discovered that the systematic training and complexity of the horse's mind were what interested me the most. It was amazing to learn so much about natural, progressive training.

At the age of 9, Friday went to stay with my step daughter in Colorado to work his way up the levels.  Meg and Friday were a magical team and won about everything entered in those two years. We went to the Grand National Morgan Show in October 2000 where Friday was World Champion at Second Level and Reserve World Champion at First Level.  After returning to our home I showed Friday in several breed shows and dressage competitions. My husband suffered from Lewy Body disease so showing was on hold for a while.  After my husband's death, I rode for a short time, then had to have spine surgery. After a couple years' recovery, I decided that we would all retire as it was becoming more difficult to keep up with all the work. I did, however, ride Friday at least once or twice a year just to know we could still do it.

A couple of years ago, I read about the Century Club. By this time, Friday had lost the ability to chew grass and hay, but senior feed and pelleted formulas soon had him looking good and acting pretty frisky. I kept thinking about whether we could do the Century Club ride. The biggest obstacle, of course, was being six hours from everywhere and could Friday tolerate long trailer rides?  In May of 2019, at the last minute, I loaded him in the trailer and drove the two hours to our Morgan club's annual schooling show.  We rode in some walk-trot classes, then in Intro and Training Level dressage classes.  It wasn't pretty, but we could actually "do it."  My second challenge was being a dressage rider in cowboy land. I started reviewing, re-learning and conditioning both of us up and down the sandhills. My husband, Galen, helped me measure an accurate dressage arena so I could ride different movements in real time.  I discovered I didn't fit into my dressage breeches so I went on a crash diet to lose a couple of inches.

Finally, we were "sort of" ready for the Lancaster County Super Fair Dressage Show in Lincoln on July 29, 2019.  All of that hard work was worth it—everyone at the show was supportive, friendly and helpful.  After our Training Level, Test 3 ride, there was a celebration, awards, gifts, flowers, a TV interview and cake.  It was like Christmas, birthday, and reunion all rolled into one.  Great big thanks to The Dressage Foundation, the Nebraska Dressage Association, the Missouri Valley Morgan Horse Club, old and new friends, my son and especially my husband for supporting my wild ideas and not mentioning that household maintenance was non-existent for three months.  Mostly:  you're never too old to pursue a dream, so give it your best shot.

Lynn and Friday are the first Century Club members from Nebraska!