Team #335: Margaret Ann Roth and Coolamaine Dandy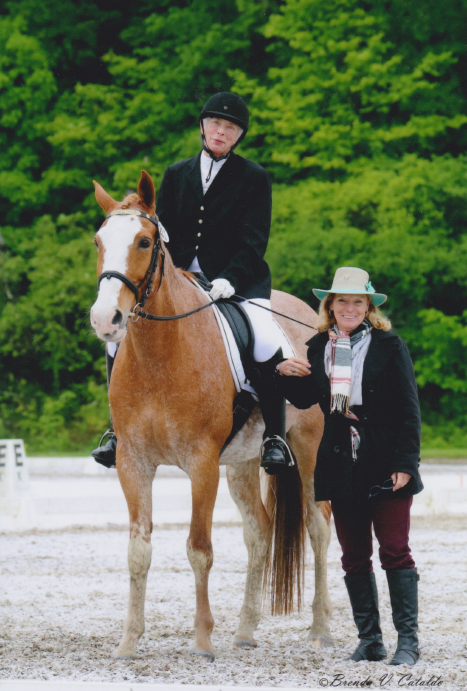 Until I was 45, what I knew about riding came from the Central Park carousel. Of course I went horse crazy at 8, but that lust was assuaged with jump ropes in the playground. Then, at a ripe age, on a vacation in the Cotswolds, I discovered the second love of my life: horses. We were staying at one of those too-chic, re-done manor houses, which had an arrangement with the local stable to let their guests take trail rides. The ride was perfection!
Returning home, my husband gave me a helmet for my birthday, and the name of three riding stables near our summer cabin. Straight to Nutmeg, the perfect lesson horse, and there was no turning back. People joke about tennis and golf widows; my husband was introduced to horse widowers. 
For some reason I never understood, my husband decided I would spend less time with horses if I owned one. (Aren't non-riders marvelous?) The first to come along was a big black part-Percheron, Silas. With smooth gaits and a generous back, he taught me how to stay on and how to enjoy a good joke with an animal. Lola, who came next, was much more serious about her job but I learned her love of cross country. Eventing, hunter pace, it didn't matter. All I had to do was tell her which jump was next and off she went. Lola is 33 now, and not jumping, but she still gives the most wonderful nicker when she sees me coming.
Smudge (Coolamaine Dandy to be formal) is my Century Ride companion and my third horse. He was found in Ireland, standing alone in a bog. Said the dealer, "I knew immediately I had to buy him." Smudge exerted the same Irish charm on me. I was looking for a solid, sensible mount, but there was this five-year-old, chestnut roan prancing around the ring, saying "Don't look at that horse. Look at me!"
Smudge not only loved jumping, he loved jumping BIG! So, after a few years, we went to a dressage barn where we could work on my balance. I discovered that dressage was not about being anal (the story eventers tell)—but about being so smooth and athletic that you simply end up precise. Smudge discovered that dressage was fun too. He is still a show-off—and, almost twenty years after we met, any event where he gets to say, "Look at me," is still the best!