Team #486 Margaret Rivera and Cruise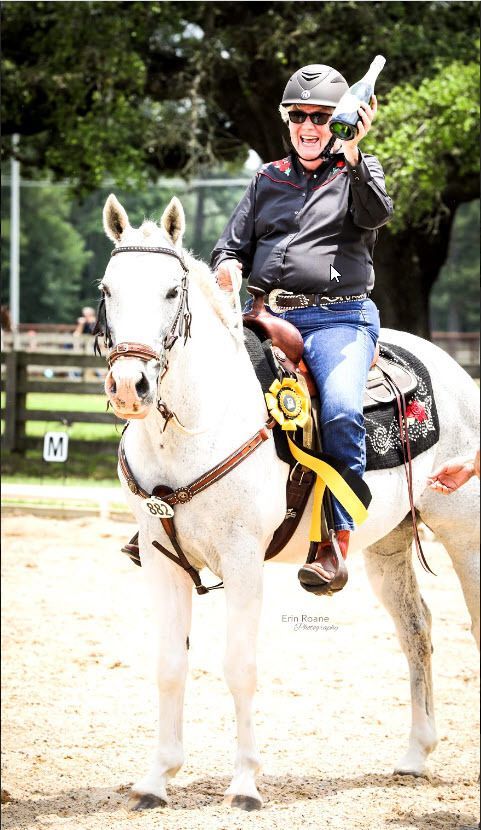 Team #486: Margaret Rivera and Cruise
Ages: 81 & 21
Combined Age: 102
Born and raised in a large city in the upper Midwest, I never had a chance to be around animals, but always had loved dogs and horses. Every snowbank and fence became my own horse to ride.
After earning my own money, I bought a horse, and just rode for the pleasure of being on top of a real horse. I became the first Miss Rodeo Wisconsin in 1962, but when I married and had children, my horse would be left behind. 
Many years later, my youngest daughter, who inherited my horse passion, told me I needed to get a horse. I felt I was happy just being around her and her horses. However, one day we went shopping, and Cruise, a five-year-old gelding, came into my life. I started taking lessons to learn to really ride, to not just sit on a horse, and on my bucket list I put that I wanted to be in a show…and that's how it started again.                                                                                                                      
I am truly amazed and grateful, not only for all the people who helped me get to this day but also for the number that came out to support me.  It was a once-in-a-lifetime event always to be remembered and proud of.
Margaret and Cruise completed Western Dressage Test Basic Level Test 1, with a score of 61.7 percent, on May 9, 2021, to join the Century Club.
Celebrating a Century Ride with Margaret Rivera, Matriarch of a Texas Eventing Family, Eventing Nation, by Jayne Lloyd