Team #503 Marilyn Cantey and Fiona A.F.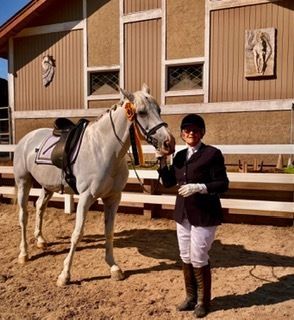 Team #503: Marilyn Cantey and Fiona A.F.
Ages: 83 & 17
Combined Age: 100
I am really, really lucky to have this wonderful mare and it was pure chance that I have her at all.  I had sent a check to UC Davis honoring Dr. Martin Vidal who was an equine surgeon there at the time, thanking him for all the work he had done for my big Hanoverian Thoroughbred jumper.  
'Sport' had just been diagnosed with an incurable neurological disease by other specialists.  I had just trailered Sport back to Santa Cruz that very afternoon when Martin called. I asked how he had heard about this so quickly and told him I was looking for another horse because Sport couldn't be ridden anymore.  Martin hadn't heard a word about that but mentioned that he did have a horse for sale.  He and a friend were into polo and Fiona is NOT a polo pony!
This horse turned out to be Fiona, A.F. (Arkenfield Farm), a big 16.3-hand 10-year-old white Dutch Warmblood mare. My trainer and I drove to eastern California to check her out and fell in love with her. She has a difficult left lead canter which I wasn't sitting very well, and I wondered what Martin thought of me as a rider. But Miss Fiona didn't seem to care a bit about my bouncing around, and my trainer said, "Oh, Marilyn!  Buy this horse!"
Miss Fiona is truly and literally a "one-in-a-thousand" horse.  She bonds with people, greets me with nickers when she sees me, and follows me around like a puppy.  She is so affectionate. She wants to stand so close she gets in the way when I'm mucking.  How many horses are really like that?   Of course, she's very willing to work and is so steady. In seven years, I think she has spooked twice.  At my age, that makes for an ideal horse.
So, I have gotten used to the left lead canter and we do a little jumping along with our dressage.  According to Amanda Harrington, her breeder, Fiona was bred for jumping and she surely knows her job.  I'm hoping that I have many more years with her.  She truly is a sweetheart.
Marilyn and Fiona completed Training Level, Test 3, on July 18, 2021, to join the Century Club.