Team #338: Marilyn Lee and Silver Passport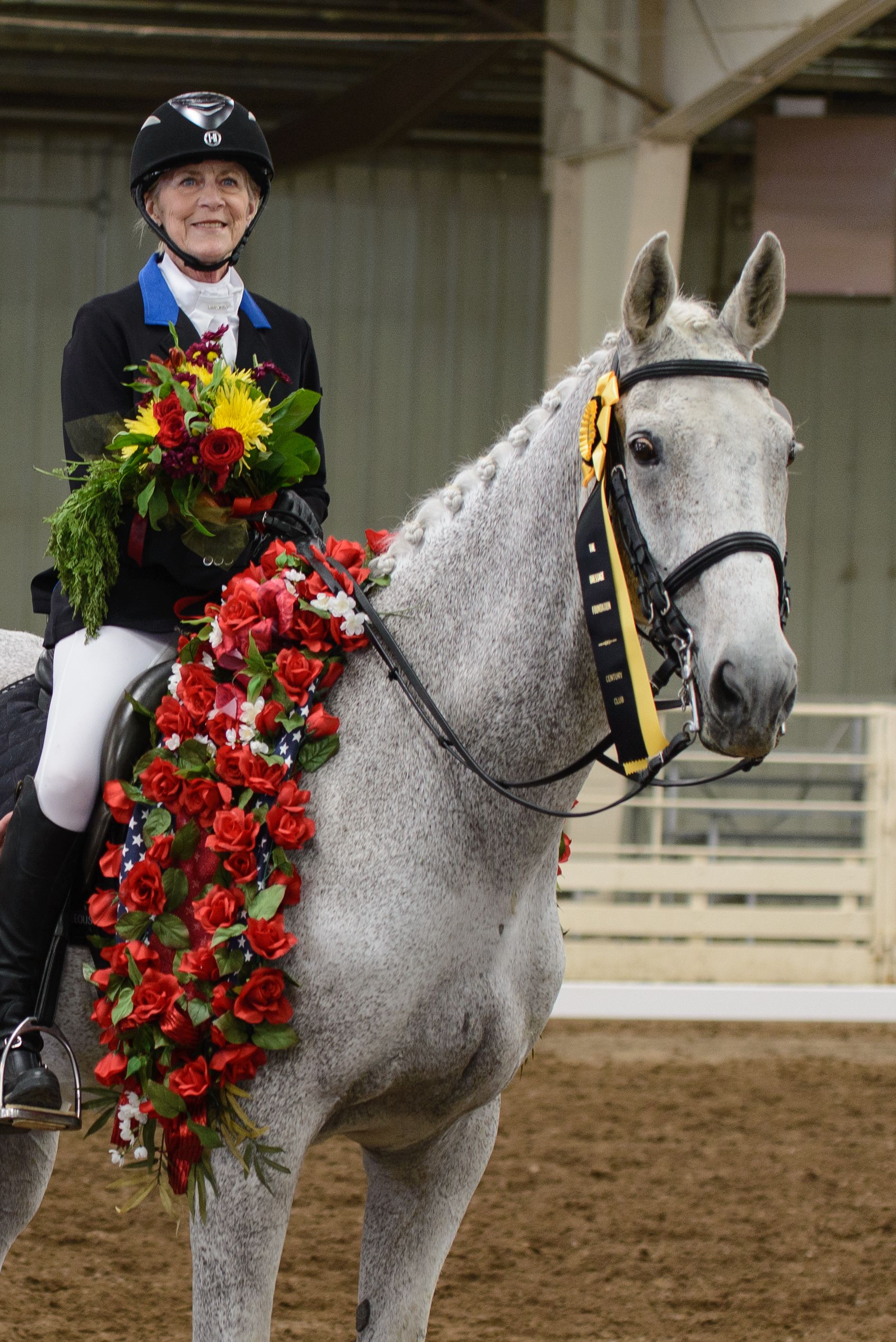 I have to admit that I had never heard of a Century Ride until about a year ago. I'm told that not many people do their very first freestyle (at Third Level), in a recognized show, earning a 73% from an "S" judge. And I'm told that even less people get to celebrate their first freestyle as a Century Ride with a group of longtime friends and supporters. Should I say Silver Passport and I "did it my way?" (I'm showing my age here...)
Growing up, first I played with make believe horses, and then I wasn't allowed to check out any more horse books from the library. Moving from Omaha, NE to Iola, KS as a teenager, I finally had three horses to ride and enjoy. After marriage, a move to Green Bay, and having two kids, my daughter got involved in Pony Club. Here came a horse for her, which later became my event horse, and a decade later in his late teens he was evented by my niece. 
Fast forward a few years, and I made an impulse buy of a 3-year-old Thoroughbred, Silver Passport. At that time, I had no idea he would carry me to my Century Ride 22 years later. Being such a "late bloomer" at dressage, I had a lot to learn, even though I knew something about dressage from my lower level eventing days. I began to enjoy dressage lessons and clinics, but I soon learned that dressage is a challenge of coordination and learning experience by both horse and rider. There have been many inspiring women in my life who have provided so much hope and encouragement to me in my lessons and along the learning curve in my journey to being a better rider. They have also helped me care for my horse to his advanced age of 25. 
If the truth be told, even the thought of showing my horse was a big challenge (read: frightening) for me. I occasionally stepped foot into a show ring (but rarely a recognized show) and many of the insecurities of showing were within me. Dressage test comments of "tension," but how do I get past over thinking and overriding when I'm nervous and when my stomach is upset even before show day? Then entering the show arena, walking into THAT ring, with a judge, and oh no, spectators! Will I remember the test? Will he go by the judge's stand?
The years flew past, and my riding friends kept reminding me that Passport was getting older, and somehow, I was also getting older too, despite my efforts to deny it. Over a glass of wine, my friend declared that I was going to ride a Third Level freestyle at our upcoming Kansas Dressage and Eventing Association show. I had the required score, and I could use the music she had used for her horse. Another friend determined that Passport and I were also at that magic point of being eligible for a Century Ride...so that became our goal. I had seen freestyles, and thought that riding to music was fantastic! A way to get past my show nerves maybe?
Fast forward about six months, and the day arrived to do my very first freestyle ever, at a recognized show, with all my friends and family watching. So much to remember! Get in the perfect position to signal for the music to start. Going down centerline, oh my, music rolling. Halt, salute and inhale. Ride forward with the music, listening to the beat, staying on course, hopefully to finish exactly at G when the music stopped. 
Everything settled after that initial halt. I felt my horse as an amazing partner who was truly with me in each gait and in each beat of the music. It was magical and Passport seemed to be growing bigger and stronger as the music continued. This wasn't a dressage test...this was a dressage partnership. I became lost in the feeling of energy, contentment, confidence (YES) in my ride in a SHOW RING. My horse was magnificent as we turned back down centerline to a great finishing halt. He was all puffed up like a pompous young steed – ready to celebrate.
I was beside myself with joy from the gift of this horse, the support my treasured friends, my family, my husband Bill, and the surprisingly large crowd of spectators. As I came out of the ring, I was presented with a garland of roses to drape over Passport's neck, a bouquet of flowers, and a bouquet of carrots for Passport. Passport posed for pictures like he never had before, ears forward and he grew an additional two inches as he took in all our admirers and well-wishers. What a great day that I will cherish forever. I did it my way!
Thank you to The Dressage Foundation for providing me with this wonderful experience with my horse and friends!