Team #357: Marilyn Vail and Time Point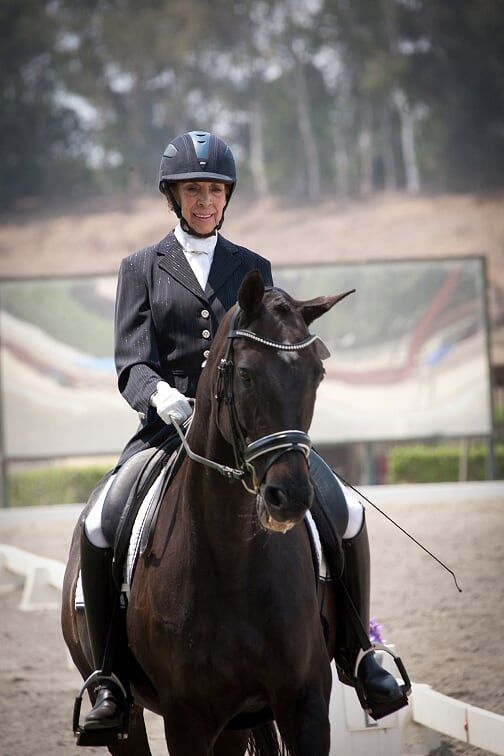 I first met Time Point in early 2010, when a friend mentioned that a nice horse had just come up for sale in Moorpark, California. I had recently lost a lovely 12-year-old Trakehner to a lameness that the best veterinarians could not diagnose, and had experienced over a decade of similar difficulties with my other horses. At that time, I thought I would not have another horse of my own, so I went to the stable that day just because I missed being around horses. Timey had beautiful soft eyes, athletic conformation, and a friendly disposition. He convinced me in about two minutes that I could not live without him.
We trained and showed for five years. During that time, Timey advanced to Prix St. Georges and Intermediate I with our brilliant trainer, Jodie Cressman, and her assistant, Teresa Chang, earning good scores and loving every minute of training and showing. In 2013, we won the California Dressage Society Regional Adult Amateur Novice Division Third Level Championship, and the Dressage Association of Southern California Champion Thoroughbred awards.
I then experienced a forced retirement and we moved to Tucson, Arizona, where I had family contacts. There, perhaps just to show how versatile he is, he decided that the paint horses running in the adjacent paddock were terrifying and it was time to get back to the barn. He did that, jumping a 5-foot vertical fence with no adverse consequences, to him, anyway. However, he suffered terribly from the heat and I made efforts to come home to California. We miraculously returned in March 2018 and we are back at our beloved El Sueno Equestrian Center in Somis, with Jodie and our dressage friends again.
Time Point is a 16.1hh Thoroughbred horse with a terrific work ethic. His Jockey Club name means the beginning of a note of music, or a point in time. He is very agile and has always preferred the more difficult work, especially piaffe, and he loves tempi changes. He was born on April 1, 1993, in a racing stable in Michigan, raced five times, won, and was gifted to the daughter of the stable owner who brought him to California and evented him. I am therefore his very lucky second owner. As for me, I was born loving horses but never was allowed a pony or riding while growing up, so when I began a career in academics, I finally could make my own choices and began riding at a jumping stable in upstate New York. My first Thoroughbred was a descendant of Man O War, had raced 123 times and won his last race at nearly 10 years of age. The following fall, we were in the hunt field where it was all I could do not to pass the Master and the rest of the field. Eventually, I evented him in California and that is how I became interested in dressage. That, and watching Hilda Gurney ride Keen.
Through the dressage community, I became aware of the Century Club and The Dressage Foundation. Our Century Club ride was one of the most beautiful days of my life and I am deeply grateful to The Dressage Foundation to have given me this wonderful opportunity to honor Time Point. Thank you!