Mark Abell and On Account +//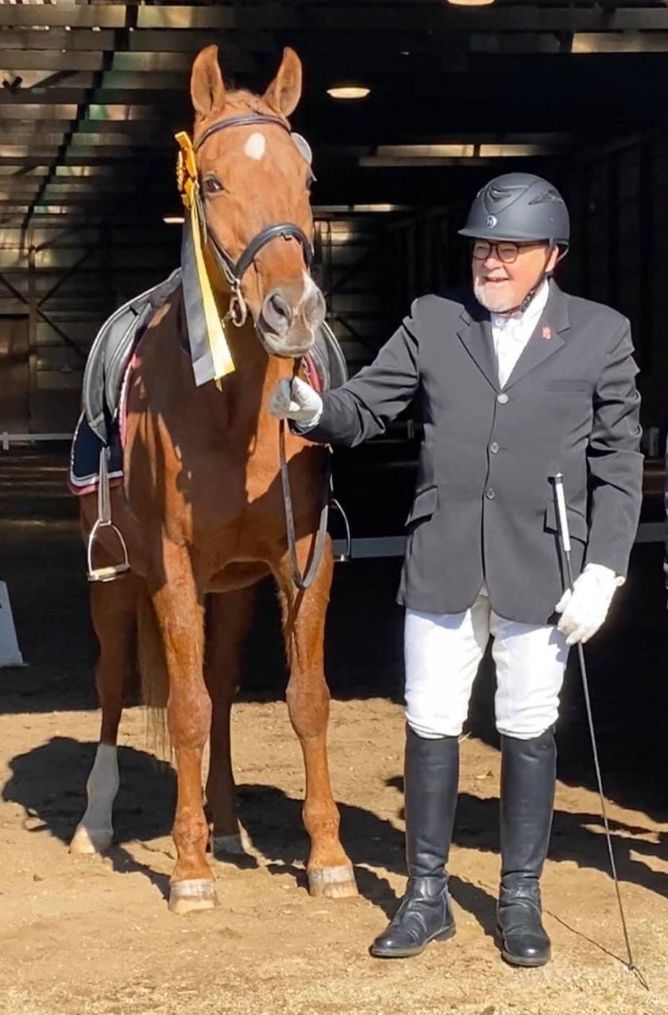 Mark Abell 71     On Account +// 29
My love of horses started as a young boy. I've been fascinated by them since I've known what they were and was lucky enough to get my first horse when I was twelve. I participated in 4-H and later started to show horses for other people. I've ridden, trained and shown, Paints, Morgans, Quarter Horses, Saddlebreds, Trakehners, and most recently Arabians. As a result of my daughter taking English riding lessons, I developed a major interest in English riding and began lessons myself in my 40's. I've ridden hunt seat, hunter-over fences and eventing, which is where I was introduced to dressage. It has been dressage that I have focused my energy on for the past 25 years. I've also been a carded horse show judge first for 4H and then for a variety of other professional organizations. About 14 years ago I bought a 17 hand Trakehner from Kelly Hall who is the Director of the Equine Studies Program at Ohio University Southern campus. As a result of this association, I was asked to teach as an adjunct faculty member in the program and have taught a variety of courses including Intro and Advanced English Riding. I worked as a university administrator for 43 years and have often said, "I had to work all those years to finally have my dream job." I love teaching. 
 June 1, 2017, I had open heart surgery and feared that my career with horses had come to an end.  However, after many months of rehab, the encouragement of my cardiologist and the work of a fitness trainer, I am in the best shape I've been in for years.  A private student of mine, Jill Tipton, an Arabian horse enthusiast, asked me to see if I could qualify her Half-Arabian gelding for the 2019 Sport Horse Nationals in classical dressage.  Long story short, we did qualify and made our first trip to a national competition. I rode against 35 of the top professional riders in the country.  We scored in the top half of the class and for me it was mission accomplished.
It was during this year that On Account +// came into the picture. Count has had a long and very successful show career in both the youth and the adult arenas.  He holds an AHA Reserve Championship and a Grand Championship and has accumulated enough points to be listed in the Legion of Merit. He was consistently placed in the Youth Nationals Top Ten in Training Level and First Level Dressage, hunt seat equitation, and hunter hack. He was one of 11 horses to survive the February 1996 fire at Rock Creek Riding Club in Louisville, KY where 17 Saddlebreds perished. To this day, he gets very nervous when the rain hits the metal roof of the barn or when someone burns trash. For the past 10 years he has been in Louisville at Stonehurst Riding Center and has touched many young riders. As he moved into his 29th year, the Director and trainer at Stonehurst, Natasha Lesburgueres, decided it was time for him to retire. Jill Tipton knew that Edith Frank, who is the barn manager at Royal Oak Stables in Oak Hill, Ohio, was looking for a horse for her granddaughter.  Jill and I keep our horses at Royal Oak.  After discussions with Natasha and his owner Jessica Beavin, Count retired to Royal Oak where he is cared for and loved by eight year old Hannah Carpenter. Around the same time, I had read an article about the Dressage Foundation's Century Club Program and started to think that maybe Count and I could qualify for such an honor.  I had been riding him lightly since he arrived and we worked together pretty well. However, he has arthritis and some ringbone issues so we weren't sure if it would be possible.  Edith doctored him, changed his feed and supplement routine and I sent in my application.  Hannah, in the meantime, was very excited about the possibility of seeing her horse perform. The two weeks leading up to the competition were good for Count.  He seemed fit and ready to go. 
We were set to ride our test at the Ohio University Southern Fall Combined Training Show held on November 2, 2019. We went to the show grounds the day before the competition and when we arrived, Count jumped off the trailer and went immediately into "show mode". He was excited and seemed to understand that he was back to work and was happy about it.  Because of his issues with arthritis and ringbone I had told the show secretary that I was entering the Intro B class but if things were going well, I'd switch to the canter class.  In the end, we did Intro C which includes a little bit of canter and we scored 73.5 on the test. Judges comments included "fluid"," moving freely forward", "balanced", and "supple". Lots of family and friends had come to watch us ride and had planned a surprise reception  afterwards.  Count was in his glory, posed for pictures and even tried a bite of cake.  All in all, it was a day I will always remember.