Team #470 Martha Klopfer and Edmond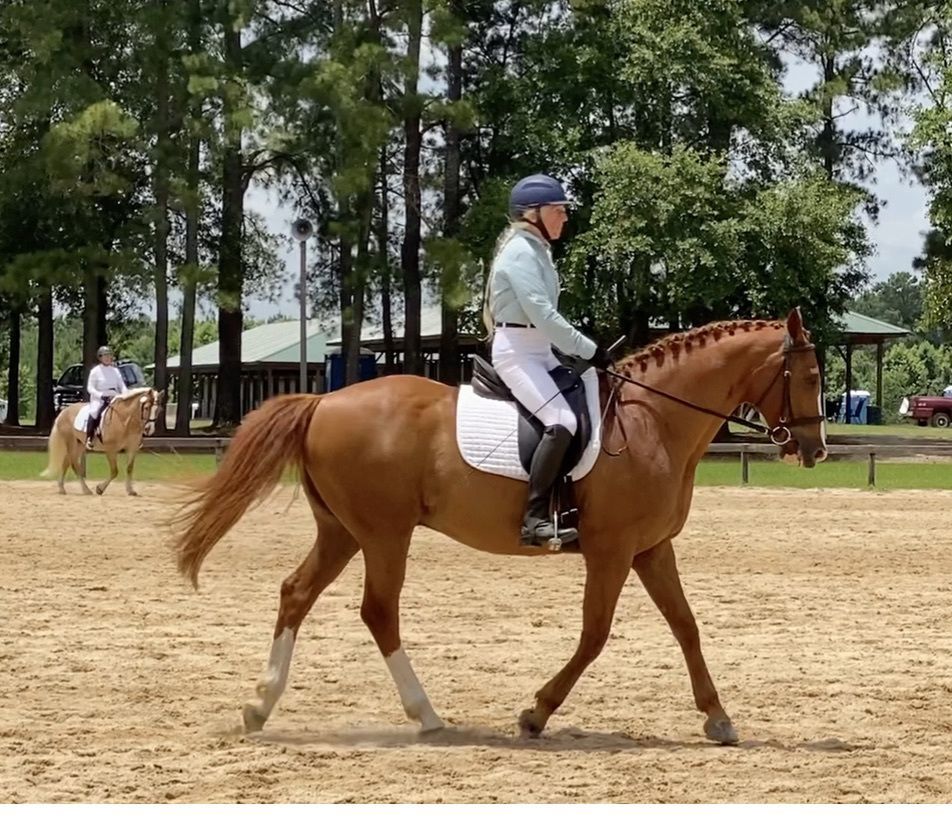 Team #470 Martha Klopfer and Edmond
Ages: 85 and 15
Combined age: 100
In 2015 I joined the Century Club with Trebbiana, our home-grown Arab/Trakehner mare. She was then 20 and I had turned 80. We were team #220, a nice culmination of many years raising our own horses and competing mostly at Training Level.
Four years earlier, my long-time friend and trainer, Susan Hopkins, challenged me: "Martha, I think you have another horse in you," and she had a horse in mind. Edmond, then six, was born at Sullivan Farms where breeder, Bettie Carrol, says Edmond was an especially friendly and outgoing youngster. He is a solidly built Hanoverian, but just 15.2. His early training was done by Susan, giving him excellent basics but he was definitely green. He certainly was a lot more horse than Trebbi, powerful and athletic.  For all of his willingness to please, he could unleash a shy to unseat any rider. Susan thought I was ready (and she knows us both), so I took the challenge and set out to live up to her faith in me.
Nine years into our partnership, Edmond and I are a capable First Level pair. He has balanced, rhythmic gaits, is very sensitive and rewards good riding immediately.  I have learned to use minimal aids, to refine my position and really feel his movement through my seat. He always challenges me to give him the best ride I can, because, as Susan says, he will go however I ride him. Tired, slouchy riding brings minimal effort from him, but if I sit up and do my part, he responds. Thanks to good teaching from Susan and Edmond, and to good health, I am still improving as a rider in my 80s.
2020 was going to be our year to show First Level, and then the Covid pandemic interrupted the show season. When shows resumed with new rules to minimize virus contagion, we travelled to Southern Pines for "Dressage at the Park I and II" in late June.  With all the uncertainty about showing, I made my entry at the last minute and did not set up a Century Ride in advance. The Dressage Foundation has kindly allowed me to apply after the fact, so I am submitting results of that show. On June 28, 2020, we earned a 63% score for First Level Test 2 and won the class. I was also happy to ride for judge Sue Smithson who has been active with the NCDCTA for many decades, going back to my earliest showing days.  
Many thanks to groom/helper/cheerleader friends Beth Stevens and Barb Sherman who teamed up to take care of us so I had nothing to do except get on the horse and ride. And to my husband Peter, (Century Club team# 32 with Mondavi) who loves horses and riding but doesn't love shows, for coming with me this time and sharing the driving.
Martha and Edmond rode First Level Test 2 to complete their Century Club ride on June 28, 2020.