Team #330: Martha Thurman and Tap My Shoulder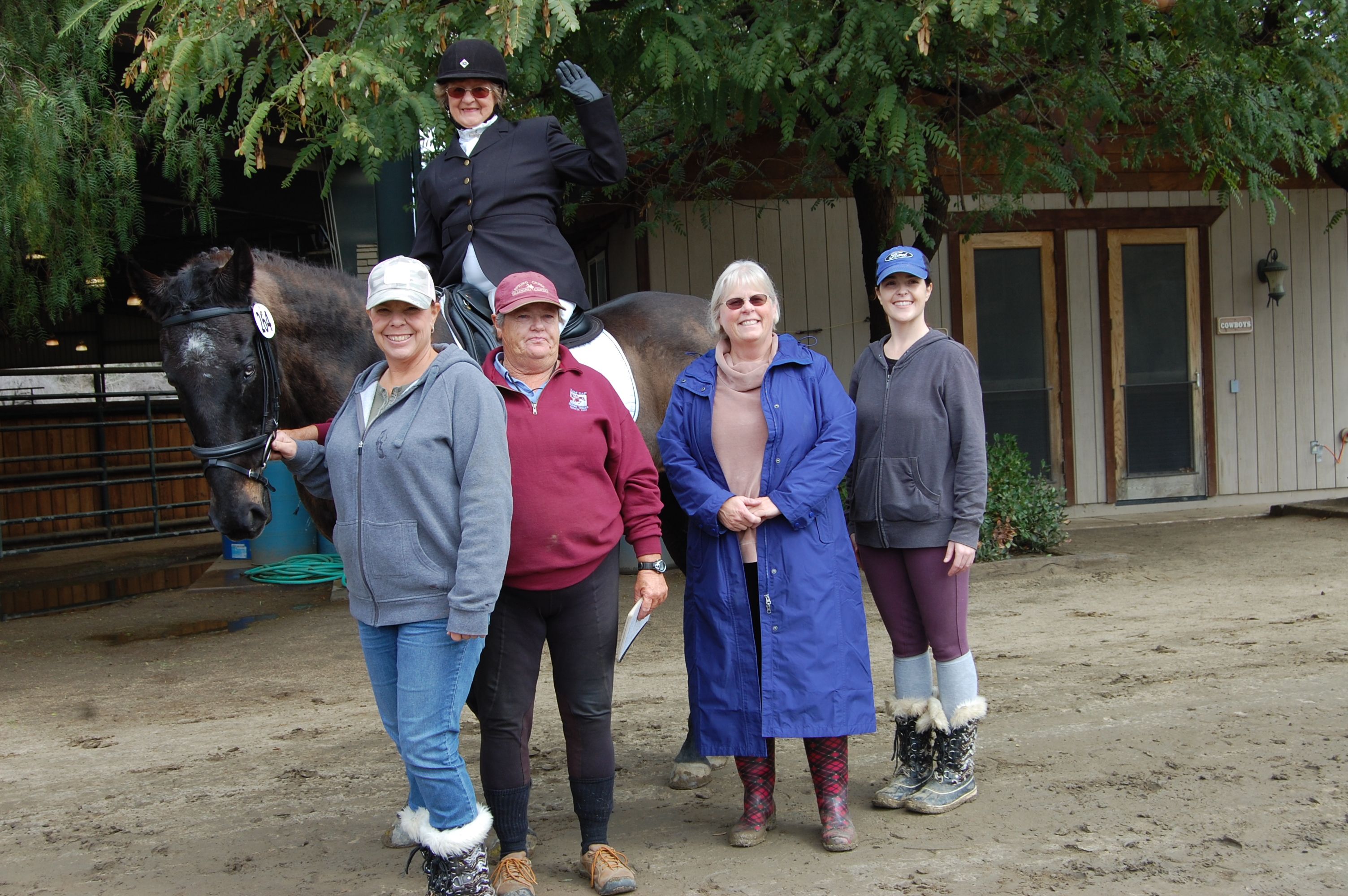 I have always loved horses. On Sunday, during the family car ride, I would watch for a glimpse of horses in the fields. I would "gallop" home from school and put my pretend horse, Blue Man, in the garage, safe for the night.
At 25, I started riding with a pair of boots and 10 lessons for Christmas. My first horse was Julie, the school horse I was riding. There were many happy trails with both Julie and her best Appaloosa son, Tip, named for the white tips on his ears. After Tip, I purchased a running Quarter Horse, Lucky, who was a good friend for three years. Unfortunately, he had little talent for dressage, so I sold him as a trail horse to a lovely girl who was perfect for him. 
I purchased Marquise in 1992 and had 18 years until she passed at the age of 22. During that time, my daughter had married and moved to California. After their second child was born with a disability, she and my son-in-law needed me to help with the baby, so I sold my house in Ann Arbor, MI, packed up Marquise, and made the move to Menifee, CA. I relocated Marquise to Spring Creek Training Centre and started training with Kim Scheid. Unfortunately, I lost Marquise to colic in 2010. Kim helped me through it and found me a board lease on Hunch, a 17 hand TB. Unfortunately, he got hurt and I had to give him up. Then came Nikki, my current mount, who has been a great partner ever since. Another Thoroughbred and former event horse, we have been learning together for more than seven years. In August of 2017, I rode my first ever freestyle and at the beginning of 2018, all at the barn encouraged me to ride for The Dressage Foundation's Century Club.   
Chris and Jennifer Arthur, who take lessons with Kim, own Tap My Shoulder, a 31-year-old former race horse and show hunter. Unbeknown to me, a plan was hatched that I could ride Tap. A show date was chosen and that show coincided with the week of my 75th birthday! What a birthday present! Chris and Jennifer moved Tap to the barn a week before the show so I could get to know him. My good friend Lynn loaned me a show coat, her show helmet and stock tie so I would look the part. I was treated like royalty since Tap got to the show clean and braided (no small feat since it rained the day before). All I had to do was get on and ride my test.  
It was a day to remember with all my friends and family coming to support me. I was fortunate to ride the test since we lost Tap recently to his advanced age. This has inspired me to continue to ride for as long as I am able and to continually learn more. My mother lived to 102— so I plan on riding for many years to come.