Team #497 Mary Jane Alumbaugh and Cisco Kidd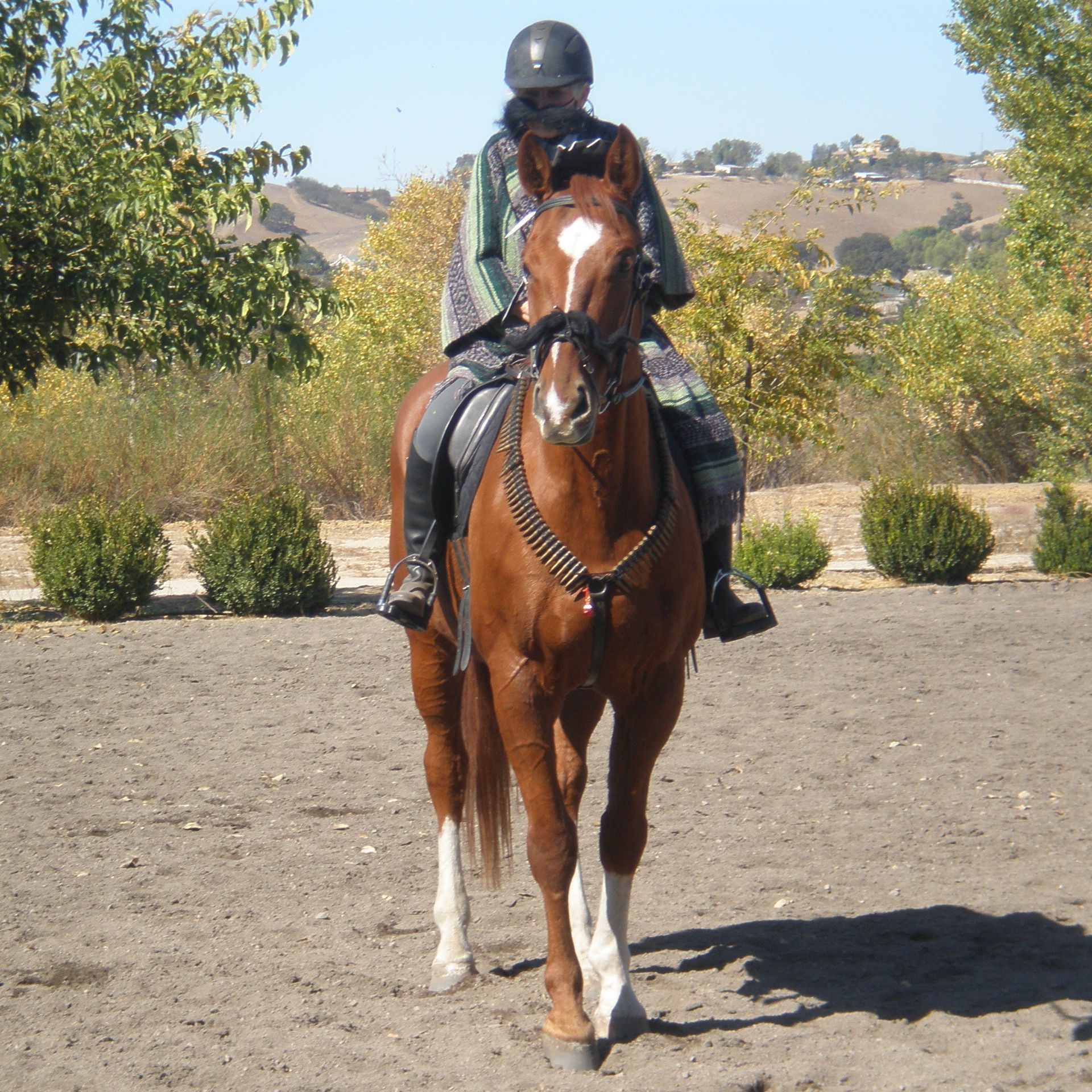 Team #497: Mary Jane Alumbaugh and Cisco Kidd
Ages: 81 & 20
Combined Age: 101
First, I am so thankful to The Dressage Foundation for the opportunity to participate in the Century Club ride! We had a lovely, gracious judge, Gail Hoff, who was so generous. The entire experience could not have been better. Being able to ride this Century ride was a huge goal and a wonderful milestone for my horse, Cisco Kidd, and me. The horse world is so much fun and I am grateful to be part of it!
Although I always loved horses, it was only late in life that I realized my dream of owning a horse. The Cisco Kidd and I found each other when I decided to take up dressage. Naively, I figured that I should find a young, untrained horse and we would learn together. Cisco was bred to be an eventer, which did not work out for him. He was looking for a new home as I was looking for my future dressage horse. And thus began our adventure together. He was such a stinker early on, refused to wear any clothes, and had great fun ripping blankets off. Occasionally he would decide that nobody was going to catch him, and that was that! He was so much bigger than I was used to, as I had only ridden Quarter Horses. But I thought, "What the heck, I'll get used to him." But Cisco grew, and he grew, and he grew, and when he was finally done, Cisco was a very big horse.
We matured in our dressage endeavor, and Cisco has turned out to be a solid citizen. Fortunately for me, he is the gentlest of giants, a great big "Bubba" of a horse. He is the sweetest boy and will do just about anything I ask of him. I think he considers himself an overgrown Quarter Horse. Though he is a spectacular dressage horse, he happily goes trotting into the ocean, horse camps, and is a trail horse extraordinaire! Because he is such a big boy, he is often asked to lead the way on group trail rides, beating out a new trail. He will bushwhack through anything! We have had a lot of fun together. Our favorite thing to do was a costume show in which he dressed up as the Cisco Kidd, and we rode to Santana's music.
Horse people are amazing, aren't they?! I cannot tell you how many people rallied around to help us do our Century Club ride: our trainer, Ellen Corob, who is always so patient with my fears and anxieties, and who refused to let me back out. My "ground crew" consisted of a lovely young woman, Sheridan, who trains Pony Club. She groomed Cisco and babysat me with her three-month-old baby tucked under one arm, while her four-year-old twins acted as the "go-fers," and her patient husband kept us all rounded up. And then there was my friend Tommie, who insisted I treat Cisco like a horse and ride.
I feel so sorry for people who do not have the "horse chip," namely, all my kids. They tolerate my craziness but have made it clear: do NOT bequeath any horses to any of them! Fortunately, I have a granddaughter who is infected with the bug, so everything will be fine!
I know I am lucky to be able to do all this at this stage of the game, and I am so grateful that I was able to experience this thrilling accomplishment. Thank you again! Especially, thank you to my big red boy! I feel honored and fortunate to ride a Century Club ride with Cisco Kidd, and I look forward to many more year's ridings with my boy.
Mary Jane and Cisco Kidd completed Introductory Walk-Trot, Test B, with a score of 65 percent, on June 12, 2021, to join the Century Club.