Team #484 Mary Pearcy and Holme Grove Gresham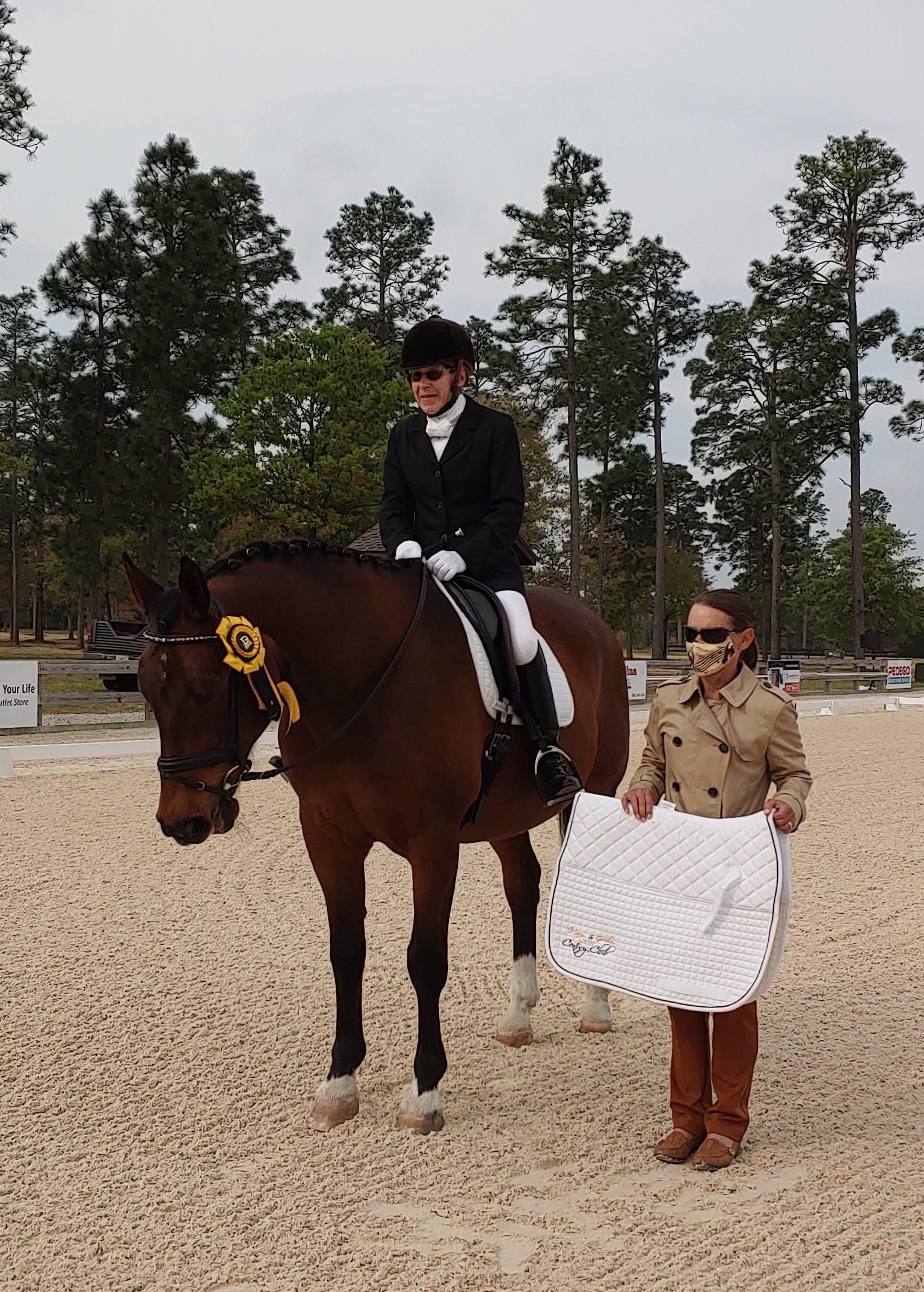 Team #484 Mary Pearcy and Holme Grove Gresham
Ages: 74 & 27
Combined Age: 101
I was born in Evanston, Illinois, in 1946 and was infatuated with horses for as long as I can remember. When I was five, I begged my parents to let me sit on a farmer's big draft horse named Chickie Pie. And so it began. Once a week lessons turned into twice a week and summer riding camps including riding my heart out at Trail Creek Ranch in Jackson Hole, Wyoming. When I was 13, I got my first horse, Diamond Jim. During the next five years or so, Diamond Jim and then Honeybear carried me steadfastly around many horse show rings, over many fences, and across the Barrington fields with the Fox River Valley Hunt.
In 1964, I packed my helmet boots and a saddle and went off to Skidmore College. There I rode with the Skidmore drill team (there was no intercollegiate equestrian competition at that time). After college, living in New Jersey, I only rode sporadically for 42 years while raising two daughters and working part-time, and making sure that they learned to ride too.
After my husband retired, we moved to Aiken, South Carolina, in 2013. Snow shoveling was replaced with more golf, gardening, and especially more riding time!
I met Holme Grove Gresham, most definitely the best horse I have ever ridden. Chris Derr had trained him in dressage and eventing. With me, Holme Grove Gresham added fox hunting to his credits. He became my fox hunting buddy and we rode with the Aiken hounds. He carried me steadfastly through Hitchcock Woods and various other fixtures on hunter paces and trail rides. We also participated in the Horse Show in the Woods with Holme Grove Gresham receiving accolades as follows:
2015: Fox Hunter Hilltopper Reserve Champion
2016: Adult Future Hunter Champion, Hilltopper Reserve Champion, and Best Turned Out Hilltopper
2017: Hilltopper Reserve Champion and Judge's choice Hilltopper
2018: Aiken hounds Masters Trophy
Holme Grove Gresham has been my partner and has taken good care of me. It is an honor to have ridden him for seven years and I am proud to be riding my Century Club ride with him as my partner.
Mary and Holme Grove Gresham completed Introductory Level – Test B on April 10, 2021, to join the Century Club.