Team #427 -- Mary Reinker and Springstar TWR (CO)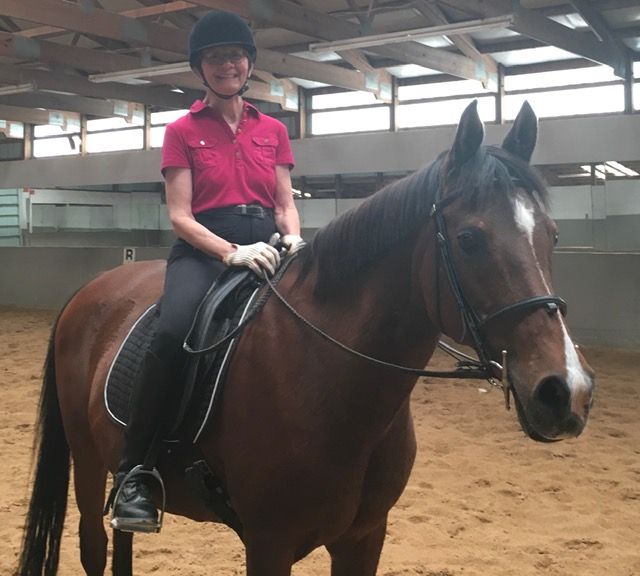 Mary 72     Springstar 28
When our daughter Molly was 12, my husband and I gave her a little 9-year-old Arabian mare named Springstar. That was in 2000. Molly had been riding for three years and was so excited and happy to have her own horse. Little did I know that I would be riding that little mare for many years! At first, I was afraid of her and for a long time would only watch from a distance. Somehow though I felt drawn to her, and soon Molly had me on her back and was giving me a few lessons. I would only walk, because I was afraid to go fast.

Two years later Molly moved up to a big jumper and I started formal lessons with her instructor. Jumping was not a good idea for this middle aged beginner. I took a bad fall and separated my shoulder. That put me out for quite some time, and the fear returned as well. However, again something kept calling me back to Springstar. I would go to the barn and just groom her, and gradually started riding again. I found a new instructor in dressage, Frances Carbonnel, and have been with her ever since.

Frances was very patient with me, moving me through the years from walking to trotting, and finally to a little cantering! I'm grateful to Frances for her patience because I was a slow learner and sometimes the fear would return. I did start to learn some of the basics of good dressage though, and over the years Springstar and I developed a bond. She too was very patient with me! I even took a couple of riding vacations to Ireland and Slovenia with Molly and my husband.

As a professional musician and former business owner my life is very busy and stressful. Riding was always a good emotional and physical outlet for me. Although at times illness or bad weather kept me away from the barn, I always returned.

About a year ago I asked Frances about the Century Ride, which she had mentioned to me some time back. She encouraged me and it was something I really wanted to do! I was excited because I know it's unusual for a horse and rider both to reach the age to be able to qualify. Springstar is 28 this year and I am 72. Frances helped me choose music and create the freestyle. We chose a date, July 27, and after much work Springstar and I were ready!

My family and friends came to watch and Molly was my groom and moral support! (She had, by the way, continued to ride Springstar over the years whenever she was home from college and graduate school, and even now that she's married and living in England!). Although I was nervous, Springstar got me through and we scored an overall 70% for Introductory Level Freestyle! This event was a big accomplishment for me and I am grateful to have had the opportunity to participate in it!

Springstar is a very special Arabian! She is gentle and patient and very tuned in to whomever is on her back. In addition to Molly and myself, quite a number of young people have learned to ride on her, even my own grandchildren!

Riding has been an important part of my life for the last 17 years and I thank God for the gift of this beautiful mare Springstar, my instructor Frances, my supportive husband Mike, and my dear daughter Molly who has been such an encouragement from the beginning! As long as we are able, Springstar and I will continue riding together and enjoying each other's company!