Team #490 Mary Stack and Cary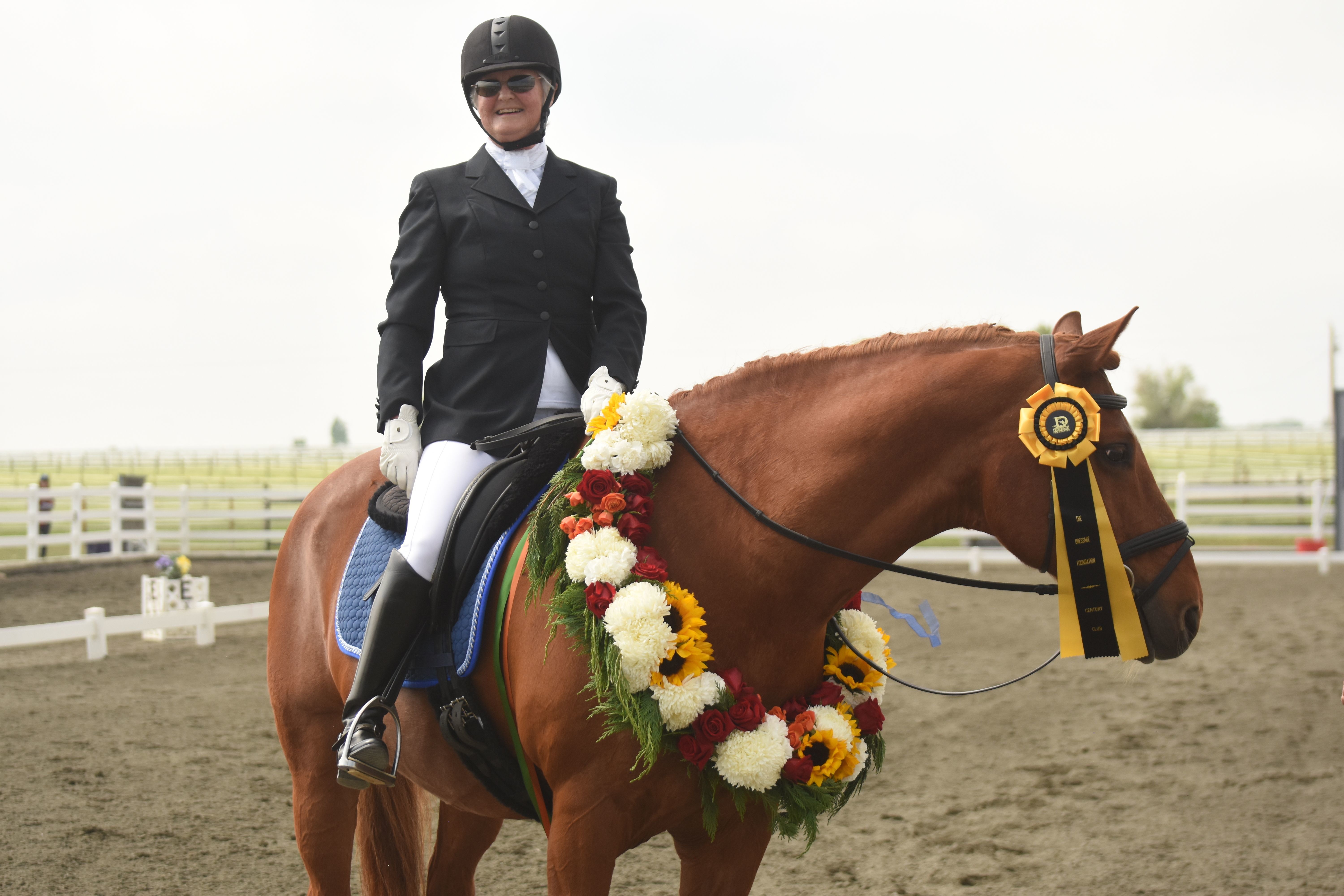 Team #490: Mary Stack and Cary
Ages: 77 & 23
Combined Age: 100
Cary and I have been together since November 2003 when I purchased him from my horseshoer as a five-year-old. Cary had been born on a PMU farm in Canada. He is ¼ Percheron, ¼ Thoroughbred, and half Quarter Horse. My horseshoer bought several young horses from the farm and brought them down to Colorado. When Cary was four, he was sent to a rancher in Eastern Colorado where he got to chase cows and get a year of ranch work in a snaffle bit.  My shoer told me, "He can drag a cow to the fire." I liked his looks, his way of moving and his disposition, which was very willing.
He started dressage training with Jenny Baldwin at Autumn Hill Farm. The biggest issue was the fact that he had such a good stop on him from the roping he had done, that he had trouble with the concept of "forward into the downward transition."  But he learned quickly, and I later started working with Karen Whitman, owner of Nighthawk Equestrian Center in Longmont, CO.  I started showing him in Training Level classes where we did very well. Later we showed First and Second Levels, winning awards along the way, and took him up to Third Level. Karen showed Cary at Third Level and he tied for second place in the Third Level Open Rocky Mountain Dressage Society Championship class.
The most fun I have had with him was creating and showing musical freestyles. Cary was very good about it and didn't mind my taste in music – ZZ Top, Boz Scaggs, and The Bangles. We earned several Freestyle Championships.
We each had issues that kept us from competing for more. I stopped showing him in 2012. Karen and her staff continued to ride him and keep him in shape and fit. He has been a good lesson horse for others.
When I realized this year we would qualify for the Century Club, I wanted to try it. Last year at this time, I was diagnosed with aggressive Stage 3 breast cancer. I was treated with chemotherapy, had surgery, had radiation and when I had the energy, I wanted to start riding again. I've been riding since March of 2021.
I've loved horses since I was a toddler. My mother took me to riding lessons in place of kindergarten. I would not read any book that wasn't about horses. I later took hunt seat lessons and was in a horse show when there was no such thing as riding clothes for kids (major alterations were required). I have owned several horses, broken a few bones, ridden and shown Western, I've ridden English, started a few young horses, and found dressage in my 50s. It's been my dream to be the best I can be. Cary has been the perfect horse for me for the last 18 years.
May 29, 2021, the day of my Century Club ride was perfect weather. We rode First Level, Test 1 and I thought we did a good job. Later I found out that we had won the Adult Amateur Division for that test with a score of 67.24%. My trainer Karen Whitman presented Cary and me with a 100-flower wreath to put around Cary's neck to top it all off. It was the best day of our showing career!
I want to thank everyone who has been with me on Team Cary:  Jenny Baldwin, Karen Whitman, Sue Martin, my husband Bob, Steve Foxworth Horseshoeing, Steve Long, DVM, Stacy Bluhm, DVM, and all the people at Nighthawk who love Cary and have taken such good care of him and have encouraged and supported me. I also want to thank The Dressage Foundation and the Century Club for this wonderful opportunity.
Mary and Cary completed First Level, Test 1 with a score of 67.24 on May 29, 2021, to join the Century Club.
Photo by Kathleen Bryan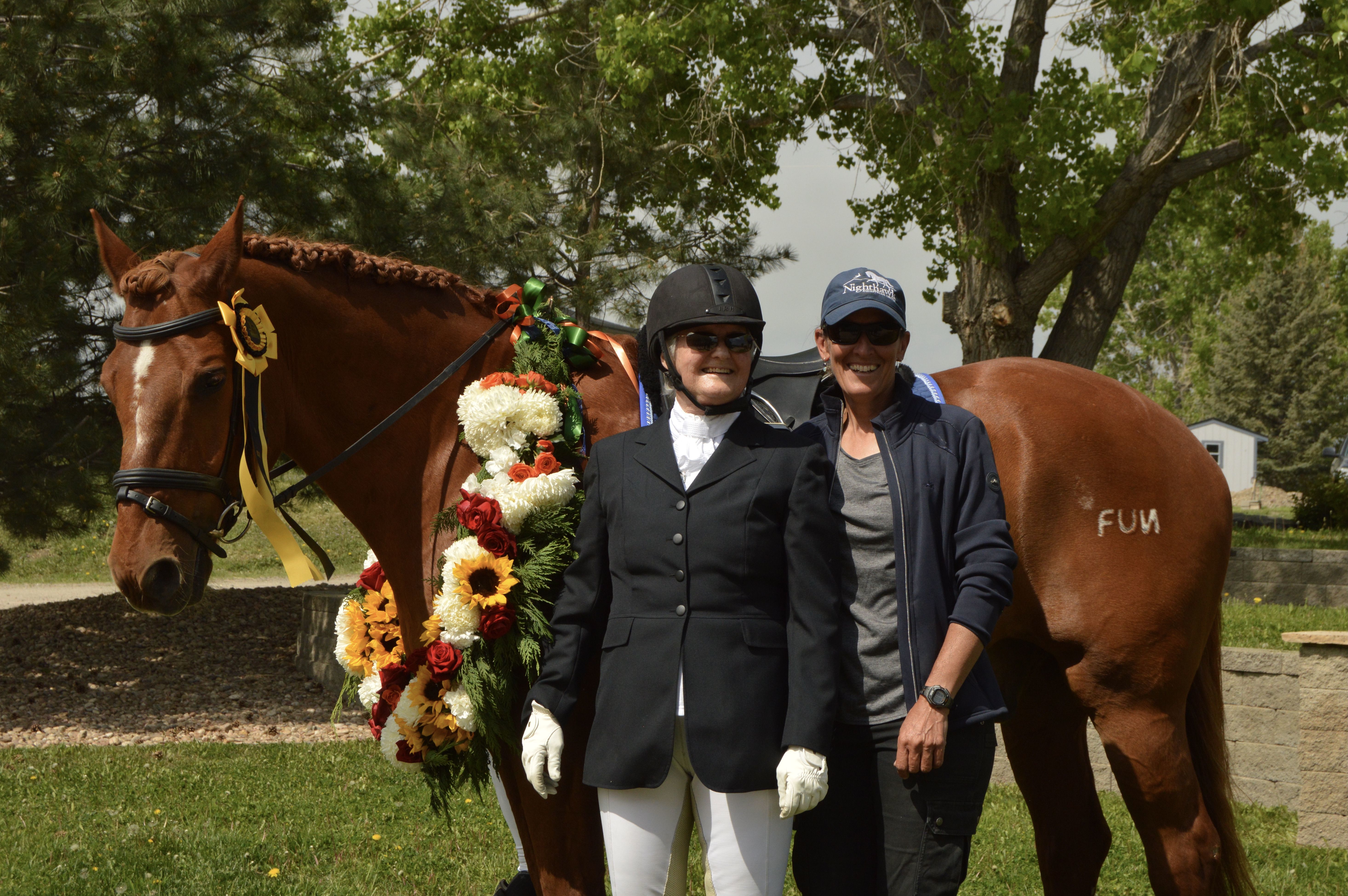 Mary Stack and trainer Karen Whitman. Photo by Caroline Cheval.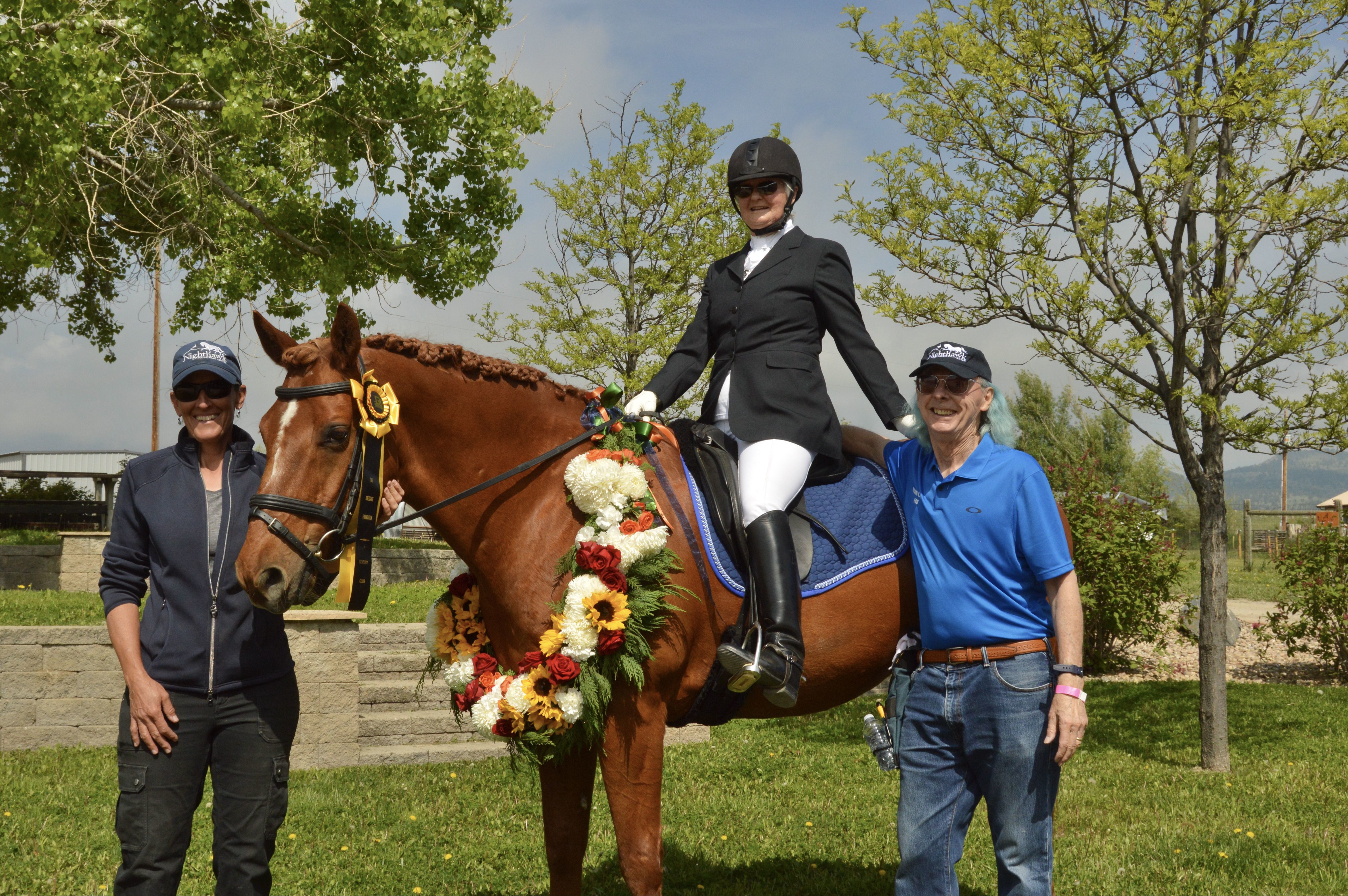 Mary Stack with her husband, Bob. Photo by Caroline Cheval.