Team #378 - Mary Strasser and Huzaar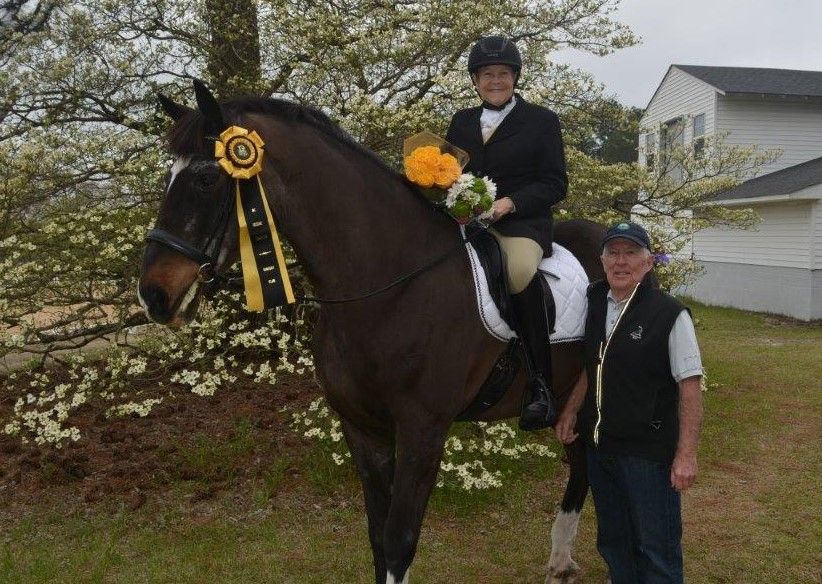 My story began six decades ago, when at the ripe old age of 10, my parents signed me up for riding lessons.  Soon I had my first horse, an Arab/Quarter Horse cross who was lame more often than she was sound, but she was mine and I was in heaven.  Growing up in Minnesota in the 1950s, we were lucky enough to have a wonderful dressage instructor by the name of Max von Bluecher, a true master of dressage, and it was under his tutelage that I learned to ride.  All through grade school and high school, I spent my summers at the barn and it was at this barn that I made life-long friendships that I still cherish today.  We took lessons, went trail riding, competed in local shows and learned to be responsible, caring horse owners.

And then life happened!  Off to four years of college, marriage and a career as a flight attendant with Pan American World Airways and Delta Airlines, and horses were temporarily put on the back burner.  For the next 40 years I traveled the world with Pan Am and Delta, occasionally riding horses while on layovers in such exotic places as London (Hyde Park) and Buenos Aires.  By my late 30s, I was finally able to afford a horse, a lovely appendix mare named Kelly Green.  She had been playing polo, but quickly learned to jump and fox hunt.  I soon moved on to a two-year-old off the track Thoroughbred whom I eventually showed under the name China Clipper.  He was an all-around great amateur hunter and a wonderful fox hunter.

There were many horses after Clipper but none that can compare to my present horse Huzaar (aka Hewie), the most incredible equine I have ever had the good fortune to ride.  Hewie is a 30-year-old Dutch Warmblood, a grandson of Lucky Boy, born and raised in the Netherlands and imported to the States at the age of nine.  Before I owned him, he had a long and prosperous career as a Grand Prix jumper, both in Europe and the States.  Our partnership began when Hewie was 18 and his owner, Jools Smith, wanted to retire him from show jumping.  Jools wanted a forever home for Hewie and thus he moved from South Florida to the Sandhills of North Carolina. Since then, we've done a little bit of everything; dressage shows, low level eventing, fox hunting and hours and hours of trail riding.  While our jumping days are behind us, Hewie still looks forward to our wandering through the 4,000 acres of the Walthour Moss Foundation…and occasionally he spies a fox.

We completed our Century Ride on April 7th at the Antares Dressage Show in Pinehurst, North Carolina, riding a Training Level Test 1 to a score of 67.6% and 2nd place in the class.  Hewie still loves the limelight!