Team #442: Michael Pasquale and Firenze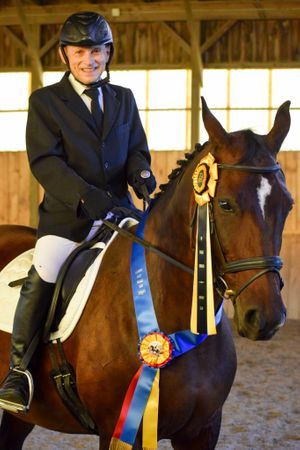 Team #442 – Michael Pasquale and Firenze
Ages 77 1/2 and 22 1/2
Combined age 100
I'm not sure how it happened, but at age 46 I got this idea that I wanted to ride a horse through the woods in the autumn. I'd never had anything to do with horses up to this point in my life (maybe a pony ride at age 5 or 6). I went to the only stable I knew and began taking weekly lessons. There were 10 or 12 people in the group lessons and you never knew which horse you would be riding. I loved it! I wanted to ride more, so I began taking private lessons. Riding was a great escape from my very stressful career as an architect and interior designer.
After a couple of years, I decided I wanted a horse of my own. I naively bought a four-year-old racehorse off the track called "Jack be Nimble." My 24 years with Jack were quite an adventure. Jack was high strung, spooky, and fast. He taught me patience, how to "stay on," and the meaning of the word "terror." After Jack passed at 28, I continued riding. I half-leased a horse and occasionally rode a very generous friend's magnificent Friesian. I decided that my next horse would be a Friesian and while I was searching for one, Firenze (Flo) in my barn came up for sale.
Flo was a beautiful 18-year-old Hanoverian who'd had an illustrious dressage career with her previous owners. She'd won several NEDA championships and a bronze medal with one of her junior riders. When it was suggested that I buy her, my first thought was that I had no business owning such a horse. I was 73 years old with very little dressage experience. Everyone said I would learn a lot from her. I took a lesson on Flo. She was gentle, calm, obedient, and willing. So different from Jack! I bought Flo and the day after the sale, I slipped on some ice and fractured my hip.
Since my recovery, Flo and I have been training with Keith Angstadt at Bradford Equestrian Center. Both Keith and Flo have been very patient with me, and progress has been made. We've entered a number of dressage competitions and have worked our way up to Second Level. I've always felt intimidated by comparisons to Flo's previous champion riders but am proud to say that our membership in the Century Club is OUR unique achievement.
Michael and Firenze rode Second Level Test 2 to complete their Century Club ride on August 9, 2020.