Team #372: Michele Smith and Majic Jona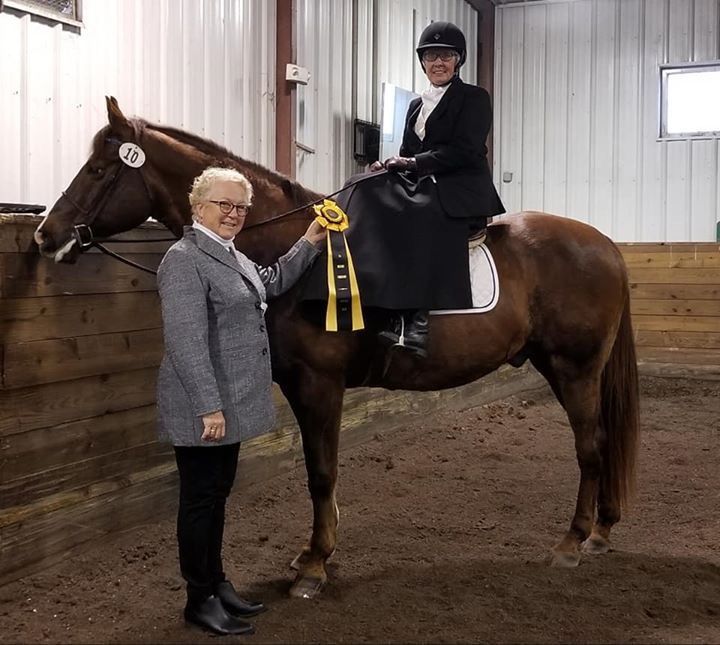 I had read about The Century Club online, but it was not something I thought about doing at the time — obviously, Majic Jona (Romeo), a registered Quarter Horse, and I weren't old enough to participate. Wow was that a mistake! I happened to be going through my horse papers and looked at Romeo's papers and he was 27.  I don't know how that happened, as he just seemed like he was no older than the day I brought him home, 10 years ago, and I certainly didn't feel 73.
In my eyes the important one on this Century Team is Romeo. He started out as a school horse, but not every horse is cut out to be ridden by more than one person and being a school horse really wasn't to his liking.  I was lucky enough to be able to acquire him and our partnership and caring began.  He and I have done a lot together. He is one of those horses who has a willing attitude: he is game for anything and will try to do whatever I ask. We have evented, shown jumpers and dressage, done hunter paces, gone through obstacle courses and trail ridden. He has always been the one who is willing to lead another horse through the water or give a lead to a jump. To give you an idea of his willingness, the first time I rode him sidesaddle was on a ride at home in the field cutting away branches on the trail. He did not mind at all — it was as if we had done this forever. 
I love riding sidesaddle and decided to ride the Century Club test aside, because of the significance of this milestone. I like the elegance of riding sidesaddle, and it shows what a gentleman Romeo is. That chilly morning, there was a little question when I took him down to the ring before the show to just let him go around. He was a little fresh and my first thought was that we wouldn't make the halt at X, but we did, and he was again awesome, not by the scores but by his attitude and willingness, of which I am so thankful.  
I have been around horses all of my life in one fashion or another. I was a military dependent and we moved frequently so a lot of my riding was at the grace of others who would let me ride their horses. In fact, a friend and I milked cows by hand on the weekends so we could ride the work horses, without tack except for a work bridle. Not the smoothest ride, but it was a horse and I could ride it. I have lived from Florida to Alaska, Texas and Arizona to Minnesota and California to Maryland. In my late teens a friend and I competed two horses in barrel racing and pole bending, allowing me to experience a different kind of riding. I later switched to hunt seat and that has continued to the present.  After marrying and having two children, I was living in Maryland and had the opportunity to board and lay up horses from the track on the farm we were living on. I did some teaching, training and showing, and also worked for Vordenberg Saddlery doing some repair work and making racing silks for jockeys. 
We moved again, this time to Litchfield, Minnesota, my home state, where I opened a boarding and lesson barn. It was great. I love to teach and to have boarders who become friends.  But once again my husband's job moved us — kids, horses and all the equipment — this time to Fulton, Missouri. I had decided on this move that I would just have my own horses on property because my barn was only 6 stalls. Well, that did not pan out too well, but that's the horse business.  In that first few months I was searching out horse people looking for farriers, hay and vets.  
One of the places I stopped by was William Woods College, which has an equestrian program. I talked with some of instructors there and gave my background — I don't know why because of course I was not going to do much in the industry except with my own horses. Well, as circumstances would have it, an instructor left and they asked if I could fill in. That was 37 years ago, and I am still teaching at what is now William Woods University. I taught at William Woods for 7 years, and then decided to again try something without any horses except my own, and that lasted 2 years and I was called by the Department Chair at Stephens College in Columbia, Missouri, which also has an equestrian program. They asked if I could manage the facility, and of course I said yes. That turned in to teaching and being there until I retired 17 years later.
I was active with Pony Club in the Midwest region for several years, as well as putting on horse shows at my farm. After retirement I was again only going to work with my horses but was called by a friend at William Woods and asked if I could teach a class or two and I said of course.  As things evolved, retirement didn't work out for me, and I have been teaching at WWU first as an adjunct and then as the full time Hunter/Jumper Instructor for the past 10 years. As I said earlier, I love to teach, and I enjoy the college students as well as the horses, who are all donated.
I have been very blessed in my life to have had some good horses, family and friends who understand the 24/7/365 life of a person who cannot live without horses. I am honored to be part of Romeo's team.